Tunisia Marks World Wetlands Day With 15 New Ramsar Sites
TUNIS, Tunisia, February 2, 2012 (ENS) – A seasonal salt lake on the edge of the Sahara desert heads a list of 15 new Ramsar Wetlands of International Importance being declared in Tunisia today to mark World Wetlands Day, February 2.
Chott Elguetar, a 7,400 hectare (28 square mile) site with an intermittent lake, contains traces of human religious and industrial activity that date back 40,000 years.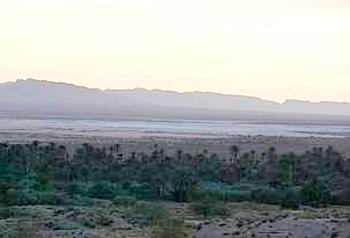 Chott Elguetar, one of Tunisia's new Ramsar sites (Photo by Faouzi Maamouri courtesy WWF)
This salt lake is vital to the survival of three Critically Endangered mammals – the scimitar oryx, the addax and the dama gazelle – and two other Endangered gazelle species, Gazella leptoceros and Gazella cuvier. It is also a nesting and wintering ground for many waterbirds.
Tunisia's designation of the 15 new Ramsar sites nearly doubles the country's total, to 35. Also today, Tunisia's Direction Generale des Forets, the Ramsar Convention's implementing authority in that country, published a new atlas of Tunisian Ramsar sites.
Tunisia's new designations include three other permanent or intermittent saline lakes, six dams and reservoirs, the famous Gorges de Thelja (Selja) flanking the river Thelja with cliffs 10 meters high, and two marine areas – the Golfe de Boughrara and the Iles Kerkennah.
The newly designated Barrage de Sidi El Barrak, for instance, is one of Tunisia's most important dams and reservoirs, supplying irrigation and drinking water to the Tunis and Sfax areas and the Sahel. Adjacent to the Mediterranean coast in Tunisia's northwest, the site produces more than 100 tons of fish a year and its forests provide timber and non-timber forest products. It has just been connected to the national network of Tunisian waters through the Sejnanae dam.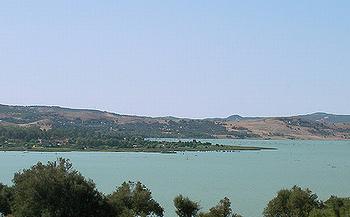 Reservoir of the Barrage de Sidi El Barrak (Photo by Majed Zoghbi)
The preparatory work to support these new designations was carried out with support from the WWF International Freshwater Programme, WWF Mediterranean Programme, WWF Tunis Office, and the MAVA Foundation.
"These designations are the result of a long process that requires effort and time from the government and conservation groups," said Faouzi Maamouri, coordinator of the WWF office in Tunisia.
In January, Tunisia marked the one-year anniversary of the revolution that ended the dictatorship of Zine El Abidine Ben Ali and sparked uprisings around the Arab world. The country has since had its first democratic elections, but demonstrators against the new government still clash with police in the streets.
Tourists have been reluctant to return; hotels are empty and beaches are deserted. But the country's wetlands are still considered national treasures.
"Even with everything this country has been through recently, there is a strong commitment to protecting wetlands and the services they provide for both people and nature," said Maamouri.
Tunisia is one of half a dozen countries expanding their number of Ramsar sites. Since January 1, 2012, Indonesia, Estonia, Romania, France and Kazakhstan have added new sites.
"World Wetlands Day is a moment to reflect on the freshwater ecosystems that we all depend on," said WWF International Freshwater Manager Denis Landenbergue. "But the recent additions to the Ramsar List, and others to come in the near future, show that the work to conserve wetlands happens all year. As one of five international organization partners that have been with the convention since the beginning, WWF is proud to support Ramsar."
The Ramsar Convention, signed in 1971 in Ramsar, Iran, is a treaty to maintain and conserve Wetlands of International Importance. Today, 160 countries are Parties to the convention and have designated 1,994 wetlands covering 191.8 million hectares.
Tourism is the theme for this year's World Wetlands Day and the Ramsar Secretariat has partnered with the UN World Tourism Organization to explore common issues and concerns and collaborate in advancing sustainable tourism development in the wetlands.
Anada Tiega of Niger, secretary general of the Ramsar Convention on Wetlands, said, "In 2010 the number of international tourists reached something like 940 million, and that figure is predicted by the UN World Tourism Organization to grow to around 1.6 billion by 2020." About half of these international tourists travel to wetlands of all types.
"There are many examples of sustainable tourism in wetlands and ample evidence that income from tourism can bring substantial benefits for wetlands, local communities, and local and national governments," said Tiega.
"Unfortunately," he said, "there are just as many examples of how uncontrolled, unsustainable tourism can negatively impact upon wetlands, their wildlife, their natural splendor and the ecosystem services wetlands provide for human populations, and we don't believe that it has to be that way."
UNWTO Secretary-General Taleb Rifai of Jordan said, "Celebrating World Wetlands Day under the theme of wetland tourism gives the perfect occasion to recall the relevance of this unique natural scenery as one of tourism's greatest assets and a fundamental cornerstone to its long-term growth while stressing how tourism, when developed and managed in a sustainable way, can be instrumental in safeguarding it."
One of the newly designated Tunisian Ramsar sites already attracts tourists.
Les Gorges de Thelja is a natural valley with deep ravine areas through which Thelja Wadi runs, mountainous and arid in the Saharan Atlas mountains, altitude 210-450 meters.
The valley is accessible by means of the famous Red Lizard train journey from al-Mitlawi (Metlaoui) with train cars renovated from their past use in phosphate mining. The site is inhabited by golden eagles, Aquila chrysaetos, as well as the lizard Uromastyx acanthinura, which is adapted to the arid desert conditions.
The site is potentially threatened by pollution as a result of the phosphate mining activities carried out upstream and constructions related to tourism, but it is part of a presidential program created in 2009 to preserve the mountain, wadi, and gallery biotopes to reinforce the biological diversity, encourage ecological tourism, and support scientific research and tourism.
Copyright Environment News Service (ENS) 2012. All rights reserved.