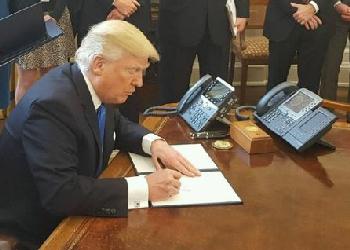 WASHINGTON, DC, January 30, 2017 (ENS) – Framing it as a "prudent and financially responsible" measure, President Donald Trump today ordered federal agencies to repeal two existing regulations for every new regulation issued. Environmentalists warned the order will dismantle protections.
The executive order states a Regulatory Cap for Fiscal Year 2017 of zero. "…the heads of all agencies are directed that the total incremental cost of all new regulations, including repealed regulations, to be finalized this year shall be no greater than zero, unless otherwise required by law or consistent with advice provided in writing by the Director of the Office of Management and Budget."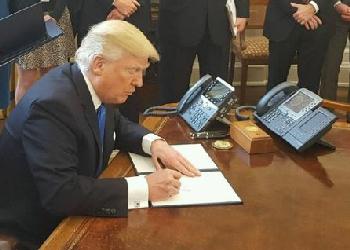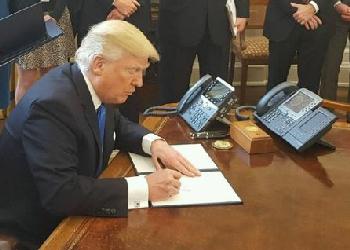 Congressman Mick Mulvaney of South Carolina, Trump's pick to head the Office of Management and Budget, has yet to be confirmed.
The executive order is aimed at cutting federal regulations, one of Trump's top campaign promises.
Trump met with small business owners at the White House before signing the order. He said, "We want to make … life easier for small businesses." Trump said it would also help large businesses.
"The public will feel the impacts of this harmful EO right away," warned Robert Weissman, president of the nonprofit Public Citizen.
"Upcoming regulations to update lead safety standards in drinking water, prohibit payday lenders from preying on consumers with unconscionable interest rates and remove unsafe chemicals from the marketplace under the new Toxic Substances Control Act are just a few of the vital new measures that will be shelved," said Weissman, "until corporate special interests identify public protections for the Trump administration to repeal."
Environmental groups lost no time in taking aim at the new requirement, which they said will dismantle environmental protections.
"This new policy is as dumb as it gets," said Kieran Suckling, executive director of the nonprofit Center for Biological Diversity, which plans to fight the order.
"How does this one-step-forward-two-steps-back order work? Suckling demanded. "So you'll protect my drinking water but only in exchange for allowing oil drilling in national parks and more lead in my paint?"
It would be the same for rules protecting people, air and water from pollution or pesticides, Suckling said. "Agencies entrusted with protecting people, animals, public lands and natural resources will be unable to carry out their duties."
"Trump is again demonstrating that he has no interest in governing this nation for the benefit of its people or to protect our environment," said Suckling. "Instead, he's fixated on realizing the fantasies of the most unhinged, right-wing extremists and profiteers who view government protections as nothing more to an impediment to their profits."
Starting in 2018, the executive order calls on the director of the White House Office of Management and Budget to give each agency a budget for how much it can increase regulatory costs or cut regulatory costs.
In response, Richard Revesz, director of the non-partisan think tank Institute for Policy Integrity at New York University School of Law, called the "one in, two out" policy "a deeply flawed and irrational approach to regulation."
"Judging a regulation based solely on its costs, without considering benefits, is illogical. Yet the order makes no mention of accounting for a regulation's benefits, which are often carefully quantified by the issuing agency," said Revesz.
"The executive order's separate requirement that all regulations' costs in a given fiscal year must sum to zero, regardless of their benefits, is similarly arbitrary and dangerous," he said.
The wording of this executive order could cause confusion and chaos, he said.
White House chief of staff Reince Priebus sent a memo to agency heads on Inauguration Day, January 20, advising them not to issue any more regulations.
But it is unclear how the one-for-two executive order applies to new rules that federal agencies are legally required to issue, or how it will treat deregulatory actions.
It is also unclear how the order asks agencies to weigh costs, said Revesz, adding, "Some new regulations, such as energy efficiency rules, are projected to generate cost savings for consumers."
Since the Reagan administration, presidents of both political parties have worked to improve the quality of federal regulatory decisionmaking. In particular, the Office of Information and Regulatory Affairs has promoted what Revesz called "sophisticated analytical methods" to ensure that regulations are properly vetted and that they will move forward only if their benefits to society justify their compliance costs.
"Regulations help improve the quality of life for Americans: they ensure food safety, protect clean water, and make airplanes and cars safer. Making regulations more efficient and less costly is a worthy goal, but this executive order will not help achieve it. Instead, this order will likely hurt the American public and hinder the functioning of the government.
The Center for Science in the Public Interest, CSPI, is a nonprofit health advocacy group based in Washington, DC, that focuses on nutrition and food safety policies.
Executive Director Michael Jacobson criticized the executive order as "arbitrary" and warned that it "threatens public health."
"This executive order springs from a cartoonish and unsophisticated view of the regulations that keep our air clean, our water potable, our food safe, our planes from crashing, and so on," said Jacobson, "and ignores the public health benefits of those rules."
President Trump said that the order is aimed at "cutting regulations massively for small business." He said it will be the "biggest such act that our country has ever seen."
The order will not apply to "regulations issued with respect to a military, national security, or foreign affairs function of the United States."
Copyright Environment News Service (ENS) 2017. All rights reserved.