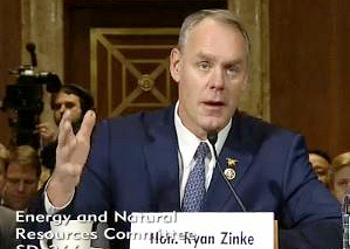 WASHINGTON, DC, January 19, 2017 (ENS) – Contradicting President Donald Trump, his choices to head the Department of the Interior and the U.S. Environmental Protection Agency each told members of Congress during their confirmation hearings this week that climate change is not a hoax, as Trump has alleged.
At the hearing before the Senate Environment and Public Works Committee, Trump's EPA nominee Oklahoma Attorney General Scott Pruitt said, "I do not believe climate change is a hoax."
At the hearing, Pruitt conceded that human activity contributes "in some manner" to climate change. But he continued to question whether the burning of coal, oil and gas is the primary reason for the warming climate, and declined to say whether or not sea levels are rising.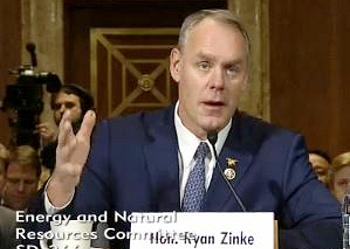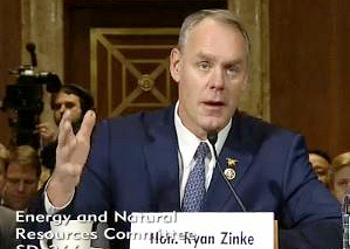 Trump's nominee to lead the Department of the Interior, U.S. Congressman from Montana Ryan Zinke, grew up in a small timber and railroad town next to Glacier National Park. He told the Senate Energy and Natural Resources Committee at his confirmation hearing Wednesday, "I don't believe it's a hoax."
"The climate is changing; man is an influence," Zinke said. "I think where there's debate is what that influence is and what can we do about it."
In contradicting Trump, Zinke cited Glacier National Park in his home state as a good example of the effects of climate change, commenting that glaciers there have receded in his lifetime and from one visit to the next.
Trump has indicated in the past few weeks that he is keeping an open mind on the climate change issue and may reconsider a campaign pledge to pull the United States out of the 2015 Paris Agreement on climate, an accord that President Barack Obama championed.
Taking effect on November 4, 2016, the Paris Agreement requires that by 2020 all the world's governments begin to cut their greenhouse gas emissions to keep global warming to two degrees Celsius above pre-industrial levels. The United States under President Obama pledged to cut its emissions by 28 percent.
Zinke told the Committee that one of his priorities is to secure the estimated 12.5 billion dollars in backlog of maintenance and repair in our National Parks. "The President elect is committed to a jobs and infrastructure bill, and I am going to need your help in making sure that bill includes shoring up our nation's treasures," he said.
In the Senate Environment and Public Works Committee on Wednesday, Pruitt, President Trump's nominee to run the EPA, a well-known opponent of efforts to cut CO2 emissions, faced a barrage of questions.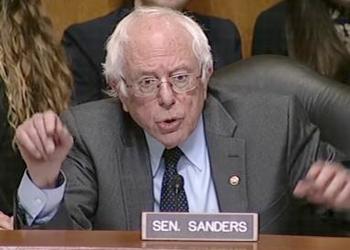 Senator Bernie Sanders, a Vermont Independent who ran for President in the Democratic primary, asked Pruitt why the climate is changing. The nominee replied, "My personal opinion is immaterial."
Sanders pushed back, saying, "Really? You are going to be the head of the agency to protect the environment, and your personal opinions about whether climate change is caused by human activity and carbon emissions is immaterial?"
Pruitt said, "Senator, I've acknowledged to you that the human activity impacts."
Sanders exclaimed, "Impacts? The scientific community doesn't tell us it impacts. They say, 'It is the cause of climate change. We have to transform our energy system.'"
Asked if he believes the United States must change its energy system, Pruitt answered, "I believe the administrator has a very important role in regulating CO2."
Pruitt said he would not deny the U.S. government's finding that carbon dioxide and other greenhouse gases are a threat, saying, "That is a law of the land."
But Pruitt disparaged the efforts of the EPA under the Obama Administration to limit climate change and protect the nation's air and water. Pruitt said the Obama EPA "bootstrapped its own powers and tools through rulemaking" instead of following the direction of Congress and collaborating with the states.
"If we truly want to advance and achieve cleaner air and water the States must be partners and not mere passive instruments of federal will," said Pruitt. "If confirmed, I will utilize the relationships I have forged with my counterparts in the States to ensure that EPA returns to its proper role, rather than using a heavy hand to coerce the States into effectuating EPA policies."
But environmental advocates question Pruitt's commitment to safeguarding the environment, given that while he was Oklahoma Attorney General he filed 14 legal challenges to Obama Administration rules intended to protect air and water.
Research identifying these 14 cases came from nonprofit Environmental Defense Fund; it was confirmed by "The New York Times."
Pruitt filed:
* – a challenge to the Cross State Air Pollution Rule,
* – a challenge to the EPA's Effort to Reduce Ozone Pollution,
* – a challenge to the Rule Limiting Pollution During Power Plant Shutdowns or Malfunctions,
* – a challenge to the EPA Plan to Protect Scenic Vistas in Certain National Parks,
* – a challenge to Clean Air Standards for Oil and Gas Drilling and Production Sites,
* – a challenge to the EPA's Determination that Greenhouse Gas Pollution Endangers Health and Environment, which was backed by the courts,
* – a challenge to Carbon Pollution Standards for New Power plants,
* – a challenge to the Clean Water Rule,
* – two challenges to the Rule Placing Limits on Mercury Pollution,
* – four challenges to Obama's Clean Power Plan, which is intended to curb climate change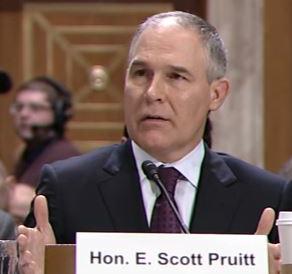 In all but one of these 14 cases, regulated industry players also were parties to the Oklahoma lawsuits. The companies or trade associations in 13 of these cases were also financial contributors to Pruitt's political causes.
If Pruitt is confirmed as EPA administrator, says the nonprofit Environmental Working Group, he could pose at least five threats to Americans' health and safety:
Dirtier air. Pruitt could weaken air pollution rules intended to cut mercury, lead and other air pollutants that lower IQ and cause asthma attacks. As Oklahoma attorney general, Pruitt sued the EPA twice to block new air pollution rules that could save thousands of lives.
Dirtier water. Pruitt could roll back rules designed to prevent pollution of drinking water supplies from factories and farms. As attorney general, he sued the EPA to block new rules to protect clean water. Instead of fighting the water polluters who funded his campaigns, Pruitt spent the last six years suing the EPA.
More toxic pesticides. Pruitt could allow more toxic pesticides to be sprayed on our food, including chemicals like chlorpyrifos, which lowers IQ, and atrazine, which harms the hormone system. Pruitt could also remove special pesticide protections for pregnant women and children.
More toxic chemicals. Pruitt could likely allow more toxic chemicals to be used in consumer products, including toxic chemicals linked to cancer such as formaldehyde. In particular, he could undermine a new law designed to finally ban dangerous substances such as asbestos.
More environmental crime. Pruitt could turn a blind eye to polluters who break environmental laws by polluting our air and water, and dumping toxic waste. As Oklahoma's attorney general, he shut down the state's environmental protection unit.
Neither nominee has yet been confirmed by the U.S. Senate.
Copyright Environment News Service (ENS) 2017. All rights reserved.
© 2017, News Editor. All rights reserved.