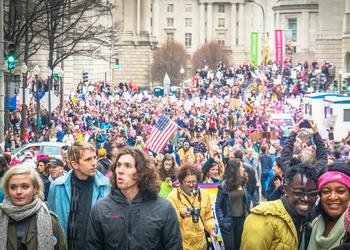 WASHINGTON, DC, January 23, 2017 (ENS) – More than one million people took part in women's marches in Washington, DC, New York and dozens of other cities across the country Saturday on President Donald Trump's first full day in office.
Marchers in Washington chanted, "Welcome to your first day, we will not go away!"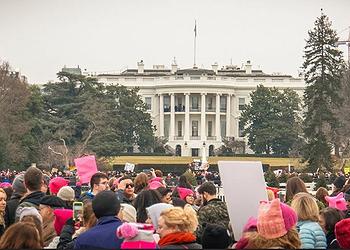 The Washington, DC rally attracted more than 500,000 people, said city officials. Although it was one of the biggest demonstrations in the city's history, no arrests were reported.
Many of the women marching wore pink hats with cat ears, to show their resistance to Trump's pussy-grabbing boasts caught on video tape and broadcast during the campaign, and his denigration of women in many other comments.
Millions more people attended marches held in major cities of 57 countries around the world, including Mexico City, Paris, Berlin, London, Prague and Sydney.
"We march today for the moral core of this nation, against which our new president is waging a war," actress America Ferrera told the Washington crowd. "Our dignity, our character, our rights have all been under attack, and a platform of hate and division assumed power yesterday. But the president is not America. … We are America, and we are here to stay."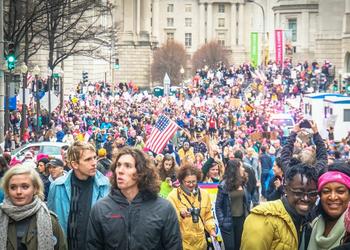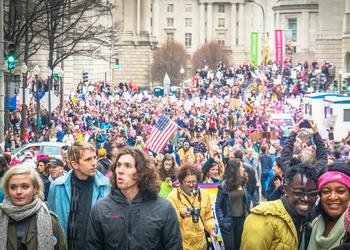 Many marchers, including environmentalists, are making plans to organize resistance to President Trump, building on the strength of their numbers.
But in eight states: Colorado, Indiana, Iowa, Michigan, Minnesota, North Dakota, Virginia and Washington, Republican lawmakers are attempting to criminalize peaceful protesting.
Nevertheless, President Trump's plans to defund environmental programs already are coming to light.
Even before Oklahoma Attorney General Scott Pruitt, Trump's choice to head the U.S. Environmental Protection Agency, is confirmed by the U.S. Senate, the President's plan to tear down the agency has surfaced.
The nonprofit Food & Water Watch just got a leaked copy of Trump's to-do list for the EPA, and "as expected," says Food & Water Watch Executive Director Wenonah Hauter, "it's horrifying."
As ENS reported on inauguration day, the Trump Administration took all references to climate change off of the White House website.
Now, they are beginning a months-long program of budget cuts and roll backs of key regulations designed to protect U.S. air, water and climate from corporate polluters.
The leaked to-do list makes it clear that Trump will follow through on promises to gut the agency.
* – The document identifies opportunities to cut programs, including $513 million from "state and tribal assistance grants," $193 million from ending climate programs and $109 million from "environmental programs and management."
* – The administration outlines initiatives they want to stop, including "Clean Air Act greenhouse gas regulations," clean car standards and clean water protections.
* – The to-do list also includes a plan to permanently change how the EPA uses science to prevent the agency from returning to "its bad old ways as soon as an establishment administration takes office."
On another front, government social media accounts were temporarily shut down in apparent retaliation for forwarding a story that the crowd in attendance for the Trump inauguration was smaller than Obama's.
It signals that a notoriously thin-skinned President may censor not just federal social media but websites and reports, according to Public Employees for Environmental Responsibility, PEER.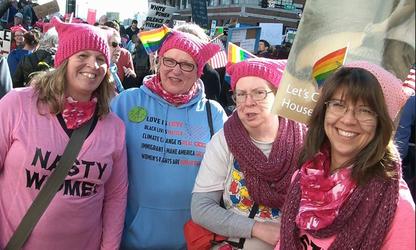 On Friday afternoon right after Donald Trump took the oath of office, the National Park Service, NPS, retweeted two news reports: one with photos showing a smaller crowd for the Trump inauguration than Obama drew in 2009. The other recounted White House web postings on topics such as climate and civil rights had been scrubbed.
Within hours, an "urgent" message went out that the entire Interior Department, not only the National Park Service, was "directed by incoming administration to shut down Twitter platforms immediately until further notice" and to "contact your bureau web staff immediately and make sure they are complying."
But by mid-morning Saturday, the Twitter platforms were reopened after the Trump people had provided "social media guidance" according to an Interior spokesperson.
The two re-tweets had been removed from the official feed and replaced by this apology from the NPS, "We regret the mistaken RTs [retweets] from our account yesterday and look forward to continuing to share the beauty and history of our parks with you."
"This episode suggests that federal civil servants must now screen factual information for potential political sensitivity prior to public release," said PEER Executive Director Jeff Ruch, questioning whether the Trump "social media guidance" had been reduced to writing. "Based on the nervous chatter we are hearing from agency employees, there is already a distinct chilling effect – and perhaps that is precisely the new White House's intent."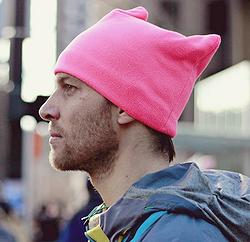 The intent of the Trump resisters is apparent. In an email to supporters on Sunday, the nonprofit MoveOn explained that the organizers who led the Women's March on Saturday are promoting 10 actions that Trump resisters can take in the first 100 days of the Trump Administration.
"We'll lean in on the kinds of big ideas that can galvanize a mass movement. Like Medicare for all. Ending mass incarceration. Keeping carbon in the ground," said MoveOn organizers.
"Our overarching goal is clear," they declared.
"We must help grow a mass, accessible opposition – or resistance – movement to challenge Trump's agenda, defend frontline communities, preserve the essential foundations of our constitutional democracy, and prepare to retake power in the 2017, 2018, and 2020 elections."
Copyright Environment News Service (ENS) 2017. All rights reserved.
© 2017, News Editor. All rights reserved.