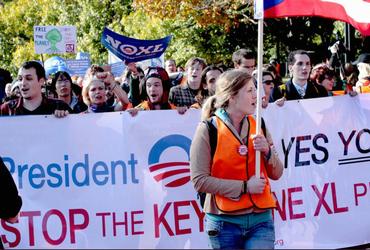 WASHINGTON, DC, November 3, 2015 (ENS) – TransCanada Corporation requested Monday that the U.S. State Department "pause in its review" of the Presidential Permit application for the Keystone XL pipeline."
In a letter to U.S. Secretary of State John Kerry dated November 2, Kristine Delkus, executive vice president, stakeholder relations and general counsel, says that TransCanada wants the pause is to allow time for the Nebraska Public Service Commission to complete its route approval process.
Delkus explains in the letter that on October 5, TransCanada filed an application with the Nebraska Public Service Commission for approval of a third route proposal across the state for the Keystone XL pipeline.
TransCanada expects a seven to 12 month approval process for its current route application. So, writes Delkus, the company is requesting the pause, "In order to allow time for certainty regarding the Nebraska route…"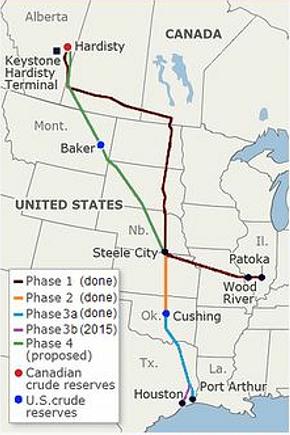 First proposed in 2010, the Keystone XL Pipeline would carry synthetic crude oil and a heavy substance known as diluted bitumen from the oil sands of Canada between Hardisty, Alberta, and Steele City, Nebraska, where it would enter another piipeline for transfer to refineries on the Gulf Coast.
The Keystone XL pipeline would run through Baker, Montana, where American-produced Bakken light crude oil from the Williston Basin of Montana and North Dakota would be added.
Because it must cross the Canada-U.S. border, Keystone XL requires a Presidential Permit asserting that it is in the U.S. national interest.
In January 2012, President Barack Obama rejected the TransCanada application amid protests about the pipeline's impact on Nebraska's environmentally sensitive Sand Hills region, which overlies the Oglalla Aquifer, the water supply for much of the American Midwest.
TransCanada changed the original proposed route of Keystone XL to minimize "disturbance of land, water resources and special areas." The second route was approved by Nebraska Governor Dave Heineman in January 2013.
On April 18, 2014 the Obama administration announced that the review of the controversial pipeline has been extended indefinitely, pending the result of a legal challenge to a Nebraska pipeline siting law that could change the route.
TransCanada's request to suspend its permit application came just hours after White House Press Secretary Josh Earnest said that President Obama intends to make a decision on the pipeline before the end of his administration.
Environmentalists, who have fought the Keystone XL proposal for years in the courts and in the court of public opinion, are on the verge of declaring victory.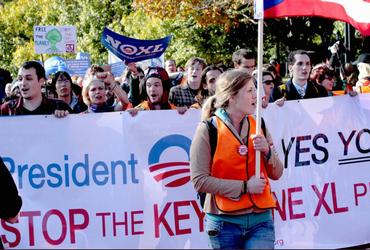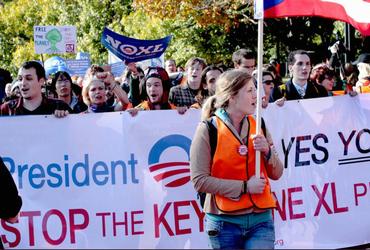 They point out that the route across Nebraska has long been uncertain, it is obvious that this is simply a desperate attempt to run out the clock on Obama's presidency in hopes that a Republican might be elected to the White House in 2016.
"TransCanada sees the writing on the wall, and is trying to run out the clock in hopes that the next president will not weigh climate science in his or her decision about the dirty Keystone XL tar sands pipeline," said Anthony Swift, Canada Project director at the Natural Resources Defense Council.
"The route in Nebraska has been uncertain for years, the only difference now is TransCanada knows they are about to have their permit rejected so they are scrambling, said Jane Kleeb, Director of Bold Nebraska. "President Obama can end all of this uncertainty with a stroke a pen. It is time to reject and give farmers, ranchers and Tribal Nations peace of mind that their land and water is protected from this risky pipeline."
Bill McKibben, founder of the nonprofit group 350.org, has organized protests against the pipeline in front of the White House and elsewhere for years.
McKibben said, "Clearly TransCanada has lost and they recognize that. It's one of the great victories for this movement in decades."
"In defeat, TransCanada is asking for extra time from the referees, and clearly hoping they'll get a new head official after the election," said McKibben. "It's time for the current umpire, President Obama, to reject this project once and for all, and go to Paris as the first world leader to stop a major project because of its effect on the climate.
"No matter what route TransCanada comes back with, the ultimate problem all along with Keystone XL has been that it's a climate disaster – that it fails the President's own climate test," said McKibben. "It will be a sign of his solidarity with this remarkable movement when he comes right out and says that."
Executive Director of the Sierra Club Michael Brune said, "Time is up. President Obama has all the evidence he needs to reject Keystone XL now, and we are confident that he will."
League of Conservation Voters Senior Vice President of Government Affairs Tiernan Sittenfeld said, "This is nothing more than another desperate and cynical attempt by TransCanada to build their dirty pipeline someday if they get a climate denier in the White House in 2017. President Obama and Secretary Kerry have all the information they need to reject this dangerous pipeline, and we are counting on them to do just that."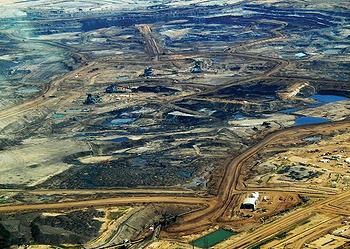 Stephen Kretzmann, executive director of Oil Change International, said, "TransCanada is losing and everyone – including them – knows it. When you're losing in the final seconds you commit a bunch of fouls and call all your timeouts. That's exactly what TransCanada is doing here. President Obama should recognize desperation when he sees it and reject Keystone XL. Blow the whistle today and end this game."
"TransCanada rightly sensed that the tide has turned against Keystone XL and now they're trying to delay any decision in the hopes that they can get a Republican president to approve it," said Valerie Love with the Center for Biological Diversity. "It's a desperate and cynical political ploy but it doesn't change the fact that Keystone would be a disaster for people, wildlife and the climate."
Elijah Zarlin, Climate Campaigns director at CREDO, said, "Facing overwhelming grassroots opposition, TransCanada is trying to forfeit the game in the hopes of an easier playing field in the next administration. This is President Obama's decision, and he shouldn't cave to a foreign oil company trying to twist his arm into punting it to future presidents."
"TransCanada's request for suspension is like calling for a timeout when you've already lost the game," said Kendall Mackey, Tar Sands Campaign manager at Energy Action Coalition. "President Obama has everything he needs to reject Keystone XL now, and we expect him to call the game over."
Dallas Goldtooth, KXL Campaign organizer for Indigenous Environmental Network, said, "TransCanada has seen the writing on the wall and they are hoping to stall a decision on Keystone XL. Now is now no better time for President Obama to reject this dirty tar sands pipeline! We say, deny TransCanada's request to suspend by rejecting this pipeline!"
CREDO Climate Campaigns Director Elijah Zarlin said, "This is yet another victory for the overwhelming grassroots opposition along the route and across the country."
"This is President Obama's decision, and he shouldn't cave to a foreign oil company trying to twist his arm into punting it to future presidents," Zarlin said. "The facts on the ground clearly show that Keystone XL fails the President's climate test, and he should reject it now."
In the two weeks since Stephen Harper, an oil sands supporter, was voted out as Canadian Prime Minister, more than 100,000 activists have signed a CREDO Action petition urging President Obama to reject the Keystone XL pipeline.
More than 97,000 people have signed the Keystone XL Pledge of Resistance, committing to risk arrest in peaceful, dignified civil disobedience, if President Obama's administration moves toward approving the Keystone XL pipeline.
As part of the Pledge of Resistance, thousands of activists have been trained to lead or participate in direct actions where they would risk arrest.
CREDO Activists have generated more than 4.3 million petition signatures in opposition to Keystone XL, and they have submitted 511,000 public comments to the State Department in opposition to Keystone XL.
Copyright Environment News Service (ENS) 2015. All rights reserved.