Toyota and Microsoft Design Sustainable Mobility Future
REDMOND, Washington, April 7, 2011 (ENS) – Toyota and Microsoft are partnering to build a system that links electric and plug-in hybrid vehicles, people and smart center energy-management systems.
The world's largest auto manufacturer and the world's largest software manufacturer announced Wednesday that they will work together to build a global platform for Toyota's telematics services using the Windows Azure cloud computing platform.
Telematics is the combination of telecommunications and information technologies in vehicles, including GPS systems, energy management and other multimedia technologies.
Cloud computing delivers easy, scalable access to computing resources and services over the Internet.
At a news conference at Microsoft headquarters in Redmond on Wednesday, officials of the two companies said they plan to participate in a one billion yen (US$12 million) investment in Toyota Media Service Co., a TMC subsidiary that offers digital information services to Toyota automotive customers.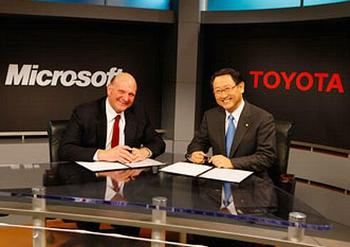 Steve Ballmer, left, and Akio Toyoda sign the telematics partnership agreement. (Photo courtesy Microsoft)
Microsoft CEO Steve Ballmer said, "Starting in 2012, customers who purchase one of Toyota's electric or plug-in hybrid vehicles will be able to connect via the cloud to control and monitor their car from anywhere – safely and conveniently. For example, customers will be able to turn on the heat or AC in their car while their vehicle is plugged into the grid or dynamically monitor miles until the next charging station right from their GPS system."
"Or a customer could use a smart phone to check battery power or maintenance information remotely," Ballmer said.
"Customers can use these applications and services for power management as cars connect into the smart power grid," he said. "Imagine being able to tell a car to charge at the time of day when energy demand is low and therefore, the least expensive."
Toyota President Akio Toyoda said, "This new partnership between Microsoft and Toyota is an important step in developing greater future mobility and energy management for consumers around the world. Creating these more efficient, more environmentally advanced products will be our contribution to society."
"To achieve this, it is important to develop a new link between vehicles, people and smart center energy-management systems," said Toyoda.
As part of its smart grid activities, aimed at achieving a low carbon society through efficient energy use, Toyota is conducting trials in Japan of its Toyota Smart Center pilot program, to link people, automobiles and homes for integrated control of energy consumption.
"With the introduction of Toyota plug-in hybrids and electric vehicles next year," said Toyoda, "our cars will play a big role in the global expansion of what we call smart centers – on-board systems capable of better managing overall energy consumption of cars, driving trips and homes."
"This new system will include advanced car-telematics like virtual operators with voice recognition, management of vehicle charging to reduce stress on energy supply, and remote control of appliances, heating and lighting at home," Toyoda said.
Ballmer said, "It further validates the power of the cloud, as the Windows Azure platform will provide the enterprise-grade, scalable platform that TMC needs to deliver telematics in its automobiles worldwide."
Toyota's goal is to establish a complete global cloud platform by 2015 that will provide affordable and advanced telematics services to Toyota automotive customers around the world.
"So as we enter the smart grid era," said Toyoda, "I am confident that through our partnership we will improve our products' contribution to sustainable mobility in which we can meet the travel needs of our customers and support a good economy, while maintaining safety and preserving the environment."
Copyright Environment News Service (ENS) 2011. All rights reserved.
Environment News Service (ENS) © 2011 – 2012 All Rights Reserved.