Three East African Cities Funded for Sustainable Transport
WASHINGTON, DC, February 7, 2011 (ENS) – To address the sustainable transport challenges of three major cities in East Africa, the Global Environment Facility has approved a grant of US$2.85 million, with an additional $4.32 million in cofinancing.
Up to eight million people in Addis Ababa, Ethiopia; Nairobi, Kenya; and Kampala, Uganda stand to benefit from improved public transport, said the GEF, announcing the funding on Friday.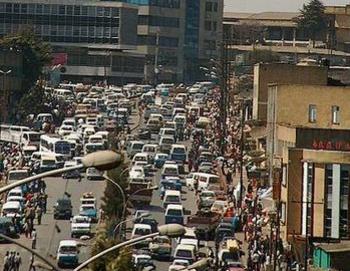 Traffic in Addis Ababa, Ethiopia (Photo by Sam Efron)
GEF chief executive and chair Monique Barbut, said, "With African cities growing rapidly, sustainable transport becomes crucially important for Africa not only for climate change mitigation but also for poverty alleviation, air quality improvements, and economic growth."
By 2035, this project will result in 2.5 million tons of direct greenhouse gas emission reduction, the GEF estimates.
Established in 1991, the Global Environment Facility now is the largest public funder of projects to improve the global environment.
The independently operating financial institution based in Washington, DC unites 182 member governments with intergovernmental and nongovernmental organizations, and the private sector to address global environmental issues.
"We expect this important project to become a springboard for Africa," Barbut said, "so that ultimately the GEF intervention will set the stage for more environmentally-friendly transport in cities all over Africa."
The GEF project includes four components that will be implemented from 2011 to 2035:
Designing a full scale sustainable transport system, including a blueprint for complementary transportation demand management and urban planning measures for each of the three cities
Highlighting the feasibility of the proposed system in a demonstration corridor
Promoting clean air technologies
Building capacity, political support and awareness of sustainable transportation
The governments of Ethiopia, Kenya and Uganda have recognized the importance of efficient, low-cost public transport and non-motorized transport to alleviate poverty and spur economic growth.
In Addis Ababa, Ethiopia's capital and largest city, with a population of about 3.4 million, an estimated 15,000 taxi cabs and an antiquated bus transit system share the roads with with a fleet of hundreds of modern buses run by the state-owned Anbassa company.
In Nairobi, Kenya's capital and largest city, the 3.1 million people get around by public buses (Kenya Bus), large minibuses (Metro Shuttles), and the matatus (small minibuses or pickup trucks) that ply hundreds of routes throughout the city.
In Kampala, Uganda's capital and largest city, the estimated 1.5 million people take 15-seater minibuses called commuter taxis as well as bicycle and motorbike taxis called boda bodas. In 2007, Kampala officials announced a plan to remove commuter taxis from the streets and replace them with a comprehensive city bus service.
All three countries have been working on developing integrated, balanced and environmentally sound urban transport systems that integrate all transport modes, so sustainable transport planning for the GEF project need not start from scratch.
The United Nations Environment Programme will implement the GEF programs in coordination with the UN Human Settlements Programme, UN-HABITAT, by providing technical assistance.
The GEF says the three governments are keen to access the expertise and capacity building support this project will bring to design and implement sustainable transport solutions.
Copyright Environment News Service (ENS) 2011. All rights reserved.