Thousands of Tons of Asbestos Debris Dumped, Four Arrested
WASHINGTON, DC, June 6, 2011 (ENS) – The owner of a New Jersey solid waste management company and three of his associates were arrested Friday on federal charges that they conspired to transport and dump thousands of tons of asbestos-contaminated debris at an upstate New York farm containing wetlands, said federal and state officials.
Julius DeSimone, 69, of Rome, New York; Donald Torriero, 54, of Wellington, Florida; Cross Nicastro II, 59, of Frankfort, New York; and Dominick Mazza, 60, of Tinton Falls, New Jersey were arrested for the illegal dumping in Frankfort in 2006, as detailed in the seven count indictment.
Dominick Mazza's New Jersey-based company, Mazza & Sons Inc., was also indicted. Arrests were made at residences in New York, New Jersey and Florida early Friday.
The defendants made their initial appearances in federal courts in the Northern District of New York, Southern District of Florida, and District of New Jersey. The arraignment has tentatively been set for June 13, 2011, in Syracuse, New York, said Ignacia Moreno, assistant attorney general for the Justice Department's Environment and Natural Resources Division and Richard Hartunian, U.S. attorney for the Northern District of New York.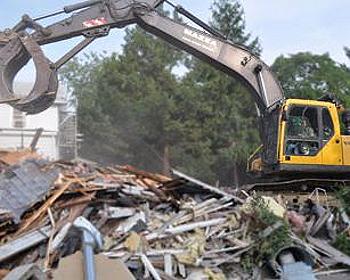 Mazza equipment on a demolition job (Photo courtesy Mazza & Sons)
The indictment describes a scheme to illegally dump thousands of tons of asbestos-contaminated, pulverized construction and demolition debris that was processed at the New Jersey-based solid waste management facilities of Eagle Recycling and Mazza & Sons Inc.
That asbestos-contaminated debris was then transported to and dumped at Cross Nicastro II's farm in Frankfort – much of which contained federally-regulated wetlands. Dumping and excavating operations were managed on-site by DeSimone, the indictment alleges.
According to court documents, Torriero and other conspirators concealed the illegal dumping by fabricating a New York State Department of Environmental Conservation permit and forging the name of a DEC official on the fraudulent permit.
Once the conspirators learned that they were under investigation, they began a systematic pattern of document concealment, alteration and destruction by destroying and secreting documents responsive to grand jury subpoenas and falsifying and submitting environmental sampling to the U.S. Environmental Protection Agency, the government alleges.
The indictment charges the defendants with conspiracy to defraud the United States, violate the Clean Water Act and Superfund laws, and commit wire fraud.
Torriero is also charged with wire fraud associated with his fabrication and transmission of the fake permit the conspirators used to conceal the dumping.
Mazza & Sons Inc., and its owner, Dominick Mazza, are charged with violating the Superfund law's requirement to report the release of toxic materials and obstruction of justice.
Mazza and DeSimone are charged with making false statements to EPA special agents. This indictment is related to the guilty pleas entered by Jonathan Deck and Eagle Recycling on Sept. 3, 2009 and April 11, 2011 respectively.
The conspiracy and substantive Clean Water Act, Superfund, and false statements counts of the indictment each carry a maximum possible term of incarceration of five years and a fine of $250,000, twice the gross gain to the defendants, or twice the gross loss to a victim.
The obstruction of justice and wire fraud counts of the indictment each carry a maximum possible term of incarceration of 20 years and similar fines.
Copyright Environment News Service (ENS) 2011. All rights reserved.
Environment News Service (ENS) © 2011 – 2012 All Rights Reserved.