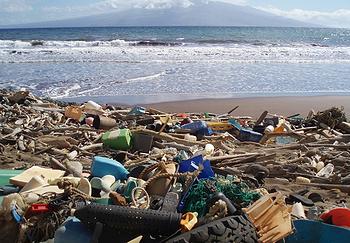 NEW YORK, New York, February 9, 2014 (ENS) – People who love the oceans and people who love fashion have joined forces in The Vortex Project, a new initiative to clear the oceans of plastic debris and transform it into fashionable denim garments.
The Vortex Project will take plastic waste from oceans and shorelines, and recycle, enhance, and reuse it for yarn, fabric, and other elements in consumer products.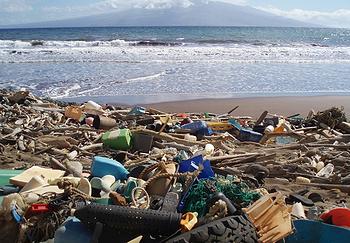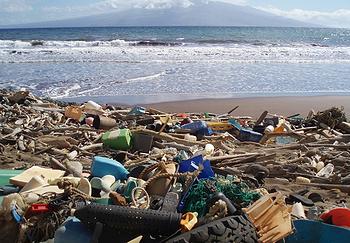 The project is named for the Pacific trash vortex, also called the Great Pacific garbage patch, a whirling gyre of plastic particles and larger pieces in the central North Pacific Ocean.
Cofounders Sea Shepherd Conservation Society USA and Bionic Yarn unveiled The Vortex Project Saturday at the American Museum of Natural History during New York's Fashion Week.
Sea Shepherd head Captain Paul Watson told the crowd of 300 fashion industry professionals and media, "Plastic is choking our oceans and precious marine wildlife at an unprecedented rate. Straws, single-use bags, six-pack rings, drink lids and more are ensnaring marine animals or blocking their digestive systems, killing these magnificent creatures. It's time humanity takes responsibility for our actions and cleans up the mess we've made. We hope this is the first of many meaningful collaborations to come."
The project's first collaboration will be G-Star's Raw for the Oceans, a denim line made of ocean plastic created by a new partnership between denim brand G-Star RAW and Bionic Yarn. G-Star RAW is a Dutch designer clothing company that produces urban clothing.
Raw for the Oceans fashions will be curated by Pharrell Williams, a Grammy winning singer-songwriter, rapper, record producer, fashion entrepreneur and creative director of Bionic Yarn.
Williams told the launch event audience, "Working with G-Star was an obvious choice because they have a legacy of pushing the boundaries of fashion and denim forward. Bionic Yarn is a company built around performance, and denim is the perfect category to show the world what our product can do. Everyone has jeans in their closet."
The 'RAW for the Oceans' collection will be available at selected G-Star RAW stores and online from August 15.
Sea Shepherd will lead The Vortex Project in the areas of collecting, scientific innovation and awareness-building, and will work with Sea Shepherd entities worldwide to mobilize teams to help clean up the oceans and beaches.
The New York Fashion Week event is part of Parley for the Oceans, an initiative of artists, activists, tastemakers, entrepreneurs and innovators to address and solve the plastic pollution problem impacting ocean ecosystems. Sea Shepherd is an official partner of Parley for the Oceans.
At Parley for the Oceans at Berlin Fashion Week last summer, Williams and Watson introduced The Vortex Project, a core initiative of the Parley movement.
Copyright Environment News Service (ENS) 2014. All rights reserved.