Texas Student Honored for Removing CO2 From Car Exhaust With Algae
LOS ANGELES, California, May 13, 2011 (ENS) – A Texas high school student who invented an antipollutant device that fits into the exhaust of a car and uses algae to convert carbon dioxide into oxygen today was named the winner of the U.S. Environmental Protection Agency's 2011 Patrick H. Hurd Sustainability Award.
Param Jaggi, a senior at Plano East Senior High School in Plano, Texas, has applied for a patent for his device, the Algae-Mobile 3.
The bioactive filter is a transparent canister that has gas permeable membranes as entry and exit ports. The carbon dioxide emitted by burning gas to propel the car comes in through the entry membrane and passes through a solution in the canister that supports a live colony of Chlorella algae. The algae carries out photosynthesis, which changes the carbon dioxide to oxygen and sugar. The oxygen is released through the exit port.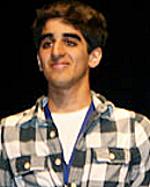 Param Jaggi (Photo courtesy Plano Independent School District)
In his patent application Jaggi said, "The devices on average were able to decrease original carbon dioxide levels within the exhaust by 89 percent. The device, costing no more than $30 and with a mass productivity, is very applicable to the average American to significantly reduce the effect on the global carbon imprint."
The award was one of several announced at the Intel International Science and Engineering Fair in Los Angeles today.
"This science fair is an amazing gathering of bright young scientists and engineers," said Paul Anastas, assistant administrator of EPA's Office of Research and Development. "EPA is proud to recognize student innovators such as Param for using science to create a greener, more sustainable future."
This year, more than 1,500 young entrepreneurs, innovators and scientists were selected to compete in the Intel International Science and Engineering Fair, the world's largest high school science research competition.
They were selected from 443 affiliate fairs in 65 countries, regions and territories, including for the first time France, Tunisia, United Arab Emirates and Macao.
Matthew Feddersen and Blake Marggraff from Lafayette, California were awarded the top prize at the fair. They received $75,000 and the Gordon E. Moore Award, in honor of the Intel co-founder and retired chairman and CEO, for developing a potentially more effective and less expensive cancer treatment that places tin metal near a tumor before radiation therapy.
Taylor Wilson from Reno, Nevada was named an Intel Foundation Young Scientist Award winner and received $50,000. Taylor developed one of the lowest dose and highest sensitivity interrogation systems for countering nuclear terrorism.
The team of Pornwasu Pongtheerawan, Arada Sungkanit and Tanpitcha Phongchaipaiboon from Thailand also received an Intel Foundation Young Scientist Award. This team determined that a gelatin found in fish scales could be successfully used in modern day fish packaging – an invention that could have positive, long-term effects for the environment.
"We champion the Intel International Science and Engineering Fair because we believe that math and science are imperative for innovation," said Shelly Esque, vice president of Intel's Corporate Affairs Group. "This global competition features youth trying to solve the world's most pressing challenges through science."
Society for Science & the Public, a nonprofit organization dedicated to public engagement in scientific research and education, owns and has administered the International Science and Engineering Fair since its inception in 1950.
"We congratulate the top winners for having the drive and curiosity to tackle these significant scientific questions," said Elizabeth Marincola, president of Society for Science & the Public. "Their work, and the work of all of the finalists at the Intel International Science and Engineering Fair, demonstrates what students can accomplish when they are inspired to pursue inquiry-based research.
Copyright Environment News Service (ENS) 2011. All rights reserved.