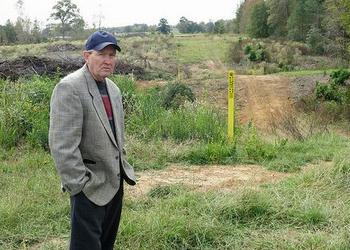 NACOGDOCHES, Texas, December 11, 2012 (ENS) – Texas landowner Michael Bishop, 64, an analytical chemist and former U.S. Marine, has been granted a temporary restraining order that halts construction of TransCanada's Keystone XL pipeline across his land while a judge considers Bishop's charges of fraud against the company.
Nacogdoches County Court at Law Judge Jack Sinz today issued the order prohibiting the firm from further pipeline work on Bishop's 20-acre property until a hearing set for December 19.
Calgary-based TransCanada explains that the Keystone XL pipeline is intended to transport "bitumen from the oil sands in Canada that has been diluted with lighter oils" from northern Alberta to refineries on the Gulf Coast.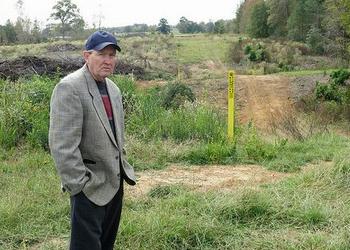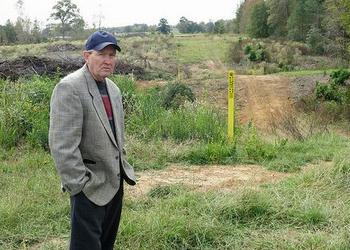 Bishop will represent himself in court. He claims that the material to be transported from Canada is a hazardous material, diluted bitumen, and not crude oil as stated in TransCanada's permits, news releases and previous legal documents filed with both the U.S. State Department and in Texas courts.
Bishop claims that TransCanada defrauded the landowners by stating all of their permits were in order and that TransCanada, a private, foreign coproation, had the right to eminent domain as a common carrier.
Bishop states that the Texas Constitution and case law do not allow property to be seized by eminent domain unless the project is one in which the public has an interest. Property in Texas cannot be taken for private gain.
Judge Sinz ruled, "It clearly appears from the Application and Affidavit of Plaintiff Michael Bishop, that sufficient cause exists to issue a temporary restraining order until the merits of the Application can be presented to a jury."
"Without a temporary restraining order, Plaintiff will suffer immediate and irreparable injury, a violation of his Constitutional rights as delineated by the Texas constitution," the judge ruled. "This Application was heard ex parte and this Order granted without notice to the Defendant because further delay cannot be redressed by the Court; because Plaintiff has lost property and because Plaintiff has been defrauded and denied his Constitutional rights."
Bishop told reporters on a teleconference today, "TransCanada has defrauded the American people and Texas landowners and lied to our legislators that this was in our national security interest."
"I took the bull by the balls and filed for a temporary restraining order with the court and a lawsuit," Bishop said. "I have demanded a jury trial and paid the fee for a jury trial. In the end it goes before a jury and when it does, we the people will win."
"I'm an analytical chemist. I analyzed the facts, the state and federal definitions of what constitutes diluted bitumen and what constitutes crude oil," he said. Crude oil is liquid hydrocarbons and this material is not that. They have no argument, they have no case."
"This is not crude oil and they have no right of eminent domain and I want my property restored. There is overwhelming evidence that this is not crude oil. You cannot argue with science and science prevails," declared Bishop, who starts medical school in January.
Bishop explained that his 20-acre property encompasses two creeks and four year-round springs. In the 2006 drought, he said, "I planted sunflowers, harvested them and converted the sunflower oil into biodiesel. I have a perennial grass crop that is permitted by the state of Texas that can only be moved by permit." He says land used to feed his family is now destroyed.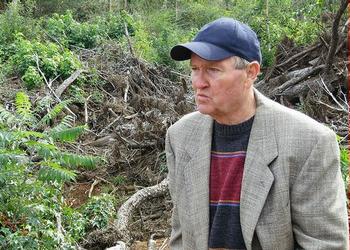 TransCanada released a statement today pointing out the Bishop had signed an easement agreement with the company that allows the pipeline to be built across his property. But Bishop argues that he signed the easement agreement "under coercion and duress."
"If you have been defrauded about property you can file suit. I want a recission of the easement," he told reporters.
TransCanada is building the southern section of the Keystone XL pipeline even though President Barack Obama has not granted the required Presidential Permit for the pipeline to cross the border between Canada and the state of Montana that the company needs to bring the diluted bitumen from Alberta to the Gulf Coast.
After the President rejected the pipeline application in January, TransCanada has reapplied and the renewed application is being researched by the U.S. State Department.
Bishop says he is taking the issue to court not only to protect his own property but that of other landowners who have been bullied by TransCanada. "There's people out here who just don't have the financial resources to fight a multinational corporation. This is a David and Goliath situation," he said.
Anthony Swift, an attorney with the Natural Resources Defense Council, told reporters that the Internal Revenue Service has issued a determination that tar sands need not be taxed because tar sands are not crude oil.
"There is a major difference," said Swift.
Citing the July 2010 spill of diluted bitumen by another pipeline company that contaminated roughly 35 miles of Michigan's Kalamazoo River, Swift said, "We found with that diluted bitumen spill responders have had a very difficult time cleaning it up." Part of the Morrow Lake delta is still closed for cleanup.
Sierra Club attorney Doug Hayes said Bishop is not alone in the fight against this pipeline. "There is a tremendous grassroots movement building against this pipeline. Landowners in Texas and Oklahoma are watching while a foreign corporation comes in and takes family property."
"Communities along the entire route from Montana to Texas are concerned about contamination of surface water and aquifers in view of the fact that TransCanada's first Keystone piipeline spilled 14 times in its first year of operation," said Hayes.
Hayes says the Sierra club has become involved because "this project has enormous climate change implications."
Environmental groups argue that if approved by President Obama, this pipeline will lock the United States into a dependence on an expanding and destructive oil sands operation in Canada. "Keystone XL would be the greenhouse gas equivalent of adding over four million passenger vehicles to the road, or constructing four new coal-fired power plants every year," warns the nonprofit US Climate Action Network.
Hayes said, "Yet TransCanada is out there building it as we speak, filling wetlands, clearing private property without any analysis under NEPA [the National Environmental Policy Act]."
In June, the Sierra Club sued the U.S. Army Corps of Engineers in federal court in Oklahoma to block the Keystone XL pipeline; the grounds used in the challenge affect Corps-issued permits for all pipelines.
The 485 mile-long section of the pipeline at issue in the Sierra Club case crosses more than 2,000 water bodies. Hayes says the Corps broke each crossing into a spearate project, and permitted them all under a nationwide Clean Water Act permit. "In that way they were able to avoid any NEPA review."
The Oklahoma federal court rejected the Sierra Club's motion for a preliminary injunction to stop the pipeline while he heard the case. The motion is now pending before the 10th Circuit Court of Appeals in Denver.
Bishop is not deterred. He has already filed a suit in Travis County District Court against the Railroad Commission of Texas which, he says, has failed in "their ministerial duty to protect groundwater and surface water in Texas."
In addition to these two suits, Bishop is also filing a suit in federal court against the U.S. Army Corps of Engineers and has "utmost confidence" in its outcome.
"After I prevail in these suits, I am going to make sure that real eminent domain reform is passed in Texas so that future generations do not have to suffer as we have," said Bishop.
"I will continue to stand up and fight for those that cannot fight for themselves against this gross travesty of justice," Bishop said. "I will continue every effort to repel this foreign invasion and hopefully restore all of the property stolen by TransCanada via fraudulent means, to the rightful owners."
Copyright Environment News Service (ENS) 2012. All rights reserved.