COLLEGE STATION, Texas, February 22, 2010 (ENS) – One of the worst droughts in Texas history has officially ended, according to figures from Texas State Climatologist John Nielsen-Gammon, who also serves as a professor of atmospheric sciences at Texas A&M University.
Nielsen-Gammon says that the latest U.S. Drought Monitor, released Friday, shows none of the state in drought. Only a few small patches of the state, near the Coastal Bend and along the Texas-Mexico border, are still depicted as abnormally dry.
"The drought began in fall 2007, as an unusually wet year for Texas suddenly turned dry," he said. "The lack of rainfall led to the first drought impacts in late fall and winter of 2007-2008."
"In the summer of 2008 much of the state experienced drought relief with two tropical cyclones, Dolly and Ike, but core areas of the drought in south-central and southern Texas missed out on much of the tropical rainfall," Nielsen-Gammon recounted.
"A second straight dry winter followed, and while spring rains shrunk the area of drought in Texas considerably, core areas of the drought continued to degrade."
Nielsen-Gammon says that by summer 2009, three counties in south-central Texas – Bastrop, Caldwell and Lee – and six counties in south Texas – Victoria, Bee, San Patricio, Live Oak, Jim Wells and Duval – were experiencing their worst droughts on record, according to his calculations.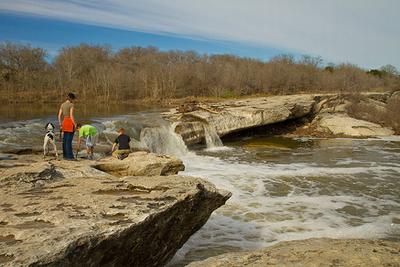 Rainfall has refreshed the falls at Austin's McKinney State Park. January 17, 2010. (Photo by Jeremy)
But ample rainfall during the past fall and winter has allowed pastures to begin to recover and reservoirs to fill.
Texans can thank El Nino conditions that warmed the eastern tropical Pacific Ocean, said Nielsen-Gammon.
"In an El Nino, with warm east Pacific sea surface temperatures, winters tend to be wet, while the opposite happens during a La Nina," he explained. "Two consecutive La Nina winters helped make this drought particularly severe, while the current El Nino conditions have helped to end the drought."
The drought was one of the worst ever, rivaling those experienced by the state in the early 1920s and through much of the 1950s, he said.
Water storage is still well below normal in a few areas. Lake Buchanan is nowhere near its water levels prior to the onset of the 2008-2009 drought. However, because water demand is low this time of year, the lack of stored water is having few immediate consequences, but normal rainfall may not be sufficient for avoiding the return of restrictions on water use this summer.
Some parts of the state are still suffering. "The recent rain has not fully made up for two years of drought in parts of north-central, south-central and southern Texas," he explains.
"Even in places where the topsoil is saturated, there may be unusual dryness lower in the soil column," he said. "If the weather turns dry again, severe drought would develop more quickly because of the lack of deep moisture. El Nino is expected to cause continued wet weather into April or May though, and if the rains do continue the state will gradually become more resilient to summer dry spells."
Continued relief for the residual long-term drought areas in parts of southern Texas appears likely through the late winter and early spring, according to the National Weather Service's Climate Prediction Center.
Across the rest of the country, heavy precipitation continued to slowly ease the drought in central and southern sections of the Far West during the first half of February. Drought should continue to ease in this region, with more limited relief expected farther north through extreme southern Oregon, says forecaster Anthony Artusa of the Climate Predication Center.
To the north, drought development is expected across the rest of Oregon east of the Cascades, Artusa predicts. Either persistence of existing drought or development of new areas of drought are indicated over the northern Basin, northern half of the Rockies, and north-central Montana.
In northern Wisconsin, the long-term drought that has lasted for at least the past 18 months is likely to persist, he says. The drought in this area has lasted for at least 18 months, and any rain or snow that has fallen during this period has not been sufficient to change the situation.
Finally, says Artusa, drought has expanded to cover all of the Hawaiian Islands, and by the end of May, drought is expected to cover the entire state. Consistent with an ongoing El Nino, Hawaii is expected to receive below-median precipitation during this period. These dry conditions will likely worsen ongoing areas of severe to extreme drought over Hawaii.
Copyright Environment News Service (ENS) 2010. All rights reserved.