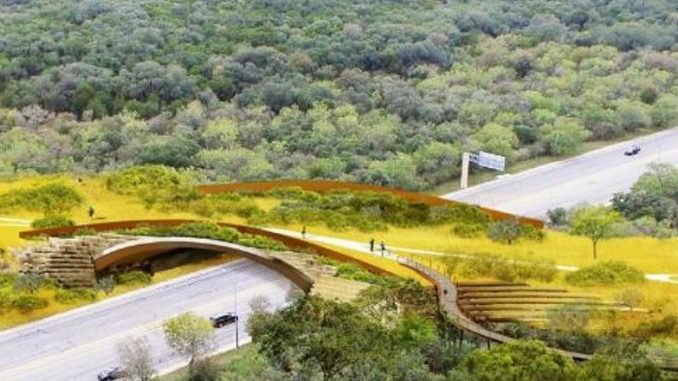 SAN ANTONIO, Texas, May 24, 2021 (ENS) – There was a time, not very long ago when deer got killed and caused traffic accidents trying to cross the busy six-lane Wurzbach Parkway, which bisects a giant park in San Antonio.
But now the United States' largest wildlife crossing, complete with Skywalk for pedestrians, unifies the 330-acre park in north-central San Antonio, named for former San Antonio mayor Phil Hardberger, who championed the bond program that helped purchase the land and still supports the park.
A former dairy farm, the park includes what "MySA.com" writer Ed Conroy described as "an extraordinarily beautiful savanna studded with enormous oaks bordering Salado Creek."
Today, deer and other animals can safely cross the heavily-trafficked Wurzbach Parkway, and local residents say the animals are not running across the road getting hit.
In early April, the last part of the $23 million bridge was completed when the Skywalk opened and many locals and tourists are enjoying it already.
"The Skywalk is one of the most unique features of the Robert L.B. Tobin Land Bridge. I like to describe it as zip-line powered by your feet," Mayor Hardberger said on the park's website.
"Visitors will get a squirrel's eye view of the trees and ground below, offering a new perspective of the park and its animal inhabitants," he said.
The 1,000-foot-long Skywalk is the first walkway of its kind built in San Antonio. At six feet wide, the entire length is ADA-accessible, and a seating area offers a shady spot for relaxation and wildlife viewing. The
"We're excited to open the Skywalk which offers an accessible, unique vantage point of the park for all visitors to enjoy," said Homer Garcia III, San Antonio's director of Parks and Recreation.
The opening of the Skywalk marks the completion of construction on the Robert L.B. Tobin Land Bridge, which opened in December 2020. The bridge is named after the San Antonio-born art collector and patron who endowed libraries and museums, underwrote operas, sponsored symphony premieres and championed artists and composers in many places.
Today the Robert L.B. Tobin Land Bridge connects the two sides of Phil Hardberger Park. At 150 feet wide at the top, 165 wide at the base, it's plenty broad enough for animals and people to safely cross.
Land bridges are trending and they have proved to be a hit with animals, too. In the United States there are hundreds of wildlife bridges and underpasses, located in Utah where the first was built in the 1970s, across the West and also in Florida and New Jersey.
Do these bridges save lives? Science writer Jennifer S. Holland concludes that they do. In a 2019 issue of the "Pew Trust" magazine, she says that wildlife bridges have been "wildly successful at reducing deadly interactions between drivers and animals."
Featured Image: View of the Robert L.B. Tobin Land Bridge. (Artist's rendering by Stimson Landscape Architects courtesy Phil Hardberger Park)