Terrafugia Brings Flying Car to New York Auto Show
NEW YORK, New York, April 4, 2012 (ENS) – Is it a roadable aircraft or a flying car? It's both and it's coming to the New York International Auto Show opening to the public April 6.
Developed by Terrafugia, Inc., the Transition® Street-Legal Airplane is a two seat personal aircraft capable of driving on roads and highways at up to 100 mph, parking in a single car garage, and flying with unleaded automotive fuel.
The Transition proof of concept has been tested as safely achieving speeds around 100 miles per hour on the ground.
The Transition is now an important flight closer to being a commercial reality after the production prototype had a successful first flight on March 23 at Plattsburgh International Airport in Plattsburgh, New York.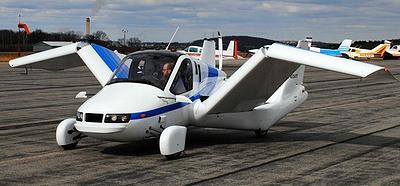 Terrafugia's Transition® Street-Legal Airplane at the Plattsburgh airport (Photo courtesy Terrafugia)
"The successful first flight of this Production Prototype Transition marks a critical move toward initial production and first delivery," said Terrafugia chief operating officer Anna Mracek Dietrich.
Terrafugia (terra-FOO-gee-ah), based near Boston in Woburn, Massachusetts, is a privately-owned aerospace company founded in 2006 by pilots and engineers from the Massachusetts Institute of Technology – award-winning MIT-trained aeronautical engineers and MBAs – who also happen to be passionate private pilots.
The company name is Latin for "Escape the Earth." Terrafugia's mission is to design and deliver revolutionary, practical air and land vehicles that provide freedom, flexibility and fun.
Taking advantage of new federal regulations in the Light Sport Aircraft category, Terrafugia developed the Transition Roadable Aircraft to provide pilots the convenience of a dual-purpose vehicle.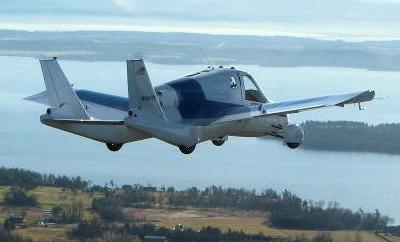 The Transition on its maiden flight, March 23, 2012 (Photo courtesy Terrifugia)
Regarding its first flight, Terrafugia co-founder, chief executive and chief technical officer Carl Dietrich said, "With this flight, the team demonstrated an ability to accomplish what had been called an impossible dream. We look forward to continuing to show that the challenges of bringing a practical street legal airplane to market can be overcome. This is a very exciting time for Terrafugia. We are on our way up – literally and figuratively!"
The Transition's first flight reached an altitude of 1,400 feet above the ground and lasted eight minutes while staying in the vicinity of Plattsburgh. It demonstrated the controllability and safe operational characteristics of the aircraft.
Six phases of flight testing are planned to continue development and demonstrate compliance with the Light Sport Aircraft standards.
About the first flight, Terrafugia Chief Test Pilot Phil Meteer said, "It's a remarkable vehicle both on the road and, now, in the air. When I drove it into the shop, literally from the road through the garage door, I was amazed that I had just flown it at Plattsburgh a few days before."
"A long-overdue mode of transportation and fun is just around the corner," said Meteer. "I can't wait for the upcoming flight tests and the chance to 'wring it out,' demonstrating how safe and enjoyable the Transition is to fly."
Copyright Environment News Service (ENS) 2012. All rights reserved.
Environment News Service (ENS) © 2012 All Rights Reserved.