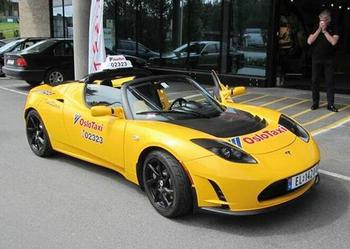 COPENHAGEN, Denmark, April 12, 2018 (ENS) – Emissions of carbon dioxide from new passenger cars have dropped in European countries where taxes, subsidies and other incentives encourage drivers to buy vehicles that emit the least amount of the greenhouse gas, finds new research from the European Environment Agency.
The number of countries offering incentives for electric vehicles continues to grow, according to EEA data published today. But emissions from heavy-duty trucks and buses are expected to increase further if new measures are not taken.
Almost all European Union countries have adopted incentives of some sort, resulting in a steady fall of average CO2 emissions of new passenger cars, according to the EEA briefing, "Appropriate taxes and incentives do affect purchases of new cars."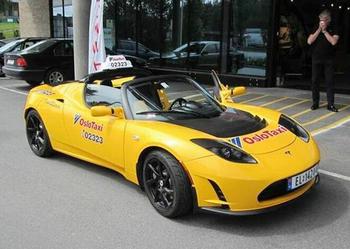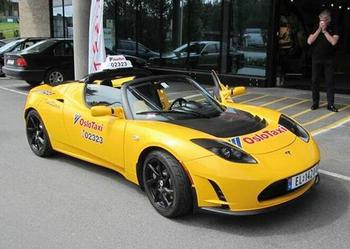 The briefing, based on a study done by the EEA's European Topic Centre on Air Pollution and Climate Change Mitigation (ETC/ACM), examines what financial incentives EU Member States, plus Iceland, Liechtenstein, Norway, and Switzerland are using to steer consumers to drive more eco-friendly cars and what the impact of these incentives has been.
The analysis includes seven case studies which explore the different approaches used for taxation and incentives across France, Germany, Greece, Ireland, the Netherlands, Norway and Poland.
The study found that consumers more readily purchased lower-emitting cars where sufficiently large and targeted taxes and incentives were in place.
Norway had the lowest average of CO2 emissions from new passenger cars sold in 2016, and Norway has the highest number of incentives promoting electric vehicles, reflected in the high proportion of battery electric cars on Norwegian roads in 2016.
The fleet of plug-in electric vehicles in Norway is the largest per capital in the world, with the capital, Oslo, recognized as the EV capital of the world. Norway's fleet of electric cars also is one of the cleanest in the world because 98 percent of the country's electricity is generated by hydropower.
The EEA briefing warns that to foster the uptake of electric vehicles, more charging facilities are needed to reassure people on reliability and range limitation concerns on using battery-powered cars.
The study notes that only 11 countries had specific incentives in place to foster more charging facilities for battery-powered cars in 2016.
Reducing greenhouse gas emissions from the transport sector is a key priority for the European Union. Average CO2 emissions of new passenger cars in the EU has fallen steadily over recent years, decreasing by around 30 percent since 2001.
But a further 20 percent reduction in average CO2 emissions will be required to comply with the EU's 2021 target of 95 grams of CO2/km.
Later this month, the EEA will publish new official statistics of the average CO2 emissions from new passenger vehicles for 2017.
The number of countries offering incentives promoting the use of hybrids and battery electric vehicles has jumped from 2010 to 2016. All but one, Poland, have incentives for hybrid and battery electric vehicles.
Emissions from trucks, buses, on the rise
Trucks, buses and coaches are responsible for around one quarter of CO2 emissions from the transport sector and are expected to increase further if new measures to curb emissions are not taken, according to a separate EEA briefing also released today.
Heavy duty vehicles are currently responsible for around 27 percent of road transport CO2 emissions. They have increased by 25 percent since 1990 says the briefing "Carbon dioxide emissions from Europe's heavy-duty vehicles."
Without additional actions to curb emissions, they are expected to rise in the future, by up to 10 percent in 2030 compared with 2010.
To date, there are no mandatory EU procedures to monitor and report emissions and fuel consumption from heavy-duty vehicles, unlike those in place for new passenger cars and vans.
But this gap is about to be closed. A new monitoring and reporting system will come into force in 2019, and a European Commission proposal to establish mandatory CO2 emission limits for newly registered heavy-duty vehicles is expected later this year.
Copyright Environment News Service (ENS) 2018. All rights reserved.