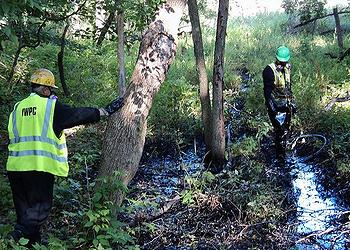 WASHINGTON, DC, July 26, 2012 (ENS) – People across the United States and Canada this week are marking the two-year anniversary of the Kalamazoo River tar sands oil spill with demonstrations, candlelight vigils and news conferences that all deliver a single message – a similar spill could happen anywhere pipelines run.
On Sunday, July 25, 2010, at about 5:58 pm, a 30 inch-diameter pipeline owned and operated by the Canadian company Enbridge Inc. ruptured and spilled crude oil into an ecologically sensitive area near Michigan's Kalamazoo River. The spill continued for 17 hours until a local utility worker discovered the oil and contacted Enbridge to report the rupture.
The 843,444 gallon spill, enough of the sludgy, corrosive oil to fill 120 tanker trucks, is still being cleaned up. At a cost of more than $800 million it stands as the costliest pipeline cleanup in American history.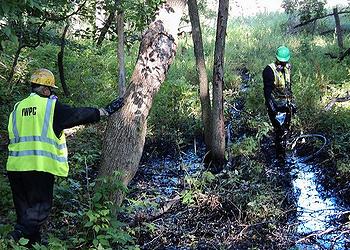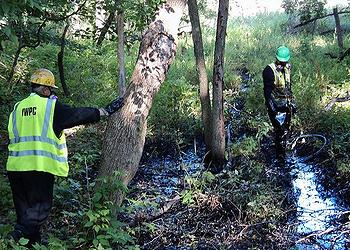 Enbridge Energy, based in Calgary, Alberta, plans to expand that same pipeline and pump three times more heavy oil from the Alberta tar sands through it than it currently carries. The company plans to connect the pipeline in Michigan to east coast lines to create an international tar sands pipeline network.
The Kalamazoo River spill was caused by, "Pervasive organizational failures by a pipeline operator along with weak federal regulations," the National Transportation Safety Board said in a scathing report issued on July 10.
On July 3, the U.S. Department of Transportation's Pipeline and Hazardous Materials Safety Administration proposed a $3.7 million fine against Enbridge after its investigation found 24 violations of safety regulations.
This week, at least 24 citizen events either have happened or are being planned under the slogan "We Are the Kalamazoo."
New England activists are up in arms against a plan by energy companies to convert an existing gas pipeline to carry the heavy, corrosive fuel from Alberta to markets on the Eastern Seaboard.
In Burlington, Vermont on Sunday, the Sierra Club, 350.org Vermont, and Tar Sands Free Northeast are organizing the largest We Are the Kalamazoo rally – a "human oil spill" outside the Conference of New England Governors and Eastern Canadian Premiers.
As hundreds of people have registered to attend, it is shaping up to be one of the biggest regional environmental protests in years, featuring environmental activist Bill McKibben, a Vermont resident who founded the climate action group 350.org and Innu native people from northern Quebec.
The first action of the We Are the Kalamazoo campaign was a human oil spill at the state capitol in Lansing, Michigan on July 18, when about 30 environmentalists in black clothing sprawled on the glass floor of the rotunda at the Michigan Capitol.
On Wednesday, another human tar sands oil spill was staged on the steps of Seattle City Hall. "The use of tar sands is a choice that could haunt us for centuries," said Seattle writer and activist Emily Johnston. "It's a sign of astonishing recklessness on the part of the fossil fuel companies, and as citizens, we have to come together to make it clear they can't do this in our names."
In Maine, citizens participated in one of four different rallies dramatize the risk a tar sands pipeline spill poses to drinking water, fisheries and tourism. At least 40 attended a rally at Sebago Lake, more than 100 attended a rally in South Portland at Casco Bay near a tanker terminal, 50 joined a human oil spill on the Androscoggin River in Bethel, and 50 joined a demonstration in Bolsters Mills on the Crooked River.
The Nebraska demonstration was held in front of Governor Dave Heineman's mansion. Protesters are asking Governor Heineman to "keep our water blue."
Nebraska is now in the process of identifying a route that would protect the Ogllala aquifer from the Keystone XL pipeline proposed by TransCanada to carry tar sands oil to refineries in Oklahoma and Texas.
The Nebraska Farmers Union issued a statement in solidarity with the victims of the Michigan spill saying, "The spill in the Kalamazoo River in Michigan two years ago is an example of water contamination that could have been prevented if the proper measures would have been taken. … Enbridge did not have those safeguards in place that would protect U.S. landowners. … This battle is not only about your land, it is about hundreds of other landowners and their landowners' rights as tar sands pipelines are proposed in other areas of our state and country."
Deb Miller is a resident and store owner in Ceresco, Michigan who lives just 4.5 miles from the Enbridge pipeline break along the river. She told reporters on a conference call Wednesday that she was on chemotherapy when the spill occurred.
Miller said local officials told residents their biggest concern was benzene. The Department of Health and Human Services classifies benzene as a human carcinogen.
Residents worry about the long-term health effects of exposure to the oil and Miller is upset that the state of Michigan has determined it is not necessary to do a long term health study.
"For months we looked at a black river," Miller said. "An MDEQ application by Enbridge states there are still hundreds of acres of submerged oil. My property will never be the same, I can still smell oil and see oil sheen. It has permanently stained our trees."
The spill of heavy crude oil affected about 36 miles of the Kalamazoo River. While a majority of the spilled oil has been recovered, oil remains "in floodplains, on riverbanks, in the sediment at the bottom of the Kalamazoo River, and in Morrow Lake," according to a report issued in May by the Michigan Department of Community Health.
"MDCH has concluded that repeated skin contact with and accidently eating small amounts of sediment containing submerged oil will not result in a higher than normal risk of cancer," the agency said.
On July 10, Michigan authorities opened 35 miles of the Kalamazoo River to the public, but the oil is not gone. At five locations along the affected stretch of the river, they have wipe stations for swimmers to remove oil from their bodies and their boats.
Canadians are also fighting tar sands pipelines. In Toronto, Ontario on Wednesday, photographs of pipeline spills wwere displayed on easels along Queen street as volunteers stood by to talk with pedestrians about the Kalamazoo spill and other spills.
Nikki Skuce of ForestEthics Canada lives in Smithers, British Columbia near the Northern Gateway pipeline proposed by Enbridge to cross central Alberta and BC. Skuce told reporters on the conference call Wednesday that this line would cross more than 800 rivers and streams, many of them salmon habitat.
"The majority of British Columbians are against this pipeline," she said. "It would introduce tankers for the first time to the BC coast, which is known for beauty, especially the Spirit Bear rainforest, and also known for its storms and large waves."
The Northern Gateway pipeline as proposed would cross over 50 First Nations territories. Many have never signed treaties and still have control over their lands. Most First Nations said earlier this week that they oppose the pipeline. In addition, several municipalities that would be impacted have passed resolutions against it.
"Enbridge has the audacity to tell us our coast will be safe," fumed Skuce. "The risks are just too high and we can't trust Enbridge with our salmon rivers. British Columbians have said they will do whatever it takes to stop it."

Copyright Environment News Service (ENS) 2012. All rights reserved.