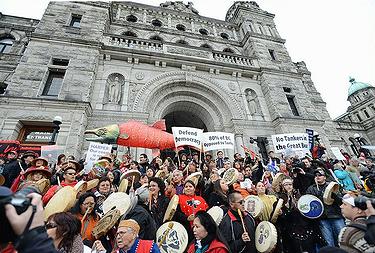 VICTORIA, British Columbia, Canada, October 22, 2012 (ENS) – Thousands of protesters from across the province and points east filled the lawn of the British Columbia Legislature today for a Defend Our Coast demonstration against pipelines and tankers in the province and along the coast.
The demonstrators are objecting to the proposed Enbridge Northern Gateway pipeline that would carry diluted bitumen from the tar sands of northern Alberta to a proposed tanker port at Kitimat on the central British Columbia coast.
Kinder Morgan has proposed a $4.1-billion Trans Mountain project that would expand an existing pipeline from Alberta to Vancouver and bring tankers at the rate of about one a day through the already busy Vancouver Harbour.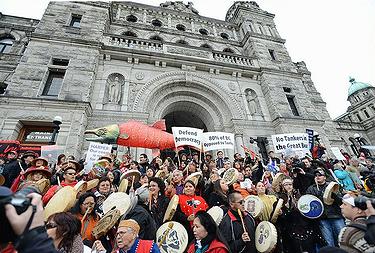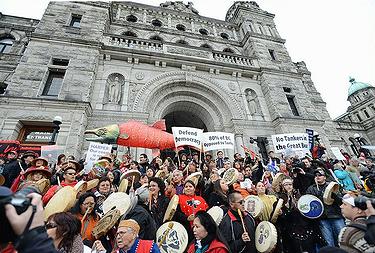 The Legislature is not in session, but the legislative building is locked down, with guards posted at all the doors and employee key cards disabled. Legislature security put the crowd size at between 3,000 and 3,500 protesters.
The crowd first heard from First Nations drummers and speakers, who invited all Canadians to join in defense of what Chief Jackie Thomas of the Saik'uz First Nation called "the natural beauty and cultural richness of the B.C. coastline."
He said the First Nations are demonstrating "to show the strength of the support for First Nations people's rights to land and title and the internationally protected right to free, prior and informed consent on any development impacting our traditional territories."
Coastal First Nations Executive Director Art Sterritt asked the crowd if they were willing to lie down in front of pipeline bulldozers to stop the project if it gets government approval. The crowd roared back, "Yes!"
"We're meeting in Victoria to show that you can't gut Canada's environmental legislation and try to put a price tag on the B.C. coast without a public response," said Maude Barlow, chairperson of the Council of Canadians, a national advocacy group. "Canada's iconic coast is far too valuable to risk on tar sands pipelines and tankers and we pledge to defend it."
Barlow said allowing Enbridge to build the Northern Gateway pipeline would hand control to large oil companies and rob Canada of a future powered by renewable energy.
To dramatize their message, protesters unfurled large canvas sheets forming the outline of an oil tanker and staked them down on the legislature lawn.
"There are moments in history when it's clear that our elected leaders are failing us and it is necessary to take a stand," said author and environmentalist Tzeporah Berman. "Today we are stating our intention to defend our coast and calling on others to join us. The risk of oil spills and irreversible harm to our tourism and fishing industries from these pipelines and tankers is just too great."
"This October, we pledge to defend our coast and the mountains, rivers, forests, wildlife and First Nations communities of B.C. against tar sands pipelines and tankers," said Susan Spratt, Western Regional Director of the Canadian Auto Workers. "We want long-term green jobs that will take us beyond fossil fuels, not short-term high risk pipelines."
Enbridge calculates that opening up Asian markets to Canadian tar sands oil would boost Canada's GDP by C$270 billion over 30 years and generate $81 billion in direct and indirect revenues to the federal and provincial governments.
Of that, British Columbia would receive about $6 billion, while the federal government would get about $36 billion and Alberta would receive $32 billion.
Premier Christy Clark, a Liberal, has gone on the record as favoring the Northern Gateway pipeline and increased oil tanker traffic along the coast.
"We've got tankers going up and down the St. Lawrence for heaven's sake. I don't know why we'd ban them necessarily off the west coast," she told Victoria's "Times Colonist" newspaper on February 25, 2011. "You look at the largest container ships. They have as much oil in them as small oil tankers do. There is all kinds of oil shipped up and down British Columbia's coast already."
Premier Clark told "Pipeline News North" on September 30, 2011, "I'm tired of hearing people say, 'No, I don't want that development. No, I don't want those trees cut down. No, I don't want that mine. No, I don't want that well drilled.' We need to move to yes. We need to move to yes as a province. As citizens. And we need governments to move to yes as well."  
The crowd carried signs directed at the Premier saying, "Clark, Our Coast is Not for Sale" and others directed at Canada's Prime Minister Stephen Harper, a Conservative, saying, "Harper, Our Coast is Not for Sale."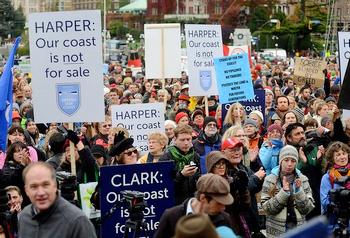 The opposition New Democratic Party has come out against the pipelines and tankers. In a letter to the National Energy Board's Joint Review Panel in April, BC NDP leader Adrian Dix wrote, "Under the Enbridge proposal, British Columbia would assume almost all the project's risk, yet would see only a fraction of the benefits. By any measure, such a high-risk, low-return approach simply isn't in BC's interests."
The NDP warns that lifting the current tanker moratorium will put BC's coastline at serious risk of devastating environmental and economic damage from oil spills.
The pipeline will traverse remote, highly valued areas of BC, crossing almost 800 streams, putting these valuable environments and species, such as salmon, at risk, and First Nation communities would be most severely affected by an oil leak or spill, the Dix warned in his letter.
"While failing to meet its legal responsibility under the Species at Risk Act, our government has nevertheless found plenty of time and resources to vigorously promote the Enbridge pipeline proposal," said George Heyman, executive director of Sierra Club BC.
Sierra Club BC, along with four other conservation groups, is taking the federal government to court over its failure to protect four endangered species along the proposed Northern Gateway pipeline and tanker shipping route.
The lawsuit, covered by ENS on September 26, claims that the federal government's continued failure to implement the Species at Risk Act threatens endangered wildlife along the proposed route.
Many of those at the BC Legislature condemn provisions of the federal government's new omnibus budget bill, introduced last week, which make it easier for major industrial developments including oil pipelines, mines, logging, interprovincial powerlines and private hydropower projects to damage or obstruct Canadian waterways.
The bill includes proposed changes to laws protecting fish and navigable waters, preventing harm from hazardous waste and governing the shipping industry.
Environmentalists say the changes are being introduced without proper debate in an "end-run" around the democratic process that will open the potential for more pollution and destruction of critical habitat.
A province-wide protest is planned for Wednesday at lawmakers' offices in 55 communities.
Hearings for the project by the National Energy Board's Joint Review Panel have adjourned for a week in Prince George and will begin again on October 29. The three-member review panel has until the end of 2013 to complete its report.