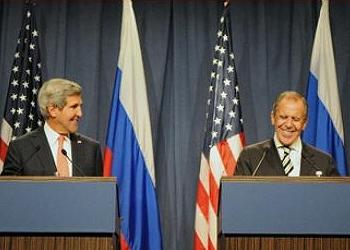 NEW YORK, New York, September 16, 2013 (ENS) – The Syrian government of President Bassar Al-Assad has formally acceded to the international treaty on banning chemical weapons, effective October 14. Simultaneously, U.S. and Russian diplomats have agreed on removal and destruction of all Syria's chemical weapons by the first half of 2014.
A statement issued Saturday by a spokesperson for UN Secretary-General Ban Ki-moon confirms that the secretary-general, in his capacity of the depositary of the 1992 Convention on the Prohibition of the Development, Production, Stockpiling and Use of Chemical Weapons and on their Destruction, has received the formal instrument of accession to the treaty by Syria.
A UN spokesperson confirmed that the secretary-general had received a letter from the Damascus informing him that Al-Assad planned to sign and abide by the Chemical Weapons Convention.
Until now, Syria was one of only seven nations that had not acceded to the Convention; 189 governments representing 98 percent of humanity have joined the treaty, as well as 98 percent of the worldwide chemical industry.
"The Convention will enter into force for [Syria] on the 30th day following the date of deposit of this instrument of accession, namely on 14 October 2013," the spokesperson said.
In a separate statement Saturday, the UN secretary-general welcomed an agreement reached by Russian Federation Foreign Minister Sergei Lavrov and U.S. Secretary of State John Kerry on a framework for the safeguarding and destruction of Syria's chemical weapons stockpiles.
Announcement of the deal came after three days of intense talks in Geneva between Lavrov and Kerry. It caps a week of diplomatic activity, begun by the announcement of Russia's proposal for Damascus to surrender its chemical weapons and place them under international control.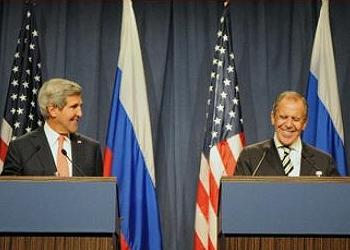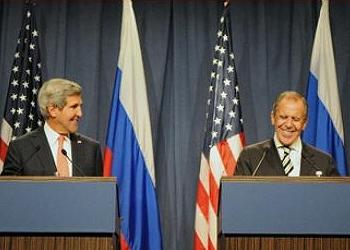 In a joint statement, the United States and Russia said they "have committed to prepare and submit in the next few days to the Executive Council of the Organisation for the Prohibition of Chemical Weapons a draft decision setting down special procedures for expeditious destruction of the Syrian chemical weapons program and stringent verification thereof."
The United States and Russia expect Syria to submit, within a week, a comprehensive listing, including names, types, and quantities of its chemical weapons agents, types of munitions, and location and form of storage, production, and research and development facilities.
The United States and Russia are both Parties to the chemical weapons treaty and each country is in the midst of a multi-billion dollar, multi-decade effort to destroy its entire chemical weapons stockpile.
"The secretary-general expresses his fervent hope that the agreement will, first, prevent any future use of chemical weapons in Syria and, second, help pave the path for a political solution to stop the appalling suffering inflicted on the Syrian people," said Ban's spokesperson.
On Sunday, Swedish chemist Professor Ake Sellstrom, head of the UN chemical weapons team investigating the use of chemical weapons in Syria, presented their report to Secretary-General Ban. The text will be made public later today after the secretary-general briefs the UN Security Council in a closed door session.
In the report, to be presented on Monday, the International Commission of Inquiry on Syria will report that pro-government forces deny medical care to opponents through attacks on medical units, by endangering hospitals, targeting medical personnel and interfering with patients receiving treatment.
The UN chief said he welcomes Syria's decision to join and abide by the chemical weapons treaty. It was prompted by U.S. President Barack Obama's threat to strike targets in Syria in a "limited" retaliation for the use of chemical weapons on August 21 in a massacre that killed up to 1,729 people in the Al-Ghouta greenbelt suburb of Damascus.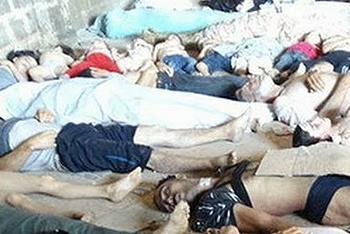 In an address to the nation on Saturday, President Obama did not wait for the results of the UN investigation to declare, "No one disputes that chemical weapons were used in Syria. The world saw thousands of videos, cell phone pictures, and social media accounts from the attack, and humanitarian organizations told stories of hospitals packed with people who had symptoms of poison gas."
"Moreover, we know the Assad regime was responsible," said Obama. "In the days leading up to August 21st, we know that Assad's chemical weapons personnel prepared for an attack near an area where they mix sarin gas. They distributed gasmasks to their troops. Then they fired rockets from a regime-controlled area into 11 neighborhoods that the regime has been trying to wipe clear of opposition forces. Shortly after those rockets landed, the gas spread, and hospitals filled with the dying and the wounded. We know senior figures in Assad's military machine reviewed the results of the attack, and the regime increased their shelling of the same neighborhoods in the days that followed. We've also studied samples of blood and hair from people at the site that tested positive for sarin."
Obama said the purpose of a targeted military strike "would be to deter Assad from using chemical weapons, to degrade his regime's ability to use them, and to make clear to the world that we will not tolerate their use."
"If we fail to act, the Assad regime will see no reason to stop using chemical weapons," Obama said, warning that, "If fighting spills beyond Syria's borders, these weapons could threaten allies like Turkey, Jordan, and Israel. And a failure to stand against the use of chemical weapons would weaken prohibitions against other weapons of mass destruction, and embolden Assad's ally, Iran, which must decide whether to ignore international law by building a nuclear weapon, or to take a more peaceful path."
Simultaneously, to develop a political path out of the more than two-year old crisis in Syria, United Nations-Arab League Joint Representative Lakhdar Brahimi has been pressing ahead with his efforts towards the holding of a long-proposed international peace conference on Syria, meeting with Kerry and Lavrov in Geneva to hammer out the details.
On Friday, the UH humanitarian aid chief announced the allocation of $50 million to bolster the efforts of agencies helping the growing number of Syrians affected inside the country and throughout the region. The money will come from the UN Central Emergency Response Fund; it is the largest ever contribution to support coordinated response to a single country.
"Conditions for Syrians fleeing the conflict in their country get worse by the day. I am releasing $50 million to help United Nations agencies in the region keep pace with the growing demand," said Under-Secretary-General for Humanitarian Affairs and Emergency Relief Coordinator Valerie Amos.
"The CERF contribution represents a show of solidarity with the people of Syria as the funds come from donors, large and small, across the world," said Amos.
More than one-third of Syrians urgently need humanitarian aid but the crisis is affecting everyone, Amos said after her return from Syria in mid-August, as the currency has depreciated and essential infrastructure has been destroyed, including health facilities.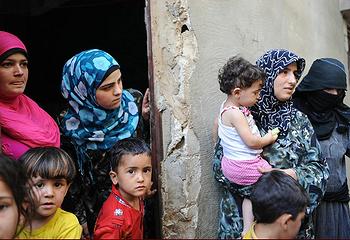 The CERF contribution will provide $20 million to support aid operations inside Syria, $15 million to scale up efforts in Lebanon, another $10 million to help the recent influx of Syrian refugees into Iraq, and the remaining $5 million will boost humanitarian programs in Jordan.
As many as 100,000 people have been killed, more than two million have fled to neighboring countries and a further four million have been internally displaced since fighting began in March 2011 between the Syrian government and opposition groups seeking to oust President Al-Assad.
Also Friday, the UN High Commission for Refugees said an increased number of Syrians are arriving in Southern Europe, mainly from Damascus.
Spokesperson Adrian Edwards told journalists in Geneva that 3,300 Syrians, of whom 230 were unaccompanied children, arrived by boat in southern Italy during the previous 40 days, as compared with a total of 670 in the previous week.
In addition, the UN World Food Programme today urged greater access in Syria to reach hungry families. Spokesperson Elisabeth Byrs said as more areas of Syria were becoming inaccessible due to insecurity, the UN agency needs humanitarian access "to avoid a situation in which hunger would become an additional factor that pushed even more people to flee the country."
Meanwhile, a UN-appointed human rights probe said it has evidence that pro-government forces in Syria deny medical care to those from opposition-controlled and affiliated areas as a matter of policy, according to a note from the Geneva-based Human Rights Council.
The denial of medical care as a weapon of war is a "chilling reality of the war in Syria," the Human Rights Council said.
Copyright Environment News Service (ENS) 2013. All rights reserved.