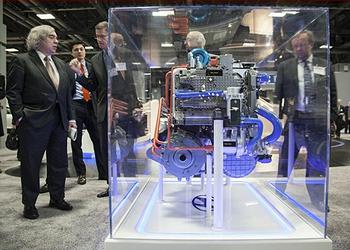 WASHINGTON, DC, January 24, 2014 (ENS) – Thursday, opening day at the Washington Auto Show, was a feast for friends of sustainable mobility.
For starters, U.S. Energy Secretary Ernest Moniz announced $50 million in federal government funding for fuel-efficient vehicles.
"Today, the American auto industry is on the rise, experiencing the best period of growth in more than a decade," said Moniz. "The new research and development funding announced today will help support our domestic automakers' continued growth and make sure that the next generation of advanced technology vehicles are built right here in America."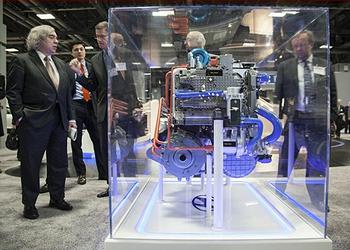 The $50 million includes support for the Department of Energy's EV Everywhere Grand Challenge, an initiative launched in March 2012 to make plug-in electric vehicles more affordable and convenient than petrol-powered ones within 10 years.
Ford Motor Company Chief Operating Officer Mark Fields announced two different automated driving research projects – one with the Massachusetts Institute of Technology and the other with Stanford.
The MIT project is based on predicting the movements of other vehicles and pedestrians, while Stanford researchers will focus on sensor technology that can see around obstructions.
As for environmental stewardship, Fields pointed out that seven Ford brand vehicles offer fuel efficiency of 40 miles per gallon or better, due in part to environmentally friendlier materials used in manufacturing. "With the all-new F-150, advanced materials allowed us to shed 700 pounds," he said.
In his keynote address, Fields underscored Ford's investment in advanced technology. "Ford spent more on research and development than Apple in 2012," he said. In addition, "Ford will create 5,000 new American jobs over the course of 2013 and 11,000 total new jobs globally this year alone."
General Motors' Cadillac ELR hybrid luxury coupe received the Green Car Journal's 2014 Green Car Technology Award™.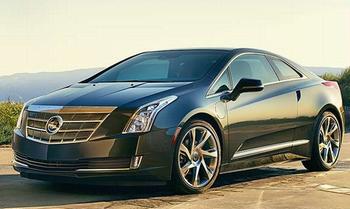 Ron Cogan, the journal's editor and publisher, said, "Ever-increasing efficiency is crucial to our driving future, yet efficiency itself is not an attraction for a great many car buyers. Cadillac's Regen on Demand is an inspired example of how technology can increase efficiency while connecting with a driver, enhancing driving dynamics along the way."
Regen on Demand allows the driver to use paddle shifters on the steering wheel to temporarily regenerate energy and store it as electricity in the battery pack for later use. The technology supports the ELR's 340-mile total driving range.
On receiving the award, Cadillac Director of Emerging Markets Jim Vurpillat said the demand for an advanced driving experience means that "the customer wins."
The Cadillac ELR "marries the fun-to-drive characteristics with electric propulsion and wrapped it in a beautiful package, Vurpillat said.
The ELR is powered by a 154-horsepower electric motor (207 total system horsepower) that moves it from zero to 60 mph (96 km-h) in about 8.0 seconds. The ELR has a range on electric-only power of about 35 miles. A full recharge of the ELR's battery takes about 4.5 hours.
"It's an exciting time at Cadillac," Vurpillat said. "We have a 112-year history, but it feels like a startup. We have momentum on our side."
Toyota introduced its fuel cell-powered concept to the East Coast. The car is the result of Toyota's 20-year commitment to fuel cell research and development and reflects the company's accelerated goals for fuel-cell technology.
Toyota's Vice President of North American Business Strategy Nihar Patel said, "Savvy consumers have been waiting to see an active change in fuel cell development, and we're almost ready to hit the streets."
The Washington Auto Show at the Walter E. Washington Convention Center is a showcase of more than 700 vehicles from over 40 manufacturers. It opened to the public on Thursday, January 23 and runs through Sunday, February 2.
Copyright Environment News Service (ENS) 2014. All rights reserved.