Supreme Court Upholds EPA's Authority to Regulate Carbon Dioxide
WASHINGTON, DC, June 20, 2011 (ENS) – The U.S. Supreme Court today reaffirmed its finding that carbon dioxide is an air pollutant subject to control under the Clean Air Act and upheld the authority of the U.S. Environmental Protection Agency to regulate the greenhouse gas.
The unanimous court, in an opinion written by Justice Ruth Ginsburg, held that the Clean Air Act displaces federal common law claims seeking reduction of greenhouse gas emissions responsible for climate change.
In the case of American Electric Power Co. v. Connecticut, the high court reversed the ruling of the U.S. Court of Appeals for the Second Circuit. Justice Sonia Sotamayor recused herself, having sat on the Second Circuit panel that heard oral arguments in the case.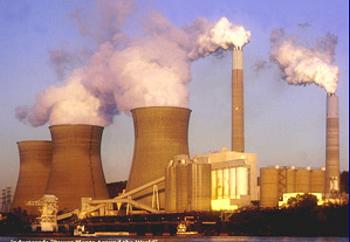 First Energy's Bruce Mansfield coal-fired power plant northwest of Pittsburgh, Pennsylvania (Photo by Kiyo Komoda)
The appeals court had held that federal common law provides a basis for the plaintiffs – eight states, New York City, and three nonprofit land trusts – to seek reductions in greenhouse gas emissions from large coal-fired power plants.
The Supreme Court ruled against the plaintiffs right to file public nuisance litigation under common law against utilities for their greenhouse gas emissions.
"It is altogether fitting that Congress designated an expert agency, here, EPA, as best suited to serve as primary regulator of greenhouse gas emissions," Justice Ginsburg wrote. "The expert agency is surely better equipped to do the job than individual district judges issuing ad hoc, case-by-case injunctions."
The Supreme Court pointed to its 2007 decision in Massachusetts v. EPA, in which it held that the Clean Air Act authorizes federal regulation of greenhouse gases from motor vehicles provided that certain prerequisites are met.
The court observed that the Clean Air Act and EPA actions under the act displace any federal common law right to seek abatement of greenhouse gases from power plants.
In particular, the court pointed to EPA's regulatory actions in commencing rulemaking to establish New Source Performance Standards for greenhouse gases from fossil-fueled power plants.
The court noted EPA's finding that emission of greenhouse gases from new motor vehicles endangers public health and welfare, and also noted EPA rules setting greenhouse gas emission limits for new vehicles and requiring permits for major sources of greenhouse gases.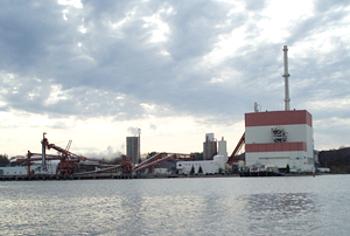 Coal-fired AES Thames power plant in Connecticut filed for bankruptcy in February 2011, citing a rise in coal prices, transportation and compliance costs. (Photo by C. Bergesen)
Connecticut Attorney General George Jepsen commented on the decision, saying, "When the Office of the Attorney General began to litigate this issue in 2004, the federal government was entirely unwilling to take any responsibility for the regulation of greenhouse gases. It was, therefore, important to pursue federal common law public nuisance claims against carbon-dioxide emitters."
"We are disappointed that the Court acted before federal regulation is fully in place, but we are pleased that as a result of our work and that of many others, federal regulation of this critical issue is now in process," Jepsen said.
"We have always said that strong federal regulation is the best way to protect our environment from the long-term destructive effects of greenhouse gases. We are pleased that the Supreme Court recognizes that the EPA must act to curb emissions that contribute to climate change," said Jepsen. "We will continue to work to ensure that our residents are protected, for this generation and the next."
Environmentalists of every stripe were pleased with the decision.
David Doniger, policy director of the Climate Center at the Natural Resources Defense Council, said, "Today's ruling reaffirms the Environmental Protection Agency's duty under the nation's 40-year-old Clean Air Act to safeguard public health and welfare from dangerous carbon pollution. Now the EPA must act without delay."
Doniger helped represent the three land conservation trusts that joined the states in bringing this case.
"Power plants are the nation's biggest polluters, pumping more than two billion tons of carbon dioxide pollution into the air each year," he said. "Their pollution is driving dangerous heat waves and smog, stronger storms, floods, and droughts, and many other threats to our health and safety and our homes and communities."
Mary Anne Hitt, director of the Sierra Club's Beyond Coal Campaign, said, "Today the country's highest court validated EPA's ability to adopt strong standards, and now the Obama Administration should feel confident in moving forward with meaningful protections from coal-fired power plants and other sources of industrial pollution."
"This case reminds us of the lengths that Big Coal will go to in order to circumvent the law, as evidenced by the industry's efforts to prevent the adoption of strong standards," said Hitt.
Republicans for Environmental Protection said the Supreme Court "correctly reaffirmed today that the Environmental Protection Agency has Clean Air Act authority to regulate emissions of heat-trapping gases linked to global warming."
"For the second time in four years, the nation's highest court has plainly ruled that EPA is authorized to limit greenhouse gas emissions under the Clean Air Act," said David Jenkins, REP vice president for government and political affairs.
"Climate change skeptics in Congress and elsewhere have repeatedly insisted that EPA has no such authority, in spite of the court's 2007 decision that it does," said Jenkins. "Now that the court has spoken again, it's time for EPA critics to stop whipping a dead horse."
Copyright Environment News Service,ENS, 2011. All rights reserved.