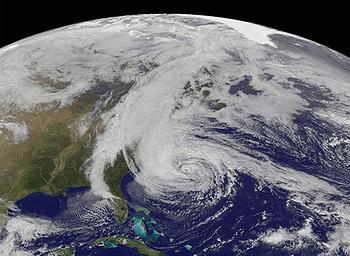 NEW YORK, New York, October 30, 2012 (ENS) – Many environmentalists are blaming climate change for the appearance of superstorm Sandy that has wreaked such devastation on New York, New Jersey and 15 other states along the Atlantic Seaboard up through New England. Some meteorologists disagree, contending that Sandy would have occurred even without a warming climate.
Fred Krupp, who heads the Manhattan-based nonprofit group Environmental Defense Fund, said today, "Sandy is not just a weather disaster but also a climate disaster."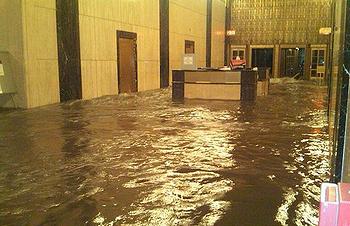 "As a consequence of global climate change caused by human activities, sea levels are higher, the Atlantic waters are warmer, and there's more moisture in the atmosphere – three of the reasons this storm packed such destructive force," said Krupp.
The death toll due to Sandy is up to at least 50 people, according to the AP, and the number could still increase as search and rescue workers complete their grim tasks.
More than 8.2 million households lost power in 17 states as far west as Michigan after the superstorm made landfall near Atlantic City Monday night.
Nearly two million of those households are in New York City, where Con Edison shut off the power and steam, used to heat high-rise buildings, to lower Manhattan.
Four nuclear power plants in New York and New Jersey were affected – three shut down and one on Alert status due to flood waters and power outages.
Consolidated Edison said electricity in and around New York could take a week to restore.
For a second day running, the New York Stock Exchange was closed today. In a sign that some semblance of normalcy is returning to New York, the Stock Exchange plans to open tomorrow with Mayor Bloomberg ringing the opening bell.
Duncan Niederauer, CEO, NYSE Euronext said, "We are pleased to be able to return to normal trading tomorrow. Our building and systems were not damaged and our people have been working diligently to ensure that we have a smooth opening tomorrow. Our thoughts and prayers remain with the families and communities suffering in the wake of this terrible natural disaster."
The complete shutdown of mass transit brought the city to a standstill. Buses began running again on some routes Tuesday afternoon, the first move towards in restoring New York City's public-transit system. Officials said restoration of full service, including the flood-damaged subways, could take days.
All four major airports in the New York-New Jersey area were closed for two days, but JFK and Newark airports will reopen on Wednesday at noon. Laguardia and Teterboro airports are still closed until further notice.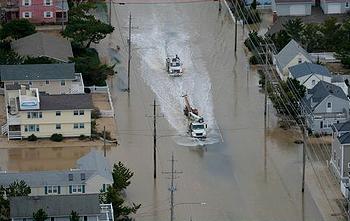 All this is the result of climate change caused by burning fossil fuels, which burdens Earth's atmosphere with megatonnes of greenhouse gases such as carbon dioxide, environmentalists contend.
Bill McKibben, who heads the healthy climate advocacy group 350.org said today, "The fossil fuel industry is causing the climate crisis, leading to more extreme weather events like Hurricane Sandy. We're calling on Big Oil to stop spending millions to influence this election and donate the money to disaster relief instead. Instead of funding climate silence, they should be funding climate relief."
"The fossil fuel industry has spent over $150 million to influence this year's election," said McKibben. "Last week, Chevron made the single biggest corporate political donation since the Citizens United decision. This industry warps our democracy just as it pollutes our atmosphere. And we've had enough.
In the coming year, we're going to fight both forms of this pollution. Our biggest organizing effort ever begins one week from tomorrow, the Do the Math tour that will, we hope, ignite a long-lasting campaign to force the fossil fuel industry to change."
"Sandy is what happens when the temperature goes up a degree. The scientists who predicted this kind of megastorm have issued another stark warning: if we stay on our current path, our children will live on a super-heated planet that's four or five degrees warmer than it is right now. We can't let that happen," said McKibben. "So let's get to work."
But Dan Kottlowski, an expert senior meteorologist with Accuweather, is not convinced that the destructive storm is the result of a warming climate. He says it was so damaging not because of its strength, but because of its track.
"The storm track for Sandy was pretty common for an October storm," Kottlowski told ENS. "But most hightail it out to the east. We've never seen it turn to the northwest before, and that's why it struck New Jersey and New York Harbor. Climate change would not explain that."
"I don't think you can say one storm is the result of the impact of climate change," Kottlowski said. "If we didn't have a warming climate would this have happened? My answer is yes, it still would have happened."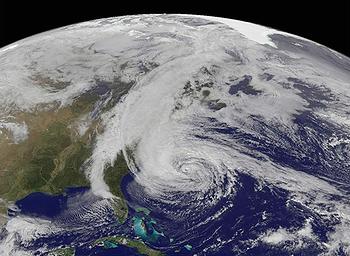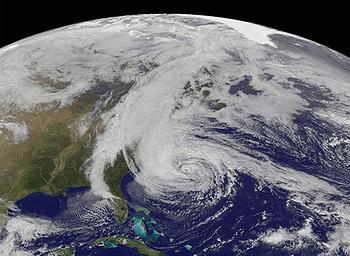 He explained that hurricanes are more likely to form over warm oceans and the Atlantic Ocean goes through a cycle of warming every 40 years. "We're in the middle of that cycle right now," Kottlowski said. "Most climatologists think we'll have a warm part of the cycle for the next 15 years. The same thing happened in the 1950s and the 1930s. It's not related to climate change."
Kottlowski said to determine if Sandy was in fact caused by climate change, we will have to wait another 15 years to find out if the Atlantic Ocean cools down when the cooling part of its cycle would normally come around.
"The number of tropical cyclones across the world has not changed during the past 100 years, the only place it has changed is over the Atlantic Ocean and that has to do with the ocean's salinity," he said.
Dr. William Gray at Colorado State University's Department of Atmospheric Science maintains that "CO2 increases are not responsible for Atlantic SST [sea surface temperature] and hurricane activity increases."
In his forecast of Atlantic hurricane activity in the second half of the 2012 hurricane season, http://tropical.atmos.colostate.edu/forecasts/2012/aug2012/aug2012.pdf
Dr. Gray says, "We have no plausible physical reasons for believing that Atlantic hurricane frequency or intensity will significantly change if global or Atlantic Ocean temperatures were to rise by 1-2°C. Without corresponding changes in many other basic features, such as vertical wind shear or mid-level moisture, little or no additional TC [tropical cyclone] activity should occur with SST increases."
"Atlantic SSTs and hurricane activity do not follow global mean temperature trends," contends Dr. Gray.
But many environmentalists are not persuaded.
Dan Lashof, who heads the Natural Resources Defense Fund, blogged, "This mega-storm is just one more sign of the new normal that will continue as long as we keep avoiding addressing climate change. Just like the unprecedented droughts, flooding and heat we all experienced this year, storms like Hurricane Sandy is what global warming looks like. This is the new normal."
The Surfrider Foundation today spoke of "the real and devastating effects that are being caused by rising sea levels."
"While the superstorm is an extremely rare event that cannot be directly blamed on climate change, our warming oceans are creating the latent potential for more frequent and more powerful storms," the national organization of surfers said in a statement. "When powerful storms combine with increased sea level rise and intense coastal development, they provide the ingredients for massive destruction, loss of life and major economic losses."
Krupp, with the Environmental Defense Fund, said, "Today, as we rush to ensure the safety of our loved ones and communities, we should remember that unless we finally get serious about climate solutions there can be no lasting protection from the ferocity of our warming world."
Copyright Environment News Service (ENS) 2012. All rights reserved.