Suncor's Colorado Refinery Leaks Tar Sands Crude
DENVER, Colorado, November 30, 2011 (ENS) – An oil leak at Colorado's only petroleum refinery has been contained and the cause of the leak is under investigation, refinery owner-operator Suncor Energy said today. While no one seems to know when the oil seep from Suncor's Commerce City refinery began or how much oil has been spilled, the contamination of the South Platte River, source of Denver's drinking water, is apparent.
The spill was discovered Sunday morning by local fisherman Trevor Tanner, an aerospace engineer and South Platte conservation advocate, who saw oil on the water and said the area smelled like a gas station.
Tanner said, "I walked several hundred feet up Sand Creek and there was an oil sheen the whole way and there was even a weird milky chocolaty sludge trapped in the small back-eddy below the confluence. My fly smelled like gasoline. My fingers smelled like gasoline. I could see micro-currents and upwells in the water column that you usually just can't see. Something was terribly wrong."
When Tanner found the hotline number and called it, the spill response coordinator at first told him to call back in 20 minutes, and it took until Monday before officials from the U.S. Environmental Protection Agency arrived onsite and Suncor reported a leak.
On Tuesday evening Suncor and EPA officials decided to dig a trench. On Wednesday afternoon, EPA officials said that three booms erected on a bank of Sand Creek are containing the oil and preventing further contamination.
"It is not yet clear how long oil has been leaking into the South Platte River, how much has been spilled or what substance was spilled," said Josh Mogerman, a spokesman for the Natural Resources Defense Council. "State officials are currently testing the water on the South Platte River, a major source of drinking water, wildlife habitat and agricultural water for Colorado and the Midwest."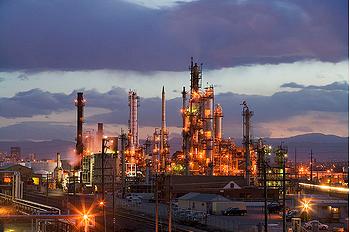 Suncor Energy's Commerce City refinery (Photo courtesy Suncor)
High levels of benzene and volatile organic compounds at the nearby Denver Metro Wastewater plant made closure of a technical services building necessary and have forced employees to wear respirators.
Today, workers contracted by Suncor used vacuum trucks and absorbent material to suck up water mixed with an unidentified liquid.
"The material appears to be coming from Suncor property, migrating under the Metro Wastewater property and daylighting in Sand Creek," EPA emergency response manager Curtis Kimbel told "The Denver Post."
The Canadian energy firm told reporters it has not yet identified the source of the oil, but admitted it is probably coming from its Commerce City refinery. Plant operations were not disrupted.
The spill occurred about one month after Colorado's Department of Public Health warned Suncor that it must do more to mitigate contamination that an investigation determined was coming from the Commerce City refinery and could taint drinking water supplies.
Suncor is the oldest of the tar sands producers; up to 90 percent of its production is derived from tar sands bitumen. Suncor recently upgraded the Commerce City facility so it could refine more heavy tar sands crude coming in from northern Alberta, Canada via the Express and Platte pipelines.
The extent of the contamination is still unclear, said Mogerman, who says much of the spill could be escaping the booms set out to contain it. "If the leak involves tar sands diluted bitumen, the contamination could be more severe," he said. "Tar sands diluted bitumen spills are associated with significantly more submerged oil, which cannot be contained by surface booms."
Colorado public health and environment officials have known about hazardous leaks in the area for at least a month, Reuters reports.
Kimbel today said there is a long history of problems at the site.
Copyright Environment News Service (ENS) 2011. All rights reserved.