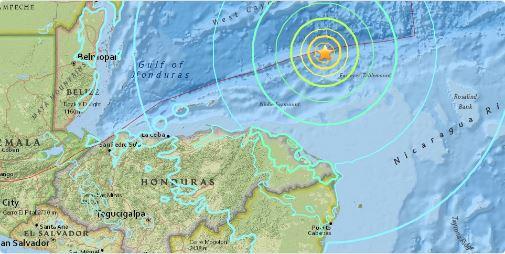 TEGUCIGALPA, Honduras, January 10, 2018 (ENS) – A major earthquake, one of the most severe in the past 100 years, struck off the coast of Honduras late Tuesday night. The tremor was felt across much of the nation, officials said, and the quake triggered tsunami warnings across the Caribbean that were canceled two hours later.
The magnitude 7.6 earthquake struck near the coast of Honduras, according to the U.S. Geological Survey, USGS, which registered it at 20:50 local time on Tuesday.
The quake was felt across northern Central America, prompting a tsunami warning in Puerto Rico, and the Caribbean Islands, but little damage and no casualties have been reported.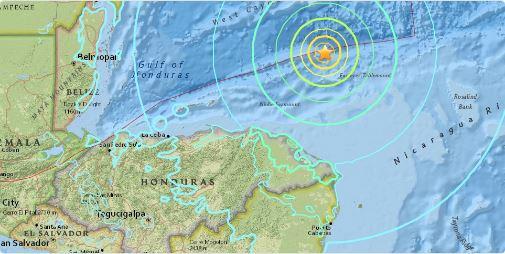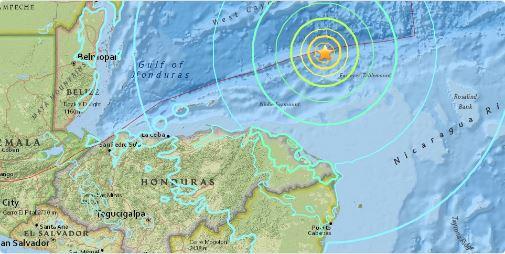 The tremor occurred at a depth of 10 kilometers (six miles) in the sea between the island of Cuba and the coasts of Honduras and Belize, 44 kilometers east of Great Swan Island, Honduras, according to maps published by the USGS.
The USGS said, "The Great Swan Island, Honduras earthquake occurred as the result of strike slip faulting in the shallow crust near the boundary between the North America and Caribbean plates."
The epicenter was located 202 kilometers from the Honduran town of Barra Patuca, and 245 kilometers from the municipality of Puerto Lempira in Honduras.
Honduran President Juan Orlando tweeted, "In face of the earthquake registered in our country, we have activated the emergency system, please remain calm, report any emergency to @ 911Honduras."
The Pacific Tsunami Warning Center warned that tsunami waves of up to one meter (three feet) above tide level could hit parts of Honduras, Belize, Puerto Rico, the Cayman Islands, Jamaica and Cuba, among others.
But two hours after the quake, the threat of a tsunami had passed, and the Tsunami Warning Center withdrew all advisories connected with the quake.
The National Coordinator of Civil Protection in Mexico Luis Felipe Puente wrote, "Based on information from the Tsunami Alert Center @SEMAR_mx, we ruled out the possibility of the generation of a #Tsunami."
The Swan Island quake was one of the strongest to strike the Caribbean since recordkeeping began. For instance, the 2010 quake that caused major damage in Haiti was a lesser magnitude of 7.0.
Nine other earthquakes of magnitude 6 or larger have occurred within 400 km of the January 9, 2018 event over the preceding century.
In May 2009, a magnitude 7.3 earthquake occurred along the Swan Island transform fault approximately 300 km west of the January 9, 2018 event. The 2009 earthquake, which was much closer to land, resulted in seven fatalities, 40 injuries and 130 buildings being damaged or destroyed.
Copyright Environment News Service (ENS) 2018. All rights reserved.