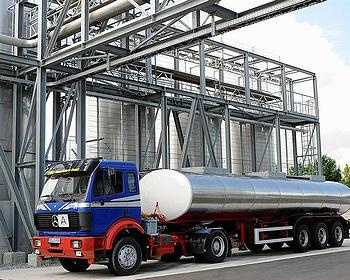 STRAUBING, Germany, July 26, 2012 (ENS) – Swiss chemicals company Clariant has opened Germany's largest pilot plant for making climate-friendly cellulose ethanol from agricultural waste.
This biofuel of the future cuts emissions of the greenhouse gas carbon dioxide by 95 percent without competing with food production.
Located in Straubing, Bavaria, the 28 million euro pilot project will produce up to 1,000 tonnes of cellulosic ethanol for automotive fuel from around 4,500 tonnes of wheat straw.
Germany has around 22 million tonnes of wheat straw that could be used for energy production without compromising essential soil regeneration – enough to cover 25 percent of the country's current gasoline needs.
At the opening ceremony on Friday, Clariant CEO Hariolf Kottmann declared, "The inauguration of the new plant marks an important milestone in the production of a climate-friendly biofuel that can also be used as a raw material for the chemical industry."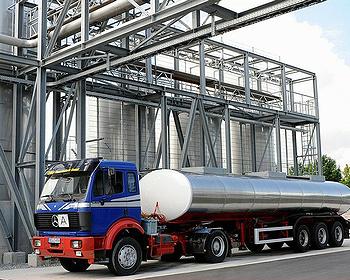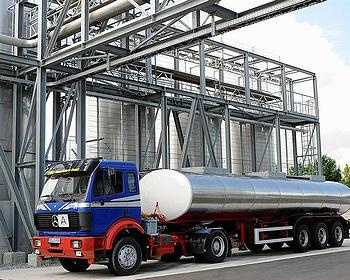 "Only when society recognizes the environmental benefits of climate-friendly biofuels can second-generation bioethanol be successful," he said.
Kottmann called for stable and reliable framework conditions and an extension of the tax exemption beyond 2015 for second-generation biofuels such as cellulosic ethanol.
The pilot plant has financial support from the Bavarian government and from the Federal Ministry for Education and Research. Federal Minister Annette Schavan and Bavarian Minister of Economic Affairs Martin Zeil attended the opening ceremony.
Schavan said, "This plant clearly demonstrates that products traditionally based on petroleum can be manufactured to the same standard using biomass. Thus this new plant serves as an important contribution to a sustainable bio-economy."
As far as the Bavarian economics minister is concerned, there is no better place for the pilot plant than Straubing.
"Here at Bavaria's competence center for renewable raw materials, we don't just have the raw material straw but, above all, also the necessary scientific backup in the form of both university and non-university research facilities," said Zeil.
Many companies have shown interest in the production of ethanol from renewable lignocellulosic resources, such as agricultural residues. But to date it has been difficult to develop a cellulosic ethanol process that is economically profitable.
At the pilot plant, the process of converting wheat straw to autmotive fuel is based on the innovative sunliquid® technology developed by Clariant Süd-Chemie AG. Since 2009, the company has been operating a first, much smaller, pilot plant at its research facility in Munich, with a capacity of just two tonnes of ethanol a year.
The energy and water efficient technology uses process-integrated enzyme production, optimized enzymes, simultaneous conversion of cellulose and hemicellulose into ethanol and an energy-efficient process design. Clariant says this system has made it possible to reduce production costs enough to make the process commercially viable.
In an area of 2,500 square meters, the Staubing pilot plant will perform all the process steps that will later be used in an industrial-scale plant. The aim is to confirm the feasibility of the sunliquid® technique.
Located at the Bavarian BioCampus next to the Donau Harbour, the new pilot plant will procure its raw materials from the Straubing region.
Calling Clariant "the most innovative major green chemistry company at the Bavarian BioCampus," Straubing Mayor Markus Pannermayr expressed his willingness to work with district officials to provide the raw biomass for the plant in the context of the "Green Chemistry Belt" strategy for the Danube region.
"The results we obtain in Straubing will enable us to plan industrial production plants efficiently and economically, and ultimately to realize such plants in cooperation with partners," said Professor Andre Koltermann, head of Clariant's Biotech and Renewables Center.
Clariant intends to license the sunliquid® process to clients interested in a full-scale turnkey process for the economic production of cellulosic ethanol.
"If we can make the breakthrough here using the sunliquid technology, it will create a raft of new options in terms of jobs and earnings potential in what is essentially a rural area," said Zeil, the Bavarian economics minister. "And from a global perspective, there's no food or fuel issue when plant waste is recycled."
Elsewhere around the world, cellulosic ethanol projects have been slowly coming online and scaling up from pilot plants to industrial capacity.
In the United States, demonstration plants with a total capacity of about 12 million liters (3.17 million gallons) a year were operational in 2008, and an additional 80 million liters (21.1 million gallons) per year of capacity, in 26 new plants, was under construction.
The first commercial-scale cellulosic plants in the United States are expected to come on line in 2013 or 2014, with sizes in the 20 to 30 million gallon per year range.
In Europe, several small pilot plants are operational in Denmark, Germany, Spain, and Sweden, and others are under construction.
Italy's Mossi & Ghisolfi Group broke ground for its industrial-scale cellulosic ethanol facility in northwestern Italy in April 2011. The project will be the largest cellulosic ethanol project in the world, 10 times larger than any of the other currently operating demonstration-scale facilities.
In Canada, Iogen Energy Corporation agreed in April to a new plan with its joint owners Royal Dutch Shell and Iogen Corporation to downplay cellulosic ethanol. The company says it will not pursue the development of an industrial-scale cellulosic ethanol facility in southern Manitoba.
In Brazil, GraalBio Investimentos S.A. and Beta Renewables announced in May that GraalBio will build Brazil's first commercial cellulosic ethanol plant, with a planned start of operations by the end of 2013. The plant, with a production capacity of 22 million gallons a year, will use sugarcane straw and bagasse as its feedstock.
The Chinese government has said it will increase investment in research and development to speed up cellulosic ethanol industrialization during 2011-2015, according to the biomass development section of China's Twelfth Five-Year Plan.
Copyright Environment News Service (ENS) 2012. All rights reserved.