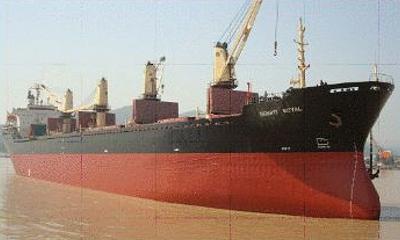 HANOI, Vietnam, October 8, 2013 (ENS) – Oil is spilling from a cargo vessel that ran aground on the reefs off Vietnam's Ly Son island, roughly 730 kilometers (450 miles) south of the Vietnamese capital, Hanoi.
The Panama-flagged ship Bright Royal, ran aground early Friday in waters about six nautical miles northwest of the island in Quang Ngai province on Vietnam's south central coast.
According to the Quang Ngai Port Authority, the ship smashed into the island's reefs, causing 387 tons of fuel oil to spill from two tanks.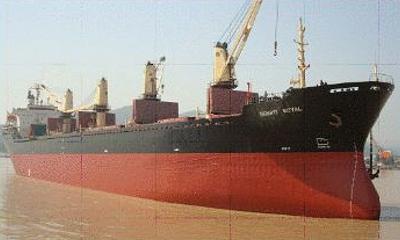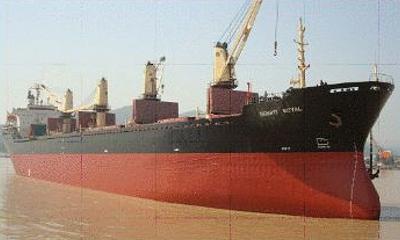 Provincial officials estimate the spill now spans an area of 20,000 square meters. The oil slick continues to spread out over the sea surface,  provincial border guards told the Chinese newswire Xinhua.
They say the ship is likely to sink.
The accident occurred when the cargo ship, managed by Vanguard Maritime Ltd. of Chittagong, Bangladesh, part of the BSA Group of companies, was traveling from Ha Tinh province's Vung Ang port in Vietnam to Bangladesh, Vietnam's state-run radio online reported Friday.
The Quang Ngai Steering Committee for Flood and Storm Prevention and Control ordered the provincial People's Committee to work with relevant agencies to rescue the
24 crewmembers on board and deal with the oil spill.
Ly Son, an island of 21,500 people, is a major offshore fishing center, accounting for about one-fourth of the entire seafood production of Quang Ngai province.
Whale worship among Ly Son fishermen is common and temples house skeletons of giant whales that beached on the island more than 100 years ago.
"Praying to the whale will help us if we encounter trouble at sea," a Ly Son fisherman told Agence France Press in November 2012 as he and his crew prepared to set sail.
The practice of traditional rituals such as whale worship now is encouraged by communist authorities, which for years restricted all religious activities, before lifting restrictions in 2004.
Since the turn of the 21st century Ly Son has been developing its tourist industry, based in part on the presence of the giant whales in its waters.
Copyright Environment News Service (ENS) 2013. All rights reserved.