WASHINGTON, DC, December 22, 2009 (ENS) – A collection of stormwater success stories on a new U.S. EPA website are intended to inform and educate stakeholders about the benefits of developing pollution reduction budgets, called total maximum daily loads, TMDLs, to protect and restore water quality in their own watersheds.
The site provides both sound byte fact sheets that are one to two pages long, as well as technical fact sheets of four to five pages, that are representative of TMDLs prepared by states around the country.
For example, oyster lovers and residents near Virginia Beach, Virginia remember a time when oysters from the Lynnhaven Bay watershed were a delicacy served to dignitaries.
But high bacteria levels in the Lynnhaven Bay watershed forced the Virginia Health Department to shut down almost all of the shellfish areas for decades, until recently.
Implementing the Lynnhaven Bay, Broad Bay, and Linkhorn Bay fecal coliform TMDL for shellfish areas has helped to reduce bacteria levels. Management actions targeted sources of bacteria such as boating activities, on-site sewer systems, agricultural areas, and pet waste to slash bacteria levels.
As a result, Lynnhaven Bay watershed shellfish areas are reopening and Lynnhaven oysters are returning as an edible, marketable natural resource on local restaurant menus.
The new website offers fact sheets illustrating how stakeholders can get involved in identifying and cleaning up waters that fail to meet their state's water quality standards. The fact sheets show what benefits people can enjoy with cleaner waters, such as enhancements to recreation or better quality drinking water supplies.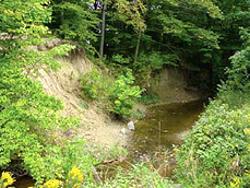 Carrier Creek before restoration with eroded dredge spoils and poor instream habitat
(Photos courtesy EPA)
In Michigan's Grand River watershed, for instance, agricultural operations and then urban land use with more impervious surfaces created local water quality problems due to sediment from stormwater runoff and eroding streambanks, particularly in Carrier Creek, a tributary to the Grand River in Eaton County.
Data collected by the Michigan Department of Environmental Quality and the Eaton County Drain Commissioner showed that Carrier Creek did not have the habitat necessary to sustain healthy fish and macroinvertebrate communities and, therefore, was not supporting its aquatic life designated use.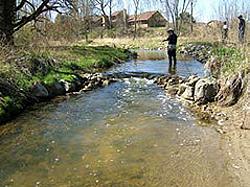 Carrier Creek after restoration shows improved stream flow to the floodplain.
Starting in 2000, local stakeholders worked together to implement nonpoint source best management practices using Clean Michigan Initiative grant funding from MDEQ.
The TMDL for biota in Carrier Creek, completed in 2002, provided a framework for understanding the problems and making the connection between the pollution sources, water quality standards, and implementation activities.
Implementation activities, such as stream channel restoration and wetland creation, have reduced stream bank erosion, improved aquatic habitat, and improved the health of aquatic communities at some monitoring locations in Carrier Creek.
Continued monitoring efforts will help stakeholders identify progress toward achieving the numeric biota and habitat endpoints to support the aquatic life designated use.
Ohio's Middle Cuyahoga River watershed is not yet in full attainment of water quality standards, but the EPA still considers this TMDL a success story.
Voluntary dam modification and removal projects have resulted in the anticipated chemical and physical water quality improvements, as indicated by water samples and computer modeling. Dissolved oxygen levels in the river are now consistent with the state's water quality standards, and the condition of the warm water aquatic life in the stream has also improved.
The TMDLs for the Middle Cuyahoga River watershed showed that residents in the watershed had a tough choice to make if they wanted to improve local water quality conditions.
They could invest in expensive upgrades to the local wastewater treatment plants to reduce the pollutants affecting dissolved oxygen levels, even though the investment might not produce sufficient water quality improvements to meet water quality standards. Or they could spend time and effort in crafting a voluntary approach involving modification and removal of local dams that would improve the river's natural flow, restore riverine habitat, allow for fish passage, and increase dissolved oxygen levels.
Wanting to avoid costly upgrades that might not produce results, stakeholders in the Middle Cuyahoga watershed chose to explore the voluntary option in a manner that could restore water quality, preserve local history, and create a significant water feature.
They chose to modify the Kent Dam and remove the Munroe Falls dam, which produced immediate, measurable water quality benefits.
In addition to achieving environmental goals, the TMDL implementation approach allowed stakeholders to leverage financial resources and avoid costly wastewater treatment plant upgrades and associated operation and maintenance costs.
Efforts in the Middle Cuyahoga River watershed also established partnerships that could benefit future TMDL efforts in other parts of the Cuyahoga River watershed.
Click here to find the "TMDLs at Work" website.
Copyright Environment News Service (ENS) 2009. All rights reserved.