State of the Union: Obama Urges America to 'Win the Future' with Clean Energy
WASHINGTON, DC, January 25, 2011 (ENS) – President Barack Obama's second State of the Union address, delivered tonight as Democrat and Republican members of Congress sat together for the first time in history, was focused on what he called "winning the future."
"The steps we've taken over the last two years may have broken the back of this recession," the President said, "but to win the future, we'll need to take on challenges that have been decades in the making."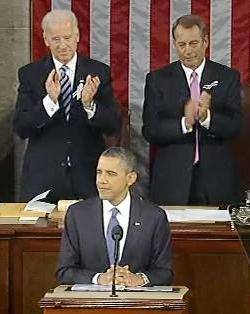 Flanked by Vice President Joe Biden, left, and House Speaker John Boehner, President Barack Obama delivers his second State of the Union address. (All photos courtesy The White House)
"The first step in winning the future is encouraging American innovation," he said. The President set a new goal – that "by 2035, 80 percent of America's electricity will come from clean energy sources."
"This is our generation's Sputnik moment," Obama said. "Two years ago, I said that we needed to reach a level of research and development we haven't seen since the height of the Space Race. In a few weeks, I will be sending a budget to Congress that helps us meet that goal."
"We'll invest in biomedical research, information technology, and especially clean energy technology – an investment that will strengthen our security, protect our planet, and create countless new jobs for our people," the President said.
The Sustainable Energy and Environment Coalition, a caucus of 47 House Democrats founded in 2009, immediately welcomed the President's emphasis on clean energy.
"I am encouraged by the President's call for making the necessary investments and enacting policies to promote an American clean energy economy, which will allow our nation to win the 21st century global clean energy race," said SEEC Co-Chair Congressman Jay Inslee of Washington, whose book "Apollo's Fire: Igniting America's Clean Energy Economy," coined the term America's "Sputnik Moment."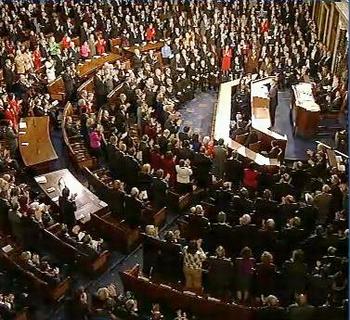 Republicans and Democrats sit together during the State of the Union address.
In a Sputnik moment people realize they are threatened and have to race to catch up as in 1957, when the Soviet Union launched the first satellite, the Sputnik 1, and beat the United States into space.
"We're not just handing out money. We're issuing a challenge," President Obama said in his speech. "We're telling America's scientists and engineers that if they assemble teams of the best minds in their fields, and focus on the hardest problems in clean energy, we'll fund the Apollo Projects of our time," he said, referring to the United States spaceflight program that landed the first humans on the Moon on July 20, 1969.
"At the California Institute of Technology, they're developing a way to turn sunlight and water into fuel for our cars," the President said. "At Oak Ridge National Laboratory, they're using supercomputers to get a lot more power out of our nuclear facilities."
"With more research and incentives, we can break our dependence on oil with biofuels, and become the first country to have one million electric vehicles on the road by 2015!" Obama exclaimed.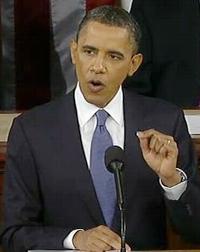 President Obama promised to maintain environmental safeguards.
To help pay for this level of innovation, Obama said he is asking Congress to "eliminate the billions in taxpayer dollars we currently give to oil companies."
Acknowledging that the oil companies have been posting some of their biggest profits in history, "they're doing just fine on their own," Obama said. "So instead of subsidizing yesterday's energy, let's invest in tomorrow's."
His new goal: that "by 2035, 80 percent of America's electricity will come from clean energy sources."
"Some folks want wind and solar. Others want nuclear, clean coal, and natural gas. To meet this goal, we will need them all," Obama said, urging Democrats and Republicans "to work together to make it happen."
In defense of his vision of high-speed rail that has been under attack by cost-cutting Republicans, Obama said, "Within 25 years, our goal is to give 80 percent of Americans access to high-speed rail, which could allow you go places in half the time it takes to travel by car. For some trips, it will be faster than flying," he said, "without the pat-down. As we speak," he said, "routes in California and the Midwest are already underway."
Environmentalists were quick to support the President's clean energy goals.
Sierra Club Executive Director Michael Brune said tonight, "We agree with the President that with soaring oil prices, national security concerns, and disasters like the BP Gulf disaster, now is the time to move beyond dirty energy. And as the President stated, one important way to start is by eliminating subsidies for Big Oil."
"While the Sierra Club is firmly opposed to the misconception that coal or nuclear power can ever be clean," said Brune, "we want to use this moment to focus on the strong message the President sent about true clean energy sources and how these innovations will lead to new prosperity and good jobs."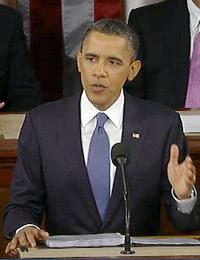 President Obama said, "The state of our union is strong."
In his speech, President Obama reminded the assembled members of Congress that this month he ordered a review of government regulations to reduce barriers to growth and investment.
"When we find rules that put an unnecessary burden on businesses, we will fix them," Obama said. "But I will not hesitate to create or enforce commonsense safeguards to protect the American people. That's what we've done in this country for more than a century. It's why our food is safe to eat, our water is safe to drink, and our air is safe to breathe."
Brune said the Sierra Club is "encouraged by the President's promise to enforce commonsense safeguards to protect our air, water and health."
"Americans' fundamental right to clean air and water faces its greatest threat in 40 years at the hands of corporate polluters and their cronies in Congress," said Brune. "The President must stand firm against those who would roll back clean air standards, block clean energy job creation and endanger our health."
National Farmers Union President Roger Johnson said the farmers and ranchers in his organization are eager to rise to the clean energy challenge the President issued in his speech.
"Tonight the President called for a spark in the creativity and imagination of our people, calling it our generation's Sputnik. American farmers and ranchers are also among our most creative when given a challenge," said Johnson. "When given a goal for energy security and independence, they have and will continue to provide creative and renewable solutions such as biofuels, wind power and solar energy."
"We can win the clean energy race," said Johnson. "Agriculture can help lead the way for the United States to meet the goal 80 percent of America's electricity coming from clean energy sources by 2035."
The official Republican response to President Obama's State of the Union address from Congressman Paul Ryan of Wisconsin did not mention clean energy. While it focused on cutting spending and reducing the deficit, it did not respond to the President's stated intention to eliminate billions in taxpayer subsidies for oil companies.
Copyright Environment News Service (ENS) 2011. All rights reserved.