State of the Union: Obama Opens Public Land and Waters to Energy Industry
WASHINGTON, DC, January 24, 2012 (ENS) – President Barack Obama used his State of the Union address tonight to announce the opening of domestic energy development both on public lands and at sea.
The President directed his administration "to open more than 75 percent of our potential offshore oil and gas resources," a policy that will have an enormous impact on the marine environment of the United States.
Then he said his admininstration would permit enough clean energy development on public land to power three million homes; it came in that section of the speech devoted to the promise of innovation in American-made energy.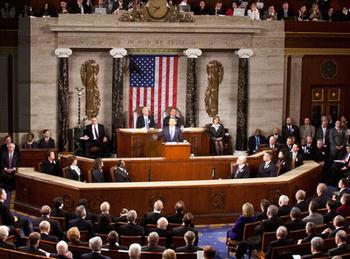 President Barack Obama delivers his third State of the Union address. (Photo by Lawrence Jackson courtesy The White House)
Speaking to a joint session of Congress, members of his Cabinet, the U.S. Supreme Court and top ranking military officers, Obama said "the state of our Union is getting stronger," but he took aim at the deep divisions splitting Congress along party lines in an election year.
"The differences in this chamber may be too deep right now to pass a comprehensive plan to fight climate change," Obama acknowledged. "But there's no reason why Congress shouldn't at least set a clean energy standard that creates a market for innovation."
"So far, you haven't acted," he admonished Congress. "Well tonight, I will."
"I'm directing my Administration to allow the development of clean energy on enough public land to power three million homes. And I'm proud to announce that the Department of Defense, the world's largest consumer of energy, will make one of the largest commitments to clean energy in history – with the Navy purchasing enough capacity to power a quarter of a million homes a year."
He did not neglect the oil and gas industry, expressing support for fracking – shooting liquids under pressure into shale rock to recover the oil and natural gas locked in tight geological formations.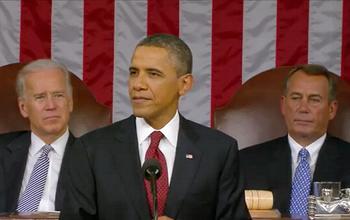 President Obama, flanked by Vice President and President Pro Tem of the Senate, Joe Biden, left, and Ohio Republican Congressman John Boehner, Speaker of the House of Representatives. (Image courtesy The White House)
"We have a supply of natural gas that can last America nearly 100 years, and my Administration will take every possible action to safely develop this energy," Obama said. "Experts believe this will support more than 600,000 jobs by the end of the decade."
But he placed a responsibility on companies that use fracking chemicals on public lands to disclose the chemicals they use, saying, "America will develop this resource without putting the health and safety of our citizens at risk."
But environmental groups are already calling the new policy a "nightmare" in the making.
Greenpeace Executive Director Phil Radford said, "President Obama announced a potential environmental nightmare when he called tonight for more than 75 percent of offshore oil and gas resources to be exploited. The President claimed he would not compromise on oil spills, but he has approved oil exploration in the Arctic, which his own Coast Guard says will be a 'nightmare scenario' when an oil spill happens."
Obama said, "The development of natural gas will create jobs and power trucks and factories that are cleaner and cheaper, proving that we don't have to choose between our environment and our economy. And by the way," the President said, "it was public research dollars, over the course of 30 years, that helped develop the technologies to extract all this natural gas out of shale rock – reminding us that government support is critical in helping businesses get new energy ideas off the ground."
At the same time, President Obama put America's oil companies that their subsidized days are numbered.
"We have subsidized oil companies for a century. That's long enough. It's time to end the taxpayer giveaways to an industry that's rarely been more profitable, and double-down on a clean energy industry that's never been more promising," Obama declared.
"What's true for natural gas is true for clean energy," he said. "In three years, our partnership with the private sector has already positioned America to be the world's leading manufacturer of high-tech batteries."
"Because of federal investments, renewable energy use has nearly doubled," Obama said. "And thousands of Americans have jobs because of it."
Often the target of attack by the petroleum industry for not allowing enough oil and gas development, Obama tried to reverse that perception tonight. "Over the last three years, we've opened millions of new acres for oil and gas exploration," he said.
"Right now, American oil production is the highest that it's been in eight years," he said. "Not only that – last year, we relied less on foreign oil than in any of the past 16 years."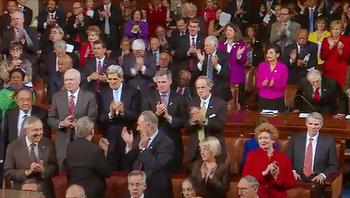 Senate Democrats rise to applaud President Obama. (Image courtesy The White House)
"But with only two percent of the world's oil reserves," Obama said, "oil isn't enough."
He referred to Solyndra, the federally-funded solar firm that went backrupt, but not by name, when he said, "Some technologies don't pan out; some companies fail. But I will not walk away from the promise of clean energy."
"I will not cede the wind or solar or battery industry to China or Germany because we refuse to make the same commitment here," said Obama.
"Pass clean energy tax credits and create these jobs," Obama told Congress.
For the sake of energy efficiency, Obama proposed to help manufacturers eliminate energy waste in their factories and give businesses incentives to upgrade their buildings.
"Their energy bills will be $100 billion lower over the next decade, and America will have less pollution, more manufacturing, and more jobs for construction workers who need them," he said – and again like a refrain. "Send me a bill that creates these jobs."
Building this new energy future should be just one part of a broader agenda to repair America's infrastructure, Obama said.
We've got crumbling roads and bridges. A power grid that wastes too much energy. An incomplete high-speed broadband network that prevents a small business owner in rural America from selling her products all over the world."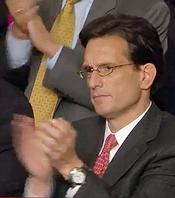 Even Virginia Republican Congressman Eric Cantor found something to applaud. (Image courtesy The White House)
Calling on Congress to act as past administrations have acted during hard economic times and foster recovery by rebuilding America, Obama said, "During the Great Depression, America built the Hoover Dam and the Golden Gate Bridge. After World War II, we connected our states with a system of highways. Democratic and Republican administrations invested in great projects that benefited everybody, from the workers who built them to the businesses that still use them today.'
In the next few weeks, he promised, "I will sign an Executive Order clearing away the red tape that slows down too many construction projects."
"But you need to fund these projects," Obama told Congress. "Take the money we're no longer spending at war, use half of it to pay down our debt, and use the rest to do some nation-building right here at home."
Reaction to the speech spans the political spectrum.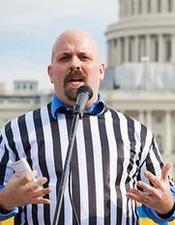 Greenpeace USA Executive Director Phil Radford in front of The Capitol Building, January 24, 2012 (Photo by Josh Lopez courtesy 350.org)
Radford was critical, but not entirely so, saying, "We applaud the President's investments in clean energy and his call to stop wasting taxpayer dollars on oil companies that have made more than $1 trillion in profit in the last ten years. However, President Obama's everything-but-the-kitchen-sink, including-the-oil-spills-and-nuclear-disasters energy policy includes only tokenism for the clean energy future that America deserves while falling far short of our country's energy, environmental and public health needs."
Colorado Governor John Hickenlooper, a Democrat, said, "We were … encouraged to hear the President talk so much about clean energy, as Colorado is leading the nation when it comes to renewable energy research and development. Many of the new jobs the President talked for this industry will be created in Colorado – and we are ready."
New York Governor Andrew Cuomo, also a Democrat, said, "I applaud the President's proposal to work with private industries to rebuild America's manufacturing sector and his call for tapping into alternative energy sources to power our economic recovery."
But Senator James Inhofe, a Republican from Oklahoma, blasted the President for his energy policies from a different angle, calling it "double-speak on energy."
"While he talks the talk, his actions clearly show that he is still determined to shut down oil, gas and coal development," accused Inhofe.
"Just last week, to appease his global warming alarmist friends, he killed the Keystone Pipeline that would have provided 20,000 jobs and increased energy security while providing a means to get more domestic energy to the marketplace," Inhofe said.
Obama denied the Canadian corporation TransCanada a permit for the Keystone XL Pipeline, because, he said at the time, the Republicans in Congress pushed him into a 60-day decision timeframe with a rider on a payroll tax cut bill. (ENS, January 18, 2012)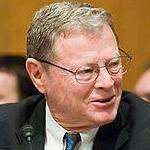 Senator James Inhofe (Photo by NCPA)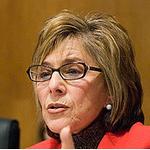 Senator Barbara Boxer (Photo by NCPA)
Inhofe, a determined climate skeptic, demonstrates the chasm dividing Congress as he tonight again objected to the Obama administration's policy of regulating climate warming gases such as carbon dioxide through the U.S. Environmental Protection Agency.
"He is moving forward with a plan to regulate greenhouse gases through the EPA, which will cost American families $300 to $400 billion a year. And this is just the tip of the iceberg," said Inhofe.
"The barrage of regulations coming out of EPA taxing electricity and gasoline have become known as the 'train wreck' for the incredible harm they will do to jobs and the economy," said Inhofe. "In fact, the cost all these regulations put together add up to about the same as Obama's national deficit, which is a recipe for economic disaster."
Inhofe is the Ranking Member on the Senate Environment and Public Works Committee.
The chairman of that committee, Senator Barbara Boxer, a California Democrat, tonight expressed support and admiration for the President's speech, saying, "The President's eloquent optimism stands in marked contrast to the angry tone Americans have been hearing on the campaign trail from his opponents."
"I welcome his call to action for us to work together to strengthen the middle class, create clean energy jobs, help responsible homeowners stay in their homes, protect the environment from toxins such as mercury and rebuild America's infrastructure," Senator Boxer said.
"I will do everything I can to bridge the partisan divide," she promised, "and we can start right away by passing a bipartisan surface transportation bill that saves or creates millions of jobs."
Copyright Environment News Service (ENS) 2012. All rights reserved.