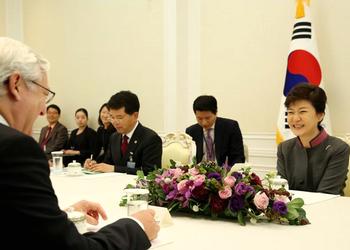 DAEGU, South Korea, October 16, 2013 (ENS) – South Korean President Park Geun Hye told world energy leaders today that increased international cooperation is needed to solve a three-pronged "energy trilemma."
The world must balance three challenges, she said, "the trade-offs between energy security, social equity and environmental impact mitigation."
In her keynote address at the World Energy Congress in Daegu, President Park said the world must switch from a traditional energy economic model to a creative energy economy, which would promote energy conservation and environmental production through the use of smart grids, LEDs and low-emission vehicles.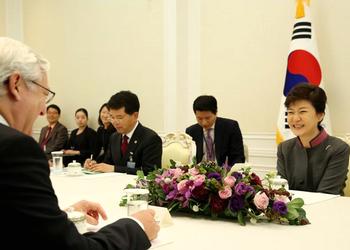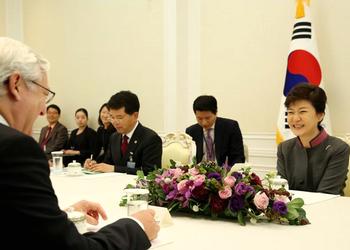 Park called for revising energy price frameworks and regulations to promote energy efficiency, a more equitable distribution of energy resources, and more investment in clean energy technologies.
And she called on the private sector to play a financing role when governments face budget problems.
Held in a different city every three years, the World Energy Congress is the flagship event of the World Energy Council with over 3,000 member organizations, including governments, industry and expert institutions. Since the first event in 1924, it has functioned as a global forum for leaders to debate solutions to energy issues and for executives to display their technologies and explore business opportunities.
Energy demand in Asia could more than double in the next 50 years, and a "historic phase" of industrialization and urbanization in Asia's emerging economies means Korea is well-placed to be an important player, Peter Voser, CEO of Royal Dutch Shell, told World Energy Congress delegates.
"South Korea is an appropriate place to focus on this issue," he said Tuesday. "The country is poised to play an important part as a significant player in the global gas industry. Its famous shipyards are building the ships that will transport gas across the oceans to fuel Asia's economic growth."
Voser cited a game-changing project now under construction in Korea, the Prelude floating liquified natural gas facility, a joint venture between Shell, Inpex and KOGAS at Samsung Heavy Industries' Geoje Shipyard. When completed and deployed in Australian waters, it will be the largest offshore floating facility ever built.
Voser said the world needs to diversify its energy supply, even though fossil fuels will supply 65 percent of Asia's energy in 2060, down from 85 percent today. Natural gas "can help to tackle the pollution crisis in some of the Asian cities," he said.
Voser urged Asian governments to tackle the region's urban pollution crisis, encourage investment in new energy sources, and tackle fossil fuel subsidies that discourage investments in new energy supplies.
Industry and governments need to work together to find solutions to tackle the "energy trilemma" of energy equity, energy security, and environmental sustainability, said other panelists.
"There is a lot of common ground between industry and government," Jon Drzik, CEO of Oliver Wyman, an international management consulting firm, said Wednesday. "Solving the energy trilemma requires a sustainable policy that endures over time, requiring a partnership between industry and government."
"Energy efficiency is at the heart of any solution for Europe and for our energy trilemma," said Maria Van der Hoeven, executive director of the International Energy Agency.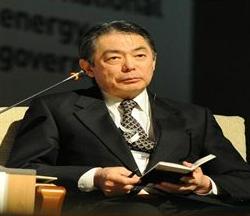 Integration could help tackle the energy trilemma, she said, bringing about greater energy security and efficiency. "If you want to change your energy mix, you have to be mindful of the consequences of the region," Van der Hoeven said, offering the example of Germany. "You can't do things alone."
Nuclear energy remains part of Japan's energy mix even after the Fukushima accident, said executive vice president and chief nuclear officer of Tokyo Electric Power Co., Zengo Aizawa, at a panel session on Monday.
"Japan has limited sources of renewable energy such as wind, solar or hydro," Aizawa said, and increased reliance on fossil fuels is undesirable from an environmental viewpoint. "The government has rethought the idea of abandoning nuclear energy."
Japan has 50 nuclear power plants. All have been shut down since 2011. On March 11 of that year four of six nuclear reactors at TEPCO's Fukushima Daiichi plant site suffered massive damage as a result of a magnitude 9 earthquake and a series of tidal waves.
"Nuclear power is necessary" in the medium to long-term, Makoto Yagi, chairman of Japan's Federation of Electric Power Companies, told conference delegates Monday.
President Park said today that cooperation is important for Asia, which has a mix of countries that are either heavy energy consumers or have large energy reserves. She said cooperation between energy producing and consuming countries would contribute to global market stability.
Park suggested that Northeastern Asia countries could cooperate in the development and transport of shale gas from China and North America as well as exploiting oil and gas reserves in eastern Siberia.
"We have to create an environment that allows energy infrastructure connections, including regional power grids, gas pipe networks, and oil pipelines," said Park. "This cooperation could be promoted by legal frameworks, such as an Energy Charter Treaty, which would encourage investments from both the private and public sector."
Copyright Environment News Service (ENS) 2013. All rights reserved.