SolarDay 2011 Reflects Strong Growth in U.S. Solar Industry
MILL VALLEY, California, June 17, 2011 (ENS) – The third annual SolarDay, an international day of awareness celebrating solar energy and energy independence, will be held in the United States, Canada and the UK on Saturday with events by cities, non-profits, companies and the solar industry.
In Mill Valley, California, SolarDay spokesman John Reed of Elevator Communications said, "Solar can be thought of as the next step in the Greening of America movement that includes driving a hybrid car, shopping for organic and sustainably-farmed foods, doing business with green companies, recycling, saving energy and avoiding, as much as possible, the burning of finite and polluting fossil fuels that play a significant role in the production of greenhouse gases and global warming."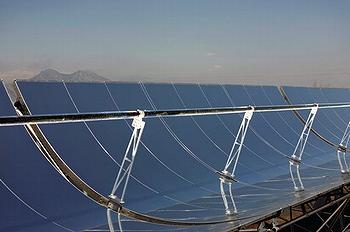 Developed by SkyFuel Inc. in Albuquerque, New Mexico, a new parabolic trough solar concentrating collector uses weather and shatter-proof, low-cost, reflective polymeric film. (Photo courtesy SkyFuel Inc.)
"Solar is no longer elective," Reed said, "Sooner or later we'll start running out of expensive fossil fuels and we need to take a long-term look at our energy future: 50 years of oil reserves, 200 years of coal reserves and at least fives billion years of solar energy."
Lawmakers representing California such as U.S. Senator Dianne Feinstein and Congresswoman Doris Matsui are supporting SolarDay with letters on the SolarDay website to encourage public participation and awareness of how solar energy can reduce monthly energy bills, while providing jobs.
Senator Feinstein wrote, "It is programs such as SolarDay that aid our citizens in gaining the information necessary in order to take action to improve the sustainability and cleanliness of our planet. It is commendable that solarDay 2010 was the largest public eduction and solar outreach program in U.S. history. It is also admirable that through SolarDay's Light in the Night and Solar Villages Programs, developing countries are receiving basic electricity and lighting."
In her letter, Congresswoman Matsui said, "With dozens of events behing held throughout the country, members of the public will have the opportunity to understand how solar power provides a sustainable source of energy and moves our economy forward."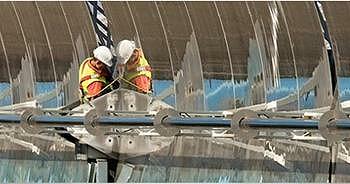 Workers install a parabolic trough similar to those to be constructed at the Blythe project. (Photo courtesy Solar Trust of America)
It may be coincidental, but this morning the official groundbreaking for Solar Trust of America's giant Blythe Solar Power Project took place near the small town of Blythe, California.
Secretary of the Interior Ken Salazar blogged, "With the desert sun warming our backs and our shovels in the ground, California Governor Jerry Brown, BLM Director Bob Abbey and I participated in a groundbreaking ceremony this morning for the Blythe Solar Power Project, the world's largest solar energy project to be built on public lands."
"It makes sense to power California with renewable wind and solar energy that protects clean air and water and promotes energy independence," Governor Brown said. "Renewable energy projects also stimulate business investment in California and create thousands of new jobs."
"Just the first phase of this project will put about 1,000 people to work out here in Blythe during construction and will create more than 200 permanent jobs. The second phase is expected to do the same. These are big numbers for the Blythe community," Salazar wrote.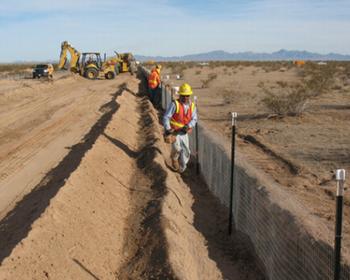 Solar Trust of America crew places a perimeter fence to keep endangered desert tortoises from entering the Blythe solar site. (Photo courtesy Solar Trust of America)
Located eight miles west of Blythe in Riverside County, the concentrating solar thermal power plant project uses parabolic trough technology. It includes an eight-mile transmission line to deliver the power to Blythe.
The U.S. Energy Department has extended a $2.1 billion loan guarantee to support Units 1 and 2 of the Blythe project. These two units represent the first phase of the 1,000 megawatt project that, when completed, will generate enough electricity to power at least 300,000 homes.
Brown also visited five other solar projects including: First Solar's Desert Sunlight, Solar Millenium's Palen Solar Power Project, NextEra's Genesis facility, Solar Reserve's Rice Airfield Project and Abengoa's Mojave Solar Project.
In addition to the Blythe project, Solar Trust of America currently has 2,000 megawatts of solar energy power plants in advanced stages of development California and Nevada.
On SolarDay in hot and sunny Mesa, Arizona, city officials will open Mesa's first solar installation, a 70 kilowatt dual tracking concentrated photovoltaic system, designed to supply power to Red Mountain Park. The city's public access television channel will tape the event, which will also will be shown online.
Manufactured and installed by SolFocus, the PV array will supply nearly 80 percent of the annual energy needs for the park's four softball fields.
In Phoenix, Arizona, an event at City Hall called "Show Me Your Solar" encourages homeowners and business owners to learn more about solar energy and protection of the planet.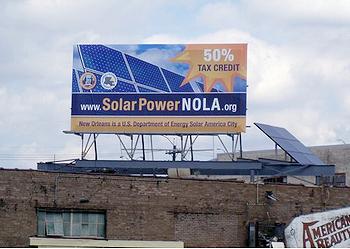 New Orleans is one of the U.S. Department of Energy's 25 Solar America Cities. (Photo by Phil Voss courtesy NREL)
In New Orleans, solar contractors and environmental non-profit organizations will share information about the benefits of solar power and how to obtain it in front of the Whole Foods Market at 5600 Magazine St. A self-guided Solar Home Tour is offered that allows visitors to view installed solar systems up close and talk to the owners about their solar experiences. Both events are sponsored by the Gulf States Renewable Energy Industries Association. Click here to find out more.
SolarDay began in 2009 with one event, a bio-diesel bus tour of solar homes and businesses hosted by the City of San Francisco.
By 2010, SolarDay featured events hosted by cities and the solar industry in 26 U.S. cities, and several cities issued proclamations declaring an Official SolarDay for their events.
The U.S. solar energy industry continued to be one of the fastest growing sectors of the economy in the first quarter of 2011 according to the U.S. Solar Market Insight: Q1 2011 released Thursday by the Solar Energy Industries Association and GTM Research.
In total, cumulative grid-connected solar electric installations have reached more than 2.85 gigawatts, enough to power nearly 600,000 U.S. homes.
In the first quarter of 2011, the United States installed 252 megawatts of grid-connected photovoltaics or 66 percent year-over-year growth over Q1 2010 installations.
Two major factors drove this growth: falling solar energy equipment costs and a rush to take advantage of the Section 1603 Treasury program that was expected to expire in 2010. The program has been extended through the end of 2011.
All three PV market sectors – residential, commercial and utility – continued to grow, with commercial installations showing the strongest gains.
"On the whole, the U.S. is currently the PV industry's most attractive and stable growth market," said Shayle Kann, managing director of Solar at GTM Research.
Kann said, "This is reflected in our report's quarterly market data and in the comments from global suppliers, distributors, and developers, all of whom see the U.S. positioned to nearly double its global market share in 2011 and support a greater diversity of installation types than has been previously seen in any leading demand center."
Copyright Environment News Service,ENS, 2011. All rights reserved.