Solar Power, Game-Changing Key to the Energy Future
By Suzanne Maxx
LOS ANGELES, California, October 20, 2010 (ENS) – Solar Power International 2010 realized its name and reached critical mass last week, due to the booming global solar industry and the efforts of presenting organizations Solar Electric Power Association and the Solar Energy Industries Association.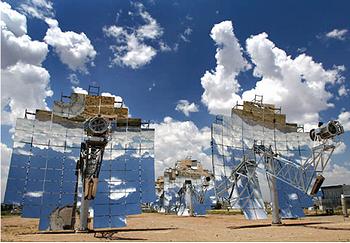 Stirling solar dishes at Sandia National Lab set a new solar-to-grid conversion efficiency of 31.25 percent in 2008. (Photo by Randy Montoya courtesy Stirling Energy Systems)
The annual solar conference and expo took place for the first time in Los Angeles with over 1,000 exhibitors and about 30,000 attendees at the Convention Center, including strong contingents from China; India, South Korea, Japan, Spain and Germany.
In a spectrum of languages, the buzz at the show was that solar is poised to become the fastest growing energy market in the world.
Motivational speeches, a panel of solar CEOs, the rainbow flash and glitter of solar technologies on the exhibition floor, the Hollywood-style Solar Block Party, and SolarWorld's fashion show all kept the crowds excited about solar energy.
A few game changers were launched here. The first-ever utility-scale solar project on federal land in Nevada was approved by Interior Secretary Ken Salazar, and the first National Solar Jobs Census from the Solar Foundation was launched with a new website at: www.SolarWorksforAmerica.com.
The conference opened with game-changing "state of the industry" speeches from Julia Hamm, president and CEO of the Solar Electric Power Association and Rhone Resch, president and CEO of the Solar Energy Industries Association.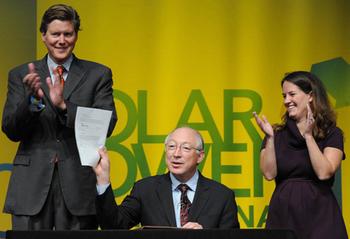 At Solar Power International, from left: Rhone Resch, head of Solar Energy Industries Assn., Interior Secretary Ken Salazar holding approval document for first solar installation on Nevada public land, Julia Hamm, head of Solar Electric Power Assn. (Photo by Tami Heilemann courtesy DOI)
Resch rallied the audience, declaring, "Solar energy is now the fastest growing energy source in the United States, during a recession with 10 percent unemployment. Solar is rocking!"
Resch foresees a bright solar future. "A vision where we increase the amount of solar we install in the U.S. by more than 20 times over last year's record levels. A vision where all solar technologies come together and we install 10 gigawatts – that's 10 billion watts – of clean solar power each and every year."
That's enough solar energy to power two million homes or shut down 10 polluting coal plants every year by 2015.
His vision includes a scenario, "Where solar becomes America's number one source of new installed energy each year – bigger than coal, bigger than natural gas, bigger than nuclear. We create 220,000 new solar jobs for our families and neighbors while supporting half a million more jobs in other industries."
"We add over $30 billion in direct economic growth and hundreds of billions of dollars in other sectors of the economy each year," Resch enthused. "This vision drives economic recovery, creates energy security, and of course, substantially cuts the pollution causing climate change."
All CEO's concurred that to actualize Resch's vision, costs have to be driven down. To motivate the industry, some CEOs said, utilities need a "decoupling" of sales and profitability now tied to earnings incentives to sell less energy.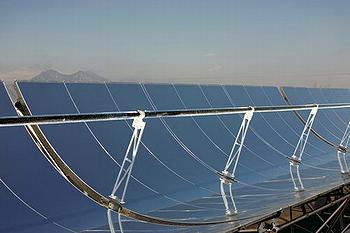 SkyTrough Parabolic Trough Solar Concentrating Collector uses a new weather-proof, low-cost, high-reflectance polymeric film instead of the traditional heavy, glass-based mirror. Albuquerque, New Mexico. (Photo courtesy SkyFuel Inc.)
Many CEOs said the industry will thrive when a National Renewable Energy Portfolio Standard is in place, combined with an extension of the federal tax credit program, and federal loan guarantees for the solar industry.
Resch explained that the petroleum industry has spent more than $500 million in lobbying and campaign contributions to defeat clean energy and climate legislation in Congress. Using their resources, they were able to delay and ultimately kill any hope of a national Renewable Portfolio Standard or cap and trade program, or energy bill.
"After 150 years of subsidies it's time to level the playing field – it's time to cut their subsidies and shift support to solar and other renewable energy technologies," Resch declared. "Every year, the toxic fossil fuel industries receive $550 billion in subsidies worldwide, a trillion dollars every 22 months."
"From tax credits to price supports, to access to millions of acres of lands given away to drilling," he said, "the fossil fuel industry is grotesquely over subsidized at the expense of the renewable energy industries."
There is some hope on the horizon, however. It helps when President Barack Obama decides to install solar panels on the White House roof just before the opening of the Solar Expo.
"It does take a team," said Hamm, who emphasized that the most successful companies will be those that collaborate and improvise.
Hamm said U.S. solar power capacity is predicted to at least double next year. In the 10 utilities with the most solar in their service territories, solar power capacity is up by 66 percent, she said.
Collaborative projects push the envelope, Hamm said, such as the one between Public Service Electric and Gas in New Jersey and Petra Solar that will result in smart-grid enabled 200 watt panels with micro inverters on 200,000 utility poles, totaling 40 megawatts of generating capacity. Petra provides the equipment, which is owned and installed by the utility.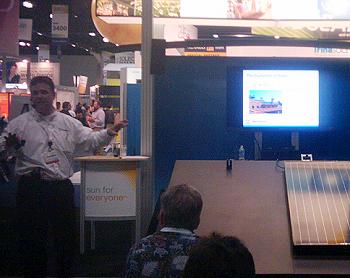 A teachable moment at the Solar Power Expo (Photo © Suzanne Maxx)
More positive news for the solar industry came in the form of the U.S. Solar Market Insight, a report released at the conference opening by Solar Energy Industries Association working with Green Tech Media Research.
The U.S. solar electric market grew by over 100 percent this year, exceeding one gigawatt of generating capacity, the report shows. In the solar photovoltaic industry, all segments are having record years.
Back in June, utility-scale installations already surpassed 2009 totals, while residential and commercial installations continue to grow at a 40-50 percent rate.
America is also quickly becoming the largest concentrating solar power market in the world. Roughly 80 megawatts are expected to come online in 2010 – 10 times more than last year. In addition, the U.S. has over 23 gigawatts under development – enough to power 4.6 million homes.
Solar water heating jumped from 2.6 million square feet installed in 2009 to more than three million square feet in 2010 – a 16 percent growth rate. In the first half of 2010, U.S. manufacturers produced more than a third of the world's polysilicon supply, over 500 megawatts of cells and over 500 megawatts of modules.
Three of the five energy businesses on the Fortune 100 list of Fastest Growing Companies are solar manufacturers: First Solar, an American company that is the world's largest manufacturer of thin film solar modules; Trina Solar, a Chinese manufacturer of photovoltaic modules; and SunPower, an American company that designs and manufactures high-efficiency crystalline silicon photovoltaic cells, roof tiles and solar panels.
China's Solar Development Dominates
Resch was in Phoenix for the opening of Suntech's new manufacturing facility. "Who would have thought," he marveled, "a Chinese company opening up a manufacturing facility here in America."
The Chinese allocation of US$34 billion towards solar power development was at the core of the discussions during the CEO panel, as it is an international game changer, especially because funds are available to companies from the United States.
The U.S. solar industry is reliant on government policies and subsidies, and China's policies and subsidies are making it easier for the United States to begin to get close to grid parity – the point at which generating electricity with solar power is equal in cost, or cheaper than grid power.
So far this year, the state-controlled China Development Bank has extended $24 billion in loans to solar companies, including Yingli, Trina Solar, Suntech, and Solarfun Power Holdings Co., according to Bloomberg's New Energy Finance research division.
China spent $34.6 billion on clean-fuel projects in 2009, almost double the $18.6 billion investment by the United States. China installed 160 megawatts of solar capacity last year, a fourfold increase from a year earlier, and may almost double it again this year to 311 megawatts, according to New Energy Finance.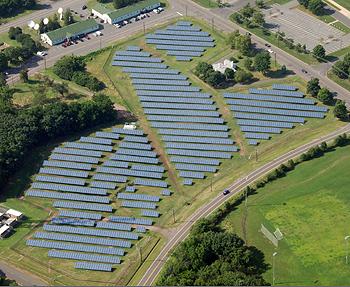 Rutgers' 1.4-megawatt solar farm (Photo courtesy Rutgers University)
China's manufacturers grabbed 43 percent of the global market in photovoltaic panels over the last six years, pricing products as much as 20 percent cheaper than European offerings. Chinese firms shipped 3,300 megawatts of panels worth $6.6 billion last year, enough to power about 2.6 million U.S. homes, says New Energy Finance.
At Rutgers University in New Jersey, 7,600 panels convert sunlight into electricity, saving some $200,000 in energy costs this year in the biggest solar-power experiment at a U.S. college. Yingli Green Energy Holding Company, China's second-largest solar-panel maker, supplied the $10 million project.
Yingli is one of several Chinese manufacturers that have slashed costs to reduce global prices for solar modules by about 50 percent in two years. The drive made the modules more affordable for buyers from Rutgers to Wal-Mart Stores, the biggest U.S. retailer.
Solar power may reach grid parity in certain markets as early as 2013, according to a June 29 report by Pike Research, a Boulder, Colorado clean-energy consulting firm.
The European Photovoltaic Industry Association, a trade group, forecasts grid parity by 2010 in some southern parts of Italy, by 2012 in several regions of Spain, and in Germany by 2015.
Where Hamm and Resch shared common viewpoints in the opening keynotes, feeding off one another, the closing keynotes worked off of the alchemy of opposition between the famous politically polarized married couple Mary Matalin, a Republican, and James Carville, a Democrat.
The polarity of their politics, like a magnet, attracted attention to the importance of solar power. Carville and Matalin each stood behind solar energy in various ways and this transcended their bi-partisan difference.
But the political forecasting about parties in general which both indulged in here, was not popular among the solar industry attendees. However, most agreed government policy is a critical game changer for the industry.
Fun With the Sun
When the policy discussions, workshops, meets and technology were too much to absorb, there were great parties that educated as well as entertained.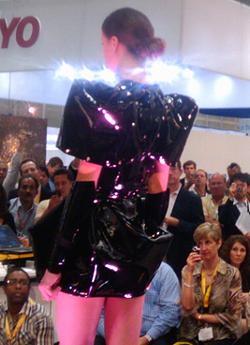 Solar is the New Black fashion show (Photo © Suzanne Maxx)
SolarWorld held two transformative events. SolarWorld group headquarters are located in Bonn, Germany and production sites for the company's crystalline silicon solar products are in Germany, the United States and South Korea.
"Fantastic!" exclaimed Catia, from San Paulo, Brazil, during the packed runway fashion show called "Solar is the New Black" designed by Project Runway season seven award-winner Seth Aaron.
"What could be cooler?" said Aaron. "Solar's time is here, and in a way it's like a lifestyle choice for a whole society … much like fashion is for the individual. I hope my fashion interpretation of the technology can serve as something of a two-industry celebration."
Models posed atop all-black SolarWorld Sunmodule® solar panels to show off Aaron's designs. The clothes are the designer's visual interpretation of solar technology, inspired by a tour of SolarWorld's factory, not actual high-tech wearables.
Still, said Becky Campbell of SEPA, "Great way to get technology out there."
SolarWorld was the main sponsor of the SolarWorld No. 1 solar car developed by the FH Bochum SolarCar Team, and in Los Angeles, the car was featured at an exhibit of solar cars at the Petersen Automotive Museum.
With electric vehicles, solar chargers and parking the hot topics of the moment, there was a lot of eye candy on the museum exhibition floor. And for historical perspective, the first electric vehicle from the 1800s was on display.
In the heart of downtown Los Angeles, Solar Power International held two events – a lovely opening cocktail party, and a huge outdoor Block Party at L.A. Live, replete with a Hollywood-style red carpet, making each guest feel special with the illusion of celebrity, media flashing cameras as they entered and celebrity impersonators on hand for photos.
The variety of global food from Wolfgang Puck and Katsuya had something for everybody, and the DJ was so good, I had to go grab my roller-skates from the car to take advantage of the wide space with no one dancing until they caught the energy and enthusiasm of solar power!
Copyright Environment News Service (ENS) 2010. All rights reserved.
Environment News Service (ENS) © 2010 – 2012 All Rights Reserved.