Solar Arrays Will Power Emmy Awards' Red Carpet Lights
LOS ANGELES, California, September 16, 2011 (ENS) – A canopy composed of over 200 high-performance solar panels will give solar energy a starring role on the red carpet at Sunday's 63rd Primetime Emmy Awards, which celebrate excellence in national primetime TV programming.
The panels are provided by SolarWorld, the largest solar manufacturer in the United States, based in Camarillo, California.
"The Emmys spotlight the tastes, trends and technologies which viewers nationwide are tuning into in their lives," said Kevin Kilkelly, president of SolarWorld Americas. "This year's show will mark the historical moment when solar power made its debut in American popular culture."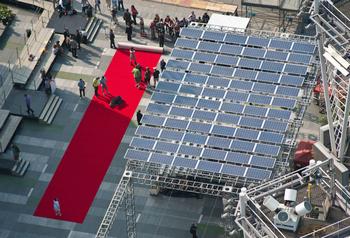 Solar panels and the red carpet outside the L.A. Live center (Photo courtesy SolarWorld USA)
The 50-kilowatt system goes prime time during the official live pre-show "Countdown To the Emmys," airing Sunday, September 18 (7:00-8:00 PM ET live/4:00-5:00 PM live PT) on FOX, the network producing the Emmys.
The hottest names in American television will appear beneath the solar awning outside the Nokia Theatre at the L.A. Live entertainment center in downtown Los Angeles.
Presenters on the show include Drew Barrymore, Gwyneth Paltrow, Don Cheadle, Rob Lowe, Hugh Laurie, Maria Bello, Katie Holmes, Minka Kelly, Jimmy Kimmel, William H. Macy, Anna Paquin, David Spade and Anna Torv.
Executive-produced by Mark Burnett, this year's Emmys will be hosted by Jane Lynch of "Glee."
With an expected 12-13 million viewers, the awards show will showcase solar power as an energy option available to homeowners across the country.
According to Josh Mark, executive director of special event production and director of sustainability for FOX, the solar array is unique not only in its size but in prominence. The 2009 Teen Choice Awards featured a two-kilowatt system and the 2007 Emmys hosted a 13-kilowatt system, but in both cases the solar arrays were not only smaller but less visible.
With four separate solar canopies surrounding nearly 400 feet of red carpet, solar is a defining feature of this year's Emmy production.
The solar panel system will be tied into the Los Angeles Department of Water and Power utility grid and will greatly reduce the event's power consumption.
FOX has also partnered with Kinetic Lighting to provide Prism Projection RevEAL Studio LED lighting fixtures throughout the red carpet area. The low-energy LED and fluorescent lighting will reduce power consumption, using only 20 percent of the power traditionally used for red carpet arrivals.
This year's red carpet is made from 25,000 square feet of locally-sourced recycled carpet, produced a LEED-certified carpet facility. Made from 50 percent recycled content, the carpet will be donated after the event to the Ronald McDonald House Long Beach and to Habitat for Humanity of Greater Los Angeles.
The solar panels also will be donated to Habitat for Humanity, a nonprofit organization dedicated to "eliminating substandard housing by making simple, sustainable and affordable housing a matter of conscience and action."
The panels will serve 10 to 20 households while enabling Habitat for Humanity to provide better energy efficiency to low-income partner families and individuals throughout greater Los Angeles.
Copyright Environment News Service (ENS) 2011. All rights reserved.