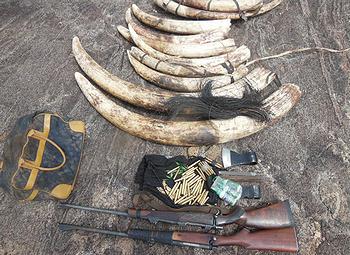 MARRUPA, Mozambique, September 8, 2014 (ENS) – Six suspected poachers were arrested in Marrupa on Sunday in a joint operation conducted by the Mecula  District police, Luwire scouts and Niassa National Reserve Wildlife Conservation Society scouts.
The arrests were the result of a 10-month investigation informed by crucial on-the-ground intelligence about their activities in the Niassa National Reserve, according to the Wildlife Conservation Society, based in New York City.
The Wildlife Conservation Society has been co-managing the Niassa National Reserve with the Mozambique government since 2012.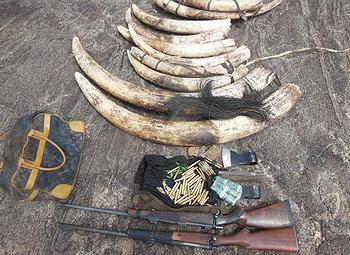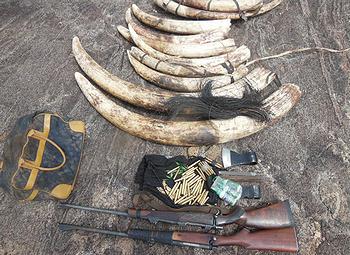 During the early morning raid, 12 tusks and two rifles were confiscated. Two of the tusks, 23 kilograms (57 pounds) each, were from an elephant about 40 years old.
The worth of the tusks was estimated at over US$150,000.
The suspects have been charged with cooperating with poachers, illegal possession of firearms, participating in poaching, and organized crime. If convicted, all suspects face fines and jail time.
Wildlife Conservation Society President and CEO Cristian Samper said from Niassa, "With this arrest we have charged a shooter, porters and poacher informers who are driving the elephant crisis in Niassa Reserve."
It is estimated there are 13,000 elephants remaining in Niassa National Reserve, located in northern Mozambique. The reserve holds the country's largest remaining population of elephants.
Based on information provided by the suspects, law enforcement officials estimate that this group of poachers has killed 39 elephants in 2014 alone.
"During a fly-over across a portion of the reserve, I personally witnessed an elephant that had been killed by poachers," Samper said. "The elephant was brought down with an AK-47. We need to combine our strategies and firepower to take on these brutal criminals."
This arrest is considered a major crackdown on one of five well-organized groups suspected of poaching elephants in Niassa.
"This is an important raid that has shut down a group of poachers responsible for killing many of Niassa's elephants" said Alastair Nelson, director of the Wildlife Conservation Society's Mozambique Program.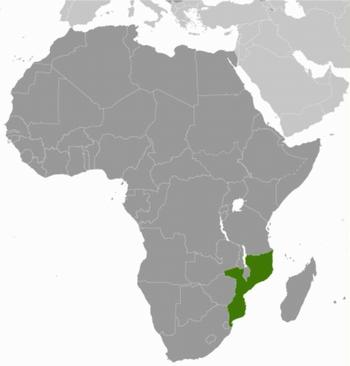 "In this raid, we have arrested professional poachers, recovered weapons, ivory, ammunition, and gained additional information to crack down on poachers," said Nelson. "This is the clear result of an important partnership between the Mozambique government, Luwire, Niassa National Reserve, and WCS."
"It is partnerships like this that will help us advance important efforts to protect Niassa's elephants, promote security and governance, and secure national assets for the people of Mozambique," Nelson said.
"This work on the ground is part of a three-part strategy to stop the killing of elephants and stop the trafficking and demand for ivory," said Samper. "To solve this crisis, we need to focus efforts in Africa and on the other end of the supply chain in places such as China and the United States."
"WCS extends its appreciation and congratulations to the Mozambique government, especially our partner, the National Administration of Conservation Areas and National Niassa Reserve Warden for their commitment to combat this crisis," said Samper.
Covering over 42,000 square kilometres (16,216 square miles), the Niassa Reserve is roughly the size of the country of Denmark or the U.S. state of Massachusetts. It is the largest protected area in Mozambique.
The northern border is formed by the Rovuma River, which also forms the border with Tanzania. The reserve is part of the Trans-Frontier Conservation Area. In addition to its elephants, the Niassa Reserve is inhabited by Cape buffalo, impala, wildebeest, wild dogs, zebra and leopards.
Copyright Environment News Service (ENS) 2014. All rights reserved.