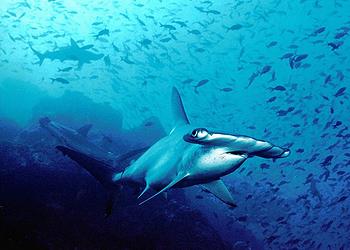 BANGKOK, Thailand, March 11, 2013 (ENS) – Governments have voted to protect five shark species and two species of manta rays at the ongoing meeting of the Convention on International Trade in Endangered Species, CITES, in Bangkok.
In a committee vote today, the proposals sponsored by Latin American and European countries and the United States overcame opposition by China and Japan to win more than the two-thirds majority of voting countries needed for adoption.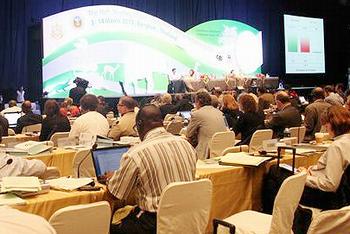 The inclusion of oceanic whitetip, porbeagle and three species of hammerhead sharks in the CITES appendices is the first addition of commercially valuable shark and ray species in the Convention's 40-year history.
A listing for them on CITES Appendix II would allow for international trade, regulated by a permit system to ensure exports are sustainable and legal.
With more than 100 million sharks killed each year, according to the UN Food and Agriculture Organization, these slow-growing, late maturing species are being killed faster than they can reproduce.
The fins of hammerhead and oceanic whitetip sharks are in great demand for banquet soups in Asia, and fins can sell for as much as US$700 a pound, while porbeagle sharks are in demand for their meat in Europe. In addition, many sharks are killed as by-catch in fisheries targeting other species.
European Environment Commissioner Jan Potocnik and Fisheries Commissioner Maria Damanaki welcomed the decisions, saying in a joint statement, "The sharks covered by the CITES decisions are highly vulnerable and have experienced alarming declines over the last years in all oceans."
"Those measures have a global coverage and will ensure that international trade only occurs if there are guarantees that it is sustainable. They will be considered for final adoption at the end of the CITES meeting on Thursday. We call upon all CITES Parties to confirm the choice that they made today. This will represent a landmark development for the protection of marine resources worldwide, for the benefits of marine resources and those who depend on it."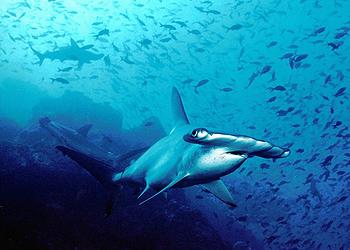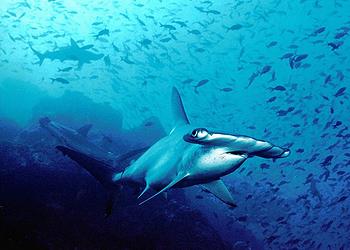 The shark protection measures complement the measures already adopted recently by Regional Fisheries bodies. In addition, new EU rules on a full ban on shark finning at sea, with no exemptions, will soon be entering into force in the EU after Parliament approved the ban in November.
U.S. delegation head Bryan Arroyo, U.S. Fish and Wildlife Service assistant director for international affairs, said, "Populations of these species are in severe decline, primarily due to commercial exploitation. The science supports these listings," said Arroyo. "We are confident that the CITES Parties will uphold these decisions."
"Through the cooperation of the global community, we can begin addressing the threats posed by unsustainable global trade in shark fins and other parts and products of shark and ray species," Arroyo said.
"Sharks and manta rays are extremely important to the ocean ecosystems," said Sam Rauch, of the U.S. National Oceanic and Atmospheric Administration. "The global protection that CITES offers these incredible species will complement existing international shark protection measures by ensuring their trade is sustainable and does not threaten their survival. We are thrilled these important shark and ray proposals were adopted and applaud the leadership of the many countries that helped us get there."
Conservationists are pleased with the votes yet mindful that these decisions must still be confirmed in the final CITES plenary session later this week.
"We are grateful that so many governments spoke unequivocally in support of CITES listings for sharks and rays, and are clearly concerned for the status of these threatened species," said Elizabeth Bennett, vice president of species conservation with the New York-based Wildlife Conservation Society.
Sonja Fordham of Shark Advocates International said, "These highly traded, threatened shark species urgently need protection from the unsustainable trade that jeopardizes populations, ecosystems, livelihoods, and ecotourism."
"We are encouraged that the required majority of CITES Parties voting this morning supported the shark listing proposals," said Ali Hood from Shark Trust. "Between now and plenary, we will be urging governments to remain vigilant and ensure final adoption of these vital international trade controls."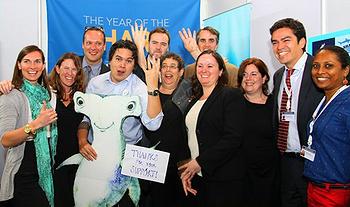 "It is a great victory for conservation, but it is a great victory for CITES as well," said Dr. Susan Liebermann of the Pew Environment Group.
Humane Society International Deputy Wildlife Director Rebecca Regnery applauded the vote, saying, "Increased protections are crucial for the survival of these vulnerable and over-exploited species threatened by over-fishing, illegal fishing, finning and gilling."
Revulsion at the practice of shark finning helped to drive the votes in favor of regulating international trade in sharks.
"Removing the most valuable parts of the species and throwing the mutilated animal back in to the ocean is cruel and wasteful," said Regnlery. "We urge CITES parties to uphold the decision for the remainder of the meeting."
Carlos Drews, head of WWF's delegation at the CITES meeting, said, "This is a landmark moment showing that the world's governments support sustainable fisheries and are concerned about the reckless over-exploitation of sharks for commercial use. Today's decision will go a long way in slowing down the frenzied overfishing of sharks that is pushing them to the brink of collapse to feed the luxury goods market."
Through March 14, CITES member countries are meeting to decide which species to protect by imposing controls or bans on their international commercial trade by adding them to one of the treaty's appendices. An animal or plant placed on CITES Appendix I receives the highest level of protection – international commercial trade in its parts and products is banned. A listing on Appendix II allows for international trade, but with regulations.
A proposal by Australia to protect the freshwater sawfish, Pristis microdon, by upgrading its listing to Appendix I was also approved.
Once abundant throughout the Indo-West Pacific, the freshwater sawfish is disappearing due to overfishing and habitat modification and destruction by dams, weirs and barrages, mining and agricultural operations.
In 2007, the 14th meeting of the CITES Conference of the Parties agreed to list all sawfish species on Appendix I. This listing was modified by Australia to place P. microdon on Appendix II because it was thought that populations in Australia could support a small harvest to provide animals to public aquaria. But Australia changed its position in light of new information from genetic studies showing that any reduction of sawfish females in one region is not likely to be replenished by migration from another region, so any trade at all pushes the species towards extinction.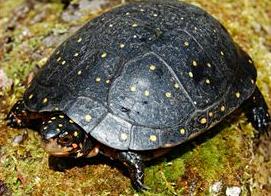 On Friday, governments voted to accept a U.S. proposal to regulate international trade of Blanding's turtles, spotted turtles and diamondback terrapins. The decision is intended to curb overexploitation of the freshwater turtles for Asian food and medicinal markets.
"I'm so pleased that the nations of the world are acting to save freshwater turtles in the United States," said the Collette Adkins Giese, an attorney and biologist with the Center for Biological Diversity. "International protection is vital for the survival of our wild freshwater turtles, which are suffering from overexploitation, habitat loss and other threats."
The United States is a turtle biodiversity hotspot, inhabited by more types of turtles than any other country in the world.
Most of the more than two million wild-caught, live turtles exported from the United States each year supply food and medicinal markets in Asia, where native turtle populations have been depleted by consumption. Adult turtles are also taken from the wild to breed hatchlings for the international pet trade.
"Turtle traders are depleting U.S. populations at a frightening rate. It's got to stop soon or we're going to lose these incredible animals from the wild," said Adkins Giese. "Commercial trade only compounds the problems native turtles already face from habitat destruction, water pollution and being hit and killed by cars."
Copyright Environment News Service (ENS) 2013. All rights reserved.