Settlement Ends U.S. Production of Toxic Short-Chain Paraffins
DOVER, Ohio, February 10, 2012 (ENS) – A legal settlement between a chemical manufacturer and the federal government this week ends the manufacture of short-chained chlorinated paraffins in the United States.
Short-chain chlorinated paraffins have been found to be bioaccumulative in wildlife and humans, persistent and transported globally in the environment, and toxic to aquatic animals at low concentrations.
Dover Chemical Corporation has agreed to pay $1.4 million in civil penalties for the unauthorized manufacture of chemical substances at facilities in Dover, Ohio, and Hammond, Indiana, according to the Department of Justice and the U.S. Environmental Protection Agency.
Dover violated the Toxic Substances Control Act by manufacturing short-chained, medium-chained and long-chained chlorinated paraffins without first submitting a pre-manufacture notice to the EPA administrator at least 90 days before manufacturing the substances.
Chlorinated paraffins are used as a component of lubricants and coolants in metal cutting and metal forming operations, as a secondary plasticizer and flame retardant in plastics, and as an additive in paints.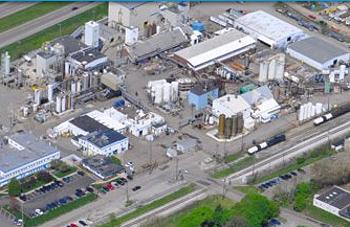 View of Dover Chemical facility in Dover, Ohio (Photo courtesy Dover Chemical)
Dover Chemical produces the vast majority of the chlorinated paraffin products sold in the United States, although several foreign manufacturers import chlorinated paraffin products into the United States. Before Dover became the only domestic manufacturer, chlorinated paraffins had been manufactured in the United States for over 50 years by several companies.
As part of the settlement, Dover Chemical has ceased manufacturing short-chain chlorinated paraffins, which have persistent, bioaccumulative and toxic characteristics.
These toxics pose a number of health risks, particularly for children, including genetic impacts, effects on the nervous system and cancer.
For its medium-chain and long-chain chlorinated paraffin products, Dover Chemical agrees to submit premanufacture notices to the EPA.
"This settlement will require Dover to participate in an EPA review of all types of chlorinated paraffin products sold by the company and bring Dover into compliance with the Toxic Substances Control Act," said Ignacia Moreno, assistant attorney general for the Environment and Natural Resources Division of the Department of Justice.
"By halting production of short-chain chlorinated paraffins, this settlement will reduce undue risks to human health and the environment," said Moreno.
EPA has developed an action plan for these chemicals based on the potential for significant impacts on the environment.
"Assuring the safety of chemicals is one of EPA's top priorities," said Cynthia Giles, assistant administrator for EPA's Office of Enforcement and Compliance Assurance. "Today's action reinforces the need for chemical manufacturers to follow the law and protects Americans from chemicals that could be harmful to their health."
Even relatively small releases of short-chain chlorinated paraffins from individual manufacturing, processing, or waste management facilities have the potential to accumulate over time to higher levels and cause significant adverse impacts to the environment, according to the EPA.
Short-chained chlorinated paraffins have been measured in U.S. air, sediment, surface waters, and wastewater. These chemicals have been found in freshwater aquatic species, marine mammals, and avian and terrestrial wildlife.
In addition, short-chained chlorinated paraffins have been detected in samples of human breast milk from Canada and the United Kingdom, as well as in a variety of food items from Japan and various regions of Europe.
The International Chlorinated Paraffins Industry Association anticipates that this settlement will have "little impact" upon U.S. industrial users of chlorinated paraffin products.
Copyright Environment News Service (ENS) 2012. All rights reserved.