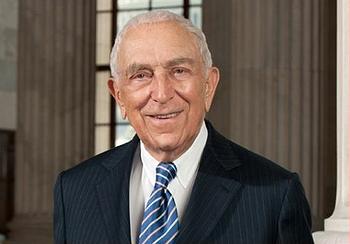 WASHINGTON, DC, June 3, 2013 (ENS) – Senator Frank Lautenberg, a New Jersey Democrat, the oldest senator and last World War II veteran in the United States Senate, died today at the age of 89.
A statement confirming his death from complications of viral pneumonia was issued by his office. According to the statement, he had previously suffered from cancer.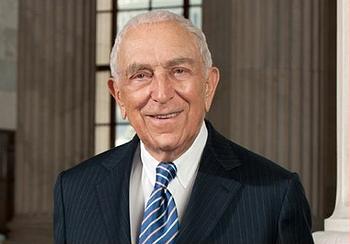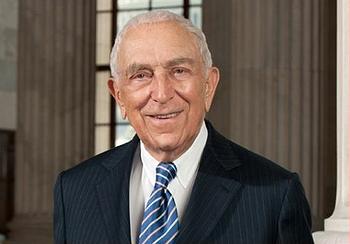 Tributes to Senator Lautenberg's service to his country and his constituents, and his devotion to a clean environment, poured in from across the country.
President Barack Obama said, "…he improved the lives of countless Americans with his commitment to our nation's health and safety, from improving our public transportation to protecting citizens from gun violence to ensuring that members of our military and their families get the care they deserve."
Senator Lautenberg was born the son of Russian and Polish immigrants and grew up poor in Paterson, New Jersey. He enlisted in the military at the age of 18 and served in the Army in Europe during World War II.
Upon returning home, he graduated from Columbia University with the help of the G.I. Bill. He joined with two boyhood friends to found Automatic Data Processing, ADP, which today employs 57,000 people worldwide and 4,500 in New Jersey.
A five-term senator first elected in 1982, Lautenberg was a long-time leader on environmental protection, transportation and protecting public health.
His career highlights include:
Passing the law that banned smoking on airplanes;
Authoring the law that prevented domestic abusers from possessing guns;
Writing landmark drunk driving laws, including the nationwide .08 blood alcohol standard and the 21 year drinking age law;
Authoring the "Toxic Right to Know" law to empower the public to know what pollutants are being released into their neighborhood; and
Writing the law to create the Paterson Great Falls National Historical Park.
Less than two weeks ago, on May 22, Senator Lautenberg and Senator David Vitter, a Louisiana Republican, jointly introduced the Chemical Safety Improvement Act to reform the outdated federal toxics law that industry and public interest groups both say has become unworkable.
Secretary of State John Kerry, a former U.S. senator from Massachusetts who worked in the Senate with Lautenberg for 20 years, said, "He was an American original, and as decent a person as I've ever known in public life."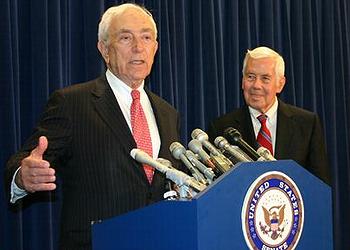 Senator Kerry and his wife Teresa Heinz traveled with Lautenberg in 1992 to the first UN sustainable development and climate change conference in Rio de Janeiro, Brazil, and Kerry said today, "Frank never lost faith with that commitment to the environment."
"During the years when Frank was going through chemotherapy and he was weakened by cancer, he was still down there on the floor of the United States Senate fighting on every environmental debate late into the night," said Kerry. "One day I realized where so much of that conviction came from, because Frank told me about his grandchild whose asthma was exacerbated by pollution. For some, all politics is local, but for Frank, all politics was personal, and I loved that about him."
Senate Majority Leader Nevada Senator Harry Reid said, "Millions of Americans are healthier and safer because of legislation he championed. Among his many accomplishments, he authored legislation that banned smoking on airplanes and raised the drinking age to twenty-one. Shaped by his own experience, Frank co-wrote the new GI Bill for 21st century veterans returning from Iraq and Afghanistan. And he has fought for years to reduce gun violence in our neighborhoods, authoring the law that prevents domestic abusers from owning firearms. Last month, Frank returned to the Senate to vote on gun violence legislation, a cause he has worked on his entire career."
EPA Acting Administrator Bob Perciasepe said, "Senator Lautenberg worked to protect children and families from harmful pollutants and modernize our chemical safety laws, and he fought tirelessly to combat the threat of climate change. He was a true environmental champion, and today Americans are healthier and safer due to his tireless work."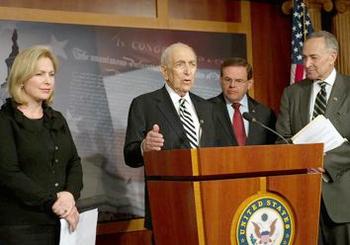 Members of environmental groups are mourning his passing and praising his accomplishments.
Andy Igrejas, who grew up in New Jersey, is executive director of the nonprofit Safer Chemicals, Healthy Families, a coalition of 450 public health, environment, business and labor groups.
"We are all deeply saddened to learn of Senator Frank Lautenberg's passing this morning," Igrejas said. "He was a genuine public health hero, and the leading champion for protecting the public from toxic chemicals. The Senator never forgot where he came from, and who he was serving. He approached health and environmental issues as a bread-and-butter concern for working families, and he was working hard on their behalf up until the end. He will be missed."
Frances Beinecke, president of the 1.4 million member nonprofit Natural Resources Defense Council, said, "History will hold Senator Lautenberg in extremely high regard. He was a steadfast champion of the environment and a leading voice for protecting the health of our planet and our children."
"Perhaps his most enduring achievement was to help inform and protect the public from the harm of toxic chemicals, including creating the nation's toxic right-to-know law, establishing the U.S. Chemical Safety Board and pushing for greater security at chemical plants. He also helped to ban smoking on planes and to ensure that public is informed about water quality at beaches," Beinecke said.
"He never shrank from a fight if one was necessary, but he will also be remembered for his wonderful sense of humor, his love of his grandchildren, and all children," Beinecke said. "We mourn his passing, and thank him for dedicating his life as a senator to truly creating a better and safer world."
Fred Krupp, who heads the nonprofit Environmental Defense Fund, said,  "Over his long career, Frank Lautenberg was a tireless advocate for protecting America's health and environment. As a member of the Senate Environment and Public Works Committee, he helped pass laws that have made our air and water cleaner, promoted clean energy and made our families healthier."
"EDF had the honor of working with him many times over the years, most recently on one of his top priorities – a bipartisan effort to protect Americans from the toxic chemicals they encounter every day," said Krupp. "Senator Lautenberg will be remembered as a passionate and principled statesmen who inspired all who worked with him."
 Copyright Environment News Service (ENS) 2013. All rights reserved.