Secretary of State Clinton Flies to Chile's Aid
SANTIAGO, Chile, March 2, 2010 (ENS) – U.S. Secretary of State Hillary Clinton arrived in Santiago today and met with Chilean President Michelle Bachelet at Santiago's airport to discuss how the U.S. can assist Chile's relief efforts with communications and basic supplies.
A massive earthquake measuring magnitude 8.8 struck the country's central coast early Saturday about 325 kilometers southwest of Santiago. The pre-dawn quake claimed at least 723 lives and displaced 500,000 families from their homes. Two million people are estimated to have been affected in some way by the quake.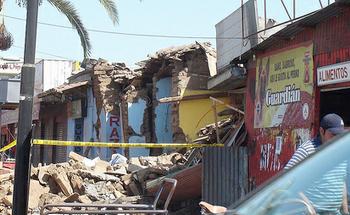 Earthquake destruction in the city of Melipilla in the Metropolitan District (Photo courtesy Municipalidad de Melipilla)
The passenger terminal at Santiago's international airport was damaged, but the airport is operational, with some restrictions. Communications are down to many parts of the country, roads and bridges are damaged or destroyed, hospitals, homes and commercial buildings are broken.
Meeting with President Bachelet, Secretary Clinton donated 25 satellite phones and provided a technician to set them up to help authorities communicate with areas hard hit by the earthquake. Clinton said the U.S. will provide additional aid and is working with Chilean authorities to fulfill their request for a field hospital, dialysis machines, portable bridges and water purification systems.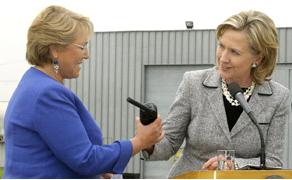 Chilean President Michelle Bachelet, left, receives one of 25 satellite phones donated by U.S. Secretary of State Hillary Clinton. (Photo courtesy U.S. State Dept.)
"I am thankful for all the international solidarity of the numerous neighboring countries and, in particular, thankful for the solidarity of the United States, President Obama and the Secretary of State, Hillary Clinton, who not only called me immediately, but has come in person to accompany to us and to work," said President Bachelet.
Secretary Clinton said, "The strength of this earthquake was 800 times greater than the earthquake that hit Haiti, and your leadership and the extraordinary efforts of your government and the people of Chile are responding with resilience and strength."
"We are so grateful for what Chile did in Haiti. Your rescue teams were among the very best in the entire world," Clinton said. "And we want to help Chile, who has done so much to help others. And I can only imagine the extent of the damage – two million people, at least, who are displaced."
President Michelle Bachelet and Secretary Clinton in their meeting at Santiago airport (Photo courtesy U.S. State Dept.)
President Bachelet, who is a medical doctor, requested equipment to provide pure water to treat kidney patients who depend on dialysis machines. "We need autonomous dialysis systems because dialysis, as you know, calls for pure water, and in those impacted areas there is no water," she said.
"Mainly what we need is semi-temporary or temporary semi-permanent hospital facilities, as many, many have been destroyed. And we need to have them and they will be arriving soon," said the Chilean president.
"After consulting with the president and her ministers," said Clinton, "we are sending eight water purification units. They are on their way. We have identified a mobile field hospital unit with surgical capabilities that is ready to go. We are working to fill the need for autonomous dialysis machines. We are ready to purchase and send electricity generators, medical supplies and are working to identify and send portable bridges so that some of the places that are remote that lost their bridges will be able to be reconnected to the country."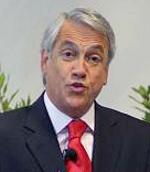 President-elect Sebastian Pinera campaigning last year in Talca, a city devastated by the 8.8 quake. (Photo courtesy Pinera Campaign Team)
The Government of Chile has declared six regions as zone of catastrophe: Valparaiso, Metropolitana, Libertador O'Higgins, Araucania, Biobio and Maule.
Asked how much Chile's recovery and reconstruction would cost and how long it would take, President Bachelet could give only the roughest of estimates.
"I can only say it will be a lot. Chile has the capacity, we have the engineers, we have the people, we have the experience, we have people trained and all that, but I think it will take long and it will mean a whole lot of money," she said.
"We cannot give an exact and accurate figure right now on how much it will cost," the Chilean President said. "There has been some estimation made. They talk about 30 billion dollars."
"But really, I mean, with some places, there's still poor communications. So we are more focused right now in doing all the emergency, the short-term, I would say, initiatives that people need to assure food, water, electricity, and of course, public order."
"We are now sending experts – engineers, architects, and so on – to evaluate in the field the kinds of damage and if those kinds of public works can be repaired or have to be completely rebuilt," she said.
Secretary Clinton also met with President-elect Sebastian Pinera at the airport.
Pinera, a conservative billionaire, will take office on March 11 and pick up responsibility for dealing with the devastation left by the earthquake.
Yesterday, Brazil's President Luiz Inacio Lula da Silva became the first foreign leader to visit quake-stricken country. President Lula met with President Bachelet in Santiago and declared that Brazil will do all it can to assist Chile in this time of need.
Copyright Environment News Service (ENS) 2010. All rights reserved.