Sea Shepherd to Patrol Libyan War Zone for Bluefin Poachers
PARIS, France, May 16, 2011 (ENS) – The endangered giant Atlantic bluefin tuna that migrate through Libyan waters of the Mediterranean each spring are are in greater peril than ever this year due to the conflict on land.
From May 15 to June 15 large trawlers are allowed to fish for bluefin tuna in the Mediterranean and the Eastern Atlantic, but while conservationists deplore the legal fishery, it is the poachers that worry them most.
The NATO no-fly zone, in effect since March, means no inspectors from the European Union or the Madrid-based International Commission for the Conservation of Atlantic Tunas, ICCAT, will be allowed to conduct surveillance from the air over Libyan waters.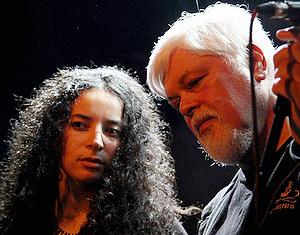 Sea Shepherd Founder Captain Paul Watson, right, with Lamya Essemlali, president of Sea Shepherd, France. Paris April 6, 2011. (Photo by Gentikmonoeil Bonpiedbonoeil)
Surveillance for bluefin poachers will be non-existent – except for the nonprofit Sea Shepherd Conservation Society that earlier this year caused the Japanese whaling fleet to head home from the Southern Ocean early with few whales.
Two Sea Shepherd Conservation Society ships will enter the waters off the Libyan coast in June with the goal of intercepting bluefin tuna poachers and freeing any illegally caught fish. The organization is acting in an attempt to save the species of giant tuna, which is on the brink of extinction, said Sea Shepherd Founder and President Captain Paul Watson.
"We will be armed with the regulations and in touch with NATO and the European Union Commission if we encounter any suspicious activity," said Watson. "Any bluefin tuna seiner or holding cage found in Libyan waters will be intercepted, the nets will be cut open, and the fish will be released.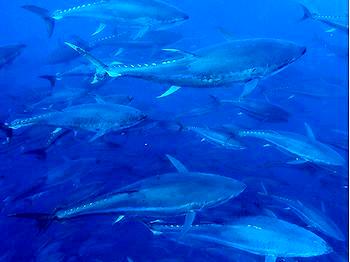 Bluefin Tuna in floating pen off Libyan coast, destined for a Maltese tuna farm. Sea Shepherd activists cut the pen open and freed 800 fish. June 17, 2010 (Photo courtesy Sea Shepherd)
The only protection for the endangered bluefin tuna will be the presence of the Sea Shepherd flagship Steve Irwin and a fast interceptor vessel. The only non-military aircraft in this zone will be Sea Shepherd's helicopter the Nancy Burnet, which takes off from the deck of the Steve Irwin.
"This year it is zero tolerance towards these illegal poaching operations and any fish in any net we encounter in Libyan waters will be freed and released," Watson said.
Last year, during the first Operation Blue Rage Campaign, Sea Shepherd crewmembers located and intervened against an illegal poaching operation, freeing some 800 bluefins.
The Sea Shepherd's anti-poaching efforts have the tacit blessing of the European Commission.
Lamya Essemlali, president of Sea Shepherd France, based in Paris, attended a meeting with the European Commission Directorate-General for Maritime Affairs and Fisheries on May 6.
As a result, the commission will follow Sea Shepherd's campaign activities in June. Sea Shepherd will also prepare a complete progress report for the commission at the end of the bluefin anti-poaching campaign.
Prior to taking action to release any unlawful catches, Sea Shepherd will confer with the commission regarding the potential illegality of the intercepted vessels.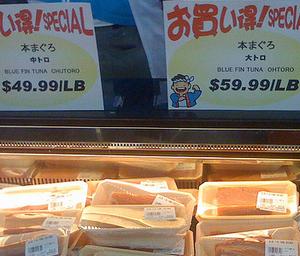 Bluefin tuna special sale at a Japanese market, November 2009 (Photo by Manako)
"The profits from the poaching of bluefin are enormous," said Essemlali. "This kind of quick-profit enterprise does attract a criminal element and we must take every precaution to defend ourselves from the potential of violent attacks."
The motivation for poachers to work an unpatrolled area of the Mediterranean is strong. Bluefin tuna can weigh up to 650 kilograms (1,433 pounds) and in spring swim into the Mediterranean Sea, where big commercial fisheries capture the fish live and fatten them for sale in floating net enclosures.
France, Italy, and Spain catch most of the Atlantic bluefin consumed in the world, and 80 percent of the catch is sold to Japan. Highly prized for the lucrative sushi market, a single large bluefin can sell for more than $100,000.
Legal fishing pressure on Atlantic bluefin tuna is reduced this year. The EU's overall quota is 5,756 tonnes for the 2011 season, reduced from 7,087 last year.
This year's conflict led to a delay in Libya submitting its 2011 Atlantic bluefin tuna fishing quota to ICCAT, which determined quotas late last year and awarded permits in mid-April. Libya's quota was canceled.
Nearly half of the French bluefin tuna fleet must remain in port due to the cancellation of all fishing permits in Libyan waters for all Libyan-owned, French-registered boats.
Ten of the tuna ships operating from Sete, on the Mediterranean coast of France, will be confined to port because they are owned by Libyan companies with links to embattled Libyan ruler Colonel Muammar Gaddafi.
"Because of the war in Libya, around a hundred fishermen from Sete will not go out to sea this year," said Raphael Scannapieco, owner of five tuna ships, three of which are registered in Libya.
Sete Port Captain Philippe Friboullet said the authorities would be informed if any of the Libyan-owned boats left port without the required fishing permits.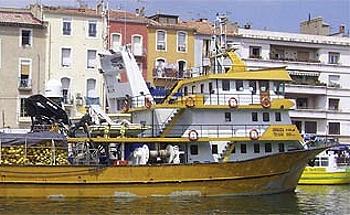 The Grnada, one of the 10 Libyan-owned boats without fishing permits, in the Port of Sete. (Photo courtesy Sea Shepherd)
Watson says he expects to encounter bluefin poachers from Libya, Malta, Italy, Spain, Tunisia, and Turkey.
"This will be a dangerous campaign but the bluefin tuna are facing extinction within a few years unless they are effectively protected, and Sea Shepherd will not fail them," said Watson.
Sea Shepherd personnel never carry firearms, and the organization prides itself on its record of conservation campaigns since 1978 without causing or sustaining a serious injury or death.
For the bluefin poaching campaign, the Sea Shepherd deck crew and bridge officers have been outfitted with bulletproof vests in the event that poachers are armed and violent.
Watson says Sea Shepherd will not intervene against legal tuna fishing operations, "although we consider any so-called legal quotas to be grossly irresponsible, considering the recent diminishment of bluefin tuna due to excessive overfishing and mortality caused by the BP Gulf of Mexico oil spill where the Atlantic bluefin spawn."
Greenpeace and the global conservation organization WWF have issued a joint statement calling for a suspension of the bluefin fishing season.
The call follows a late notification to the fishery regulator ICCAT that Libya will allow fishing in its waters – with no agreed fishing plan, and no chance of effective monitoring or enforcement activities.
In opening its fishery, Libya is acting in defiance of both a specific request from ICCAT and in contravention of ICCAT rules, said Greenpeace and WWF, who point out that the lack of any fishing plan by Libya would make catches illegal.
"Unless members of ICCAT take urgent action they will appear more determined than ever to undermine the management plans that at best will give Mediterranean bluefin a few years to survive," said Sebastian Losada, Greenpeace International Oceans Policy Advisor.
"Tough times require tough measures," said Dr. Sergi Tudela, Head of Fisheries at WWF Mediterranean. "The painstaking and fragile achievements of the last years are endangered by the maverick attitude of a small minority.
"Responsible members of ICCAT must rally to do what is necessary to save this species and fishery. Only vigorous action now can prevent Atlantic bluefin tuna from plunging into a new Dark Age before it has even emerged from the last one."
In a letter to ICCAT, the two organizations urged ICCAT members to take decisive action to prevent illegally caught bluefin tuna from entering global seafood markets, by better monitoring fishing and caging in the Mediterranean.
"Given that illegal Libyan vessels are ready to set sail from France and Malta if not stopped in their tracks," said Tudela, "European Union institutions also bear a significant responsibility to ensure this year's purse seine fishing season is closed."
Watson says the Sea Shepherd is closely monitoring the 10 Libyan-owned, French-flagged fishing vessels confined to the Port of Sete with cancelled permits. "If any of these vessels manage to depart from the harbor with cancelled fishing permits," he said, "Sea Shepherd will be on their tracks to prevent them from illegally catching the highly endangered bluefin tuna."
Copyright Environment News Service (ENS) 2011. All rights reserved.