Schwarzenegger Forges Global Climate Action Coalition With Regional Leaders
DAVIS, California, November 16, 2010 (ENS) – California Governor Arnold Schwarzenegger today opened the third annual Governors' Global Climate summit at the University of California, Davis, bringing together subnational leaders from across the United States and around the world to find climate change solutions through a new global alliance.
The regional, state and provincial leaders Tuesday will announce a new global organization that is intended to break through the current climate negotiations impasse and take concrete actions at the subnational level: the R20 – Regions of Climate Action.
R20 is a coalition of subnational governments working on low-carbon and climate resilient projects in both developed and developing countries that will reduce emissions while building green economies.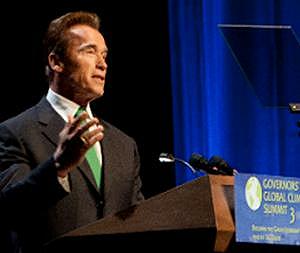 Governor Arnold Schwarzenegger opens the Governors' Global Climate summit 3, entitled "Building the Green Economy." (Photo courtesy Office of the Governor)
"Basically we are beginning one of history's great transitions, the transition to a new economic foundation for the 21st century and beyond, free of fossil fuels," Schwarzenegger told 1,500 attendees from 80 states, provinces and countries. "And, of course, this transition is not easy. But then again, any change is not easy. Real change never is."
The R20 has been incorporated as a nonprofit organization in Geneva, under Swiss law. During its first year, the R20 will facilitate public-private partnerships, share best practices, accelerate the development of green innovations, and begin implementing clean energy demonstration projects.
Within five years, the R20 aims to have at least 20 subnational governments enact comprehensive low-carbon policies and implement projects, using successful models from progressive subnational leaders as a guide.
Through these efforts, the R20 aims to expand the global green economy, create new green jobs and build commitments to reduce greenhouse gas emissions.
The Governors' Global Climate summit comes just two weeks before world leaders meet in Cancun, Mexico for the annual United Nations climate summit. They are expected to proceed with negotiations on a global climate change agreement that will pick up when the Kyoto Protocol's first commitment period expires at the end of 2012.
But there is now a growing recognition that a new climate treaty is politically unlikely in the short term due to fundamental disagreements between developed and developing countries over climate finance and emissions reduction targets.
This political situation does not change the climate reality, say the regional leaders. To avoid dangerous climate change, the world must reduce greenhouse gas emissions now.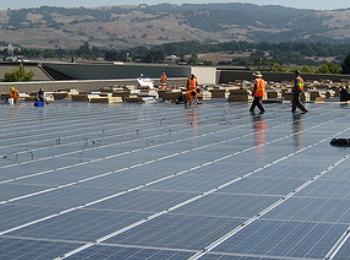 Workers install the $7.5 million, 1.3 megawatt solar panels at Sonoma Mountain Village. September 2006 (Photo by Greg Searle)
At the summit Governor Schwarzenegger today signed a Memorandum of Understanding with Governor Arnobio Marques de Almeida Junior from Acre, Brazil and Governor Juan Jose Sabines Guerrero from Chiapas, Mexico to combat climate change and protect tropical forests.
"Protecting the worlds' forests is critical in the global fight against climate change," said Governor Schwarzenegger. "Today California is joining with two more extraordinary leaders in the fight to reduce emissions. With this groundbreaking agreement with Acre and Chiapas, we are taking action to protect our tropical forests."
Under the MOU, a subnational Reducing Emissions from Deforestation and Forest Degradation, REDD, working group will develop recommendations with the goal of bringing subnational REDD programs into California's cap-and-trade program to allow California companies to use REDD credits for compliance, increasing the cost effectiveness of California's program and protecting tropical forestland.
The working group will be established to develop REDD linkage recommendations that will provide the foundation for an eventual submittal to the California Air Resources Board as defined in California's cap-and-trade program.
This group will convene in December 2010, with its first set of recommendations due in October 2011. The first meeting is expected to take place next month during the COP 16 meeting in Cancun, Mexico.
Participants at the Governors' Global Climate summit believe that actions they can take at the subnational level can spur action at national levels.
The R20, while outside the United Nations framework, will maintain a close working relationship with the United Nations and play a complementary role. The Governors' Global Climate summit is being held in partnership with the UN Development Programme and the UN Environment Programme.
Schwarzenegger, a Republican who has made the fight against climate change one of his signature issues as governor, said last year's UN climate meeting in Copenhagen "ended up falling short." He said it was discouraging when the world leaders meeting there "failed to produce a binding international agreement."
"But as they move forward and start working on and hopefully get, eventually, an binding agreement, we should do our work, the subnationals should do their work," Schwarzenegger said.
"I imagine that after Copenhagen finished and adjourned, the big polluters and the special interests and their lobbyists, gleefully they got together and had a little party, a little party that they actually brought the environmental progress to a screeching halt," Schwarzenegger told the delegates.
"The only thing is, I wouldn't celebrate too much if I would be them, because those people clearly have not been here at this university or attend this summit here and see all of our work. The truth, ladies and gentlemen, is that the Green Revolution is moving forward full-speed ahead without the international agreement," he said to applause.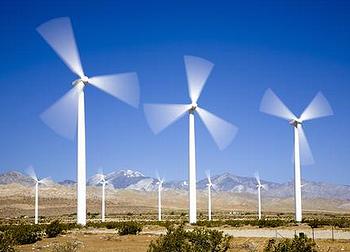 Dillon wind power project in Palm Springs, California supplies power to Southern California Edison. (Photo courtesy Iberdrola Renewables)
"The special interests that profit from fossil fuels will not wither away and die without a fight, there are no two ways about that," Schwarzenegger said. "They have deep pockets and they will stop at nothing to disrupt and to delay this transition."
"The question is, will we have the courage and will we have the will to stand up to them, to stand up to them and to rebut their lies and to move forward? That is really the question," he said.
Pointing to the mid-term election defeat of Proposition 23 that would have rolled back California's Global warming Sollutions Act, Schwarzenegger said, "Proposition 23 was the largest public referendum in history on clean energy policy. Never before have the voters had such a clear and distinct choice placed in front of them."
"We formed a tremendous bipartisan coalition – environmentalists, venture capitalists, health groups, businesses big and small, unions, farmers, Democrats, Republicans," said Schwarzenegger. "Everyone came together."
"The oil companies flexed their muscles trying to overturn our environmental law but we flexed back," he said. Proposition 23 was defeated by a 22 percent margin.
Schwarzenegger told participants today, "I know that in your countries and in your local governments and in your states and provinces, you have similar challenges."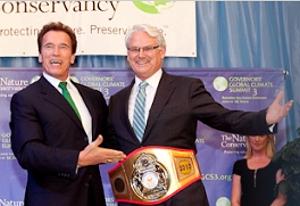 Governor Arnold Schwarzenegger, left, and British Columbia Premier Gordon Campbell have fun announcing awards at the Governors' Global Climate summit. November 15, 2010 (Photo courtesy Office of the Governor)
"Well, I've said it many times, that you can protect the environment and the economy at the same time," he said. "I hope that our success here in California encourages you to fight back when you have those challenges, to keep fighting and keep fighting and fighting, because the science is on our side, the economics are on our side and the people are on our side."
Co-hosting the event are four other U.S. governors: Jim Doyle of Wisconsin, Jennifer Granholm of Michigan, Chris Gregoire of Washington, and Ted Kulongoski of Oregon.
Among the many speakers and participants at the Governors' Global Climate are: British Prime Minister David Cameron; the Prince of Wales; Nobel laureate and climate change expert Rajendra Pachauri, who heads the Intergovernmental Panel on Climate Change; actor Harrison Ford; author and physician Deepak Chopra; Prince Hussein Aga Khan; Chair Nancy Sutley, White House Council on Environmental Quality; and former U.S. Secretary of State George Shultz, who served in the Reagan administration.
Regional leaders from states and provinces in Australia, Brazil, Canada, China, Ecuador, European Union, Japan, Mexico, Morocco, Netherlands, Nigeria, Philippines, Qatar, Rwanda, South Korea, Ukraine and the United States are participating.
Corporate participants include representatives of BMW and Chevron, Cisco Systems, Frito-Lay, Veolia Transportation, the International Chamber of Commerce, the World Bank and the Asian Development Bank.
Click here for a full list of participants.
Governor Schwarzenegger Monday honored 13 companies and organizations that have made extraordinary contributions to California's environment and economy by awarding them with the Governor's Environmental and Economic Leaderships Award. Winners include: Alameda Municipal Power, which converts methane gas at four landfills into clean energy; Apple, which eliminated PVCs, mercury, lead and arsenic from its waste stream; and the California Sustainable Winegrowing Alliance.
Copyright Environment News Service (ENS) 2010. All rights reserved.