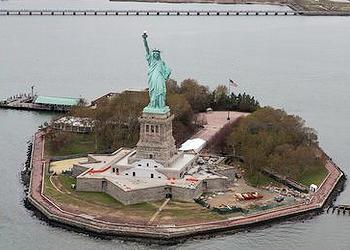 WASHINGTON, DC, May 8, 2013 (ENS) – The Department of the Interior is releasing $475.25 million in emergency Hurricane Sandy disaster relief appropriations to 234 projects that will repair and rebuild parks, refuges and other Interior assets damaged by the storm.
Sandy struck the U.S. Atlantic coast on October 29, 2012, and affected 24 states, including the entire eastern seaboard from Florida to Maine and west across the Appalachian Mountains to Michigan and Wisconsin, with severe damage in New Jersey and New York. In New York City the storm surge flooded streets, tunnels and subway lines and cut power in and around the city. More than 375,000 residents were forced to evacuate.
With damage in the United States is estimated at over $71 billion, Hurricane Sandy is counted the second most costly storm in U.S. history, after Hurricane Katrina, which devasted New Orleans in 2005.
"The funding we are making available today will help repair and rebuild facilities, reopen roads, and restore services in order to get our parks, refuges, beaches, and public lands fully operational and open to the public this summer," said Secretary of the Interior Sally Jewell, announcing the grants on Tuesday.
"We will continue to focus our efforts on rebuilding to welcome visitors, help jumpstart local economies, and make communities stronger and more resilient to help withstand potential damage from future storms," said Jewell.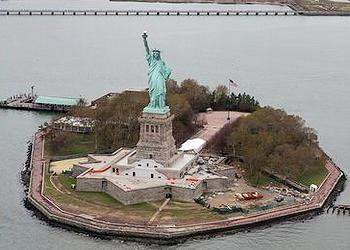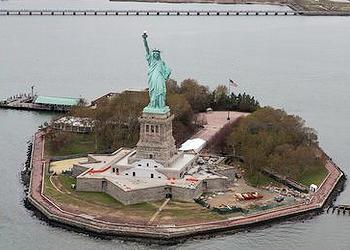 "We will continue to work closely with the states and members of Congress to design effective programs and to ensure that all funds are used to help get communities back on their feet," said National Park Service Director Jonathan Jarvis, who is Interior's designated representative to the Hurricane Sandy Rebuilding Task Force.
•    The National Park Service will allocate $329.8 million for 158 projects to rebuild, repair and restore parks facilities, lands and replace equipment. The allocation includes funds that will be used for repairs, to restore utilities, and open the Statue of Liberty in New York in time for Independence Day.
The statue itself was spared in the storm, but most of Liberty Island's 12 acres were flooded, with water reaching as high as eight feet. The storm damaged the island's boilers, sewage pumps, electrical systems, pavements and  dock.
An additional $47.5 million will be made available for historic preservation efforts through grants to State and Tribal Historic Preservation Offices.
•    The U.S. Fish and Wildlife Service will allocate $64.6 million for 55 projects to repair and restore refuges, hatcheries, and other facilities and to restore wildlife habitat. Hurricane Sandy left behind a 22-mile debris field in the marshes and wetlands along the coastal boundary of Edwin B. Forsythe National Wildlife Refuge in New Jersey. These fragile areas will be cleared of trash, hazardous materials and contaminants to restore clean water and healthy wildlife habitats.
•    The U.S. Geological Survey will allocate $18.8 million for scientific monitoring, mapping, modeling, and forecasts to support broader recovery efforts throughout the impacted region. USGS will identify coastal areas vulnerable to storm damage and provide communities with critical information needed for recovery that will also help prepare for future storm events.
•    The Bureau of Ocean Energy Management, as the agency responsible for managing sand and gravel resources on the Outer Continental Shelf, will use $11.7 million to address critical needs for OCS sand and gravel in coastal areas undergoing recovery and rebuilding.
•    The Bureau of Safety and Environmental Enforcement will allocate $2.85 million to make repairs to the Ohmsett oil spill research facility in Leonardo, New Jersey.
These funds were authorized by the Disaster Relief Appropriations Act of 2013 signed into law by President Obama on January 29.
Overall, Interior received $829.2 million in the Disaster Relief Appropriations Act of 2013, which was reduced by $42.5 million to $786.7 million due to the budget cuts known as sequestration.
With these grants, approximately 60 percent of Interior's Hurricane Sandy supplemental funding has been allocated. The remainder will be allocated in the coming months for mitigation projects that increase coastal resiliency and capacity to withstand future storm damage and to restore and rebuild public assets.
Interior is working closely with the Hurricane Sandy Rebuilding Task Force, led by Housing and Urban Development Secretary Shaun Donovan, and has imposed strong internal controls and accountability measures in concert with the Department of the Interior's Inspector General to ensure that all funds are used as intended.
In addition, on May 2, the U.S. Environmental Protection Agency announced grants of $340 million to the state of New York and $229 million to the state of New Jersey for improvements to wastewater and drinking water treatment facilities impacted by Hurricane Sandy.
Wastewater and drinking water treatment systems in New York and New Jersey were so severely damaged that some could not provide safe drinking water or treat raw sewage. These grants will give states the capacity to further reduce risks of flood damage and increase the resiliency of wastewater and drinking water facilities.
"As communities continue to recover following Hurricane Sandy's devastation, it's important that their efforts to rebuild our infrastructure such as wastewater and drinking water facilities are approached in a sustainable way," said EPA Acting Administrator Bob Perciasepe. "These funds are another critical step in the administration's ongoing effort to help New York and New Jersey recover and move forward in a way that ensures local communities are stronger than ever before."
"With extreme weather conditions increasingly becoming the norm, Congress wisely provided funding to make sure our wastewater and drinking water facilities can withstand Hurricane Sandy-sized storms," said EPA Regional Administrator Judith Enck. "This funding will help vulnerable communities in New Jersey and New York become more resilient to the effects of climate change."
In addition to these newly announced grants:
• The Federal Emergency Management Agency has obligated more than $1 billion to support state and local rebuilding efforts. It has also disbursed more the $1.3 billion directly to impacted families, covering eligible repair costs and meeting temporary housing needs.
• The U.S. Department of Housing and Urban Development has approved disaster recovery plans for New York and New Jersey, which means $3.5 billion in funding will be available for home and small business owners.
• The U.S. Small Business Administration has also provided more than $2 billion in disaster loans to homeowners and small businesses.
• The Federal Transit Administration's Emergency Relief Program has allocated $2 billion in funding and the Federal Highway Administration's Emergency Relief Program has allocated $584 million to repair and rebuild damaged infrastructure.
• The U.S. Department of Health and Human Services has allocated $474 million in Social Services Block Grants to help provide services to survivors and rebuild damaged health care facilities.
Click here for more information about the federal government's response to Hurricane Sandy.
But while the federal government is spending billions to help restore damaged areas, even more is needed says Angela Anderson, director of the Climate and Energy Program at the nonprofit Union of Concerned Scientists.
"New York City and New Jersey communities are getting some welcome relief today, but handing out grants is slapping a Band-Aid on a much larger problem," said Anderson. "The federal government needs a nationwide plan to provide funds to all coastal communities, not just the ones hit hard by Sandy, to adapt to the changes global warming is bringing."
Copyright Environment News Service (ENS) 2013. All rights reserved.