San Francisco Mayor OKs $150M Bond for Landowners' Energy Upgrades
SAN FRANCISCO, California, February 8, 2010 (ENS) – San Francisco property owners now will be able to finance renewable energy, energy efficiency, and water conservation projects through a voluntary special property tax.
Mayor Gavin Newsom today signed the final legislation required to establish San Francisco's Property Assessed Clean Energy, PACE, program, the nation's largest PACE program to date.
"This green financing program is going to create green jobs and fuel the next wave of energy and water efficiency and renewable energy development in San Francisco," said Mayor Newsom. "It helps home and property owners overcome the large up-front costs of major environmental improvements to their buildings."
The program makes $150 million in bonding capacity available to private property owners. San Francisco property owners will be able to apply for financing beginning next month.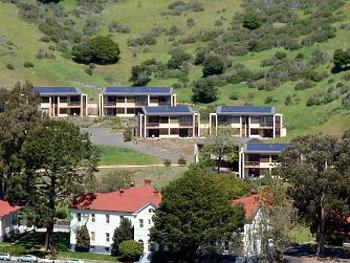 Solar panels of roofs of San Francisco homes near the Golden Gate Bridge (Photo by Phil Clark)
The PACE program is rooted in traditional land-secured municipal finance. Here's how it works.
A local government creates an improvement district. A bond, secured by real property within the district, is issued, and the bond proceeds are used to fund renewable energy and energy efficiency projects. Property owners then repay the debt service on the bond in fixed payments as part of their property tax bill.
Each additional special property tax will be paid in full within 20 years.
The Mayor's Office estimates that 45 percent of San Francisco's greenhouse gas emissions come from energy used in local buildings. Drought and climate change threaten regional water supplies and compel greater water conservation.
Even with tax breaks and traditional loan arrangements, many local home and building owners cannot support the upfront investment for environmental improvements that pay for themselves over time.
Studies have shown that the primary barrier preventing property owners from making renewable energy, energy efficiency, and water conservation upgrades is high upfront costs. PACE programs are designed to remove that barrier.
The Mayor's Office, working with Supervisor Eric Mar, the San Francisco Public Utilities Commission, the Controller's Office of Public Finance and the Department of Environment, developed the accessible, low-cost loan program.
The program establishes a Citywide Mello-Roos Special Tax District that will be available to finance privately-owned energy efficiency, renewable energy and water conservation improvements. The loan is attached to the property, rather than the individual, and is paid back through property taxes over the life of the loan.
"With almost half of San Francisco's greenhouse gas emissions being produced by our homes and local buildings, this new green financing program will drastically curb San Francisco's carbon footprint and reduce the strain on our regional water supply," said Supervisor Eric Mar. "It will also help put San Franciscans to work through our growing green jobs academies and programs."
Oakland-based Renewable Funding will administer the program and provide capital to fund the projects. San Francisco-based Stone Youngberg and Backstrom McCarley Berry Co. are serving as bond underwriters.
Property owner participation is 100 percent voluntary. Only those property owners who choose to participate in the PACE program pay additional costs.
The bond proceeds are used to pay for prequalified clean energy improvements on participating properties. Property owners choose renewable energy technology like solar panels, energy efficiency projects like a high efficiency furnace, or water conservation measures.
"San Francisco is once again leading the way by establishing the largest PACE program in the nation to date," said Cisco DeVries, president of Renewable Funding. "In signing this legislation, Mayor Newsom has put the final piece in place to allow tens of thousands of San Francisco property owners to have the opportunity to reduce their water and energy footprint, all while creating local green jobs."
The PACE model was developed in Berkeley, California by DeVries, who was then serving as chief of staff to Berkeley Mayor Tom Bates. The concept is expanding across the country; 17 states have authorized PACE programs over the past 18 months.
Copyright Environment News Service (ENS) 2010. All rights reserved.