San Francisco Bay Ghost Fleet to Be Cleaned, Removed, Recycled
SAN FRANCISCO, California, March 31, 2010 (ENS) – The U.S. Maritime Administration, MARAD, the federal agency responsible for San Francisco Bay's ghost fleet, agreed today to remove the 52 obsolete ships that are currently moored there as part of a legal settlement with environmental groups.
A settlement agreement filed today in federal court in Sacramento resolves a long legal battle over the decaying fleet between MARAD and the Natural Resources Defense Council, Arc Ecology, San Francisco Baykeeper, and the San Francisco Bay Regional Water Quality Control Board.
Under the settlement, which must be approved by the court, MARAD will remove all of the vessels in the ghost fleet, formally called the Suisun Bay Reserve Fleet, for disposal by September 2017, starting with the worst ships first. The ghost fleet is moored in Suisun Bay, just west and downstream of the Sacramento-San Joaquin Delta.
MARAD has already begun removing obsolete ships from Suisun Bay for recycling, including four ships that have been removed since November 2009 and a fifth that was removed today.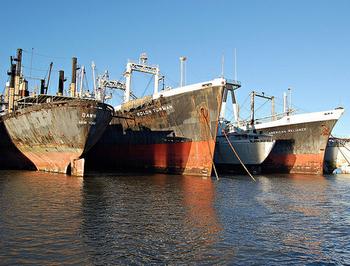 A few of the 52 obsolete ships in Suisan Bay (Photo by Richard Snyder)
"This agreement reflects the Obama Administration's pledge to work with our local partners toward a common goal of better protecting the environment," said U.S. Secretary of Transportation Ray LaHood.
The agreement outlines MARAD's commitment to remove 20 of the ships that are in the poorest condition before September 30, 2012. Before their removal, these ships will be sent to a local dry dock for cleaning that involves removing marine growth from the underwater hull and removing flaking paint from areas above the water. All other ships at the site will be cleaned of flaking paint within two years and removed from the fleet by September 30, 2017.
Additionally, MARAD will clean the horizontal surfaces of the ships every 90 days to prevent peeling paint from dropping into the water, inspect the ships on a monthly and quarterly basis and collect water runoff samples for testing. No new ships with excess flaking will be admitted to the site.
MARAD will get rid of the piles of hazardous paint chips from vessel decks within 120 days and, by September of next year, clean all peeling paint from the exteriors of the 25 worst ships while in dry dock.
More than 20 tons of heavy metals, including lead, zinc, copper and cadmium, have already fallen, blown or washed off the ships into the water, according to a MARAD-commissioned analysis. If not cleaned up, the vessels were projected to lose as much as an additional 50 tons of heavy metals in the future.
Michael Wall, senior attorney with the Natural Resources Defense Council, said, "The San Francisco Bay should never have been a dumping ground for toxic waste. Getting these ships cleaned up and removed is a huge victory for our environment and the people of California."
"The Obama administration has committed to a concrete, enforceable timetable for ending pollution violations that have been ongoing for a decade," said Wall. "We welcome the administration's commitment and look forward to working with MARAD to ensure implementation."
The environmental groups sued in 2007 to force MARAD to halt the discharge of toxic heavy metals and to clean up the vessels, which are moored near Benicia. The Regional Water Board joined the suit a year later. In January, Judge Garland Burrell sided with the plaintiffs and ruled that the decaying ships are illegally polluting the Bay.
Bruce Wolfe, executive officer of the San Francisco Bay Regional Water Quality Control Board said, "Settling this litigation means that, at long last, MARAD will join nearly 4,000 other Bay Area businesses and government agencies in complying with the federal Clean Water Act and working to preserve and protect the Bay. This settlement establishes an enforceable road map for removing these floating sources of pollution from the Bay and controlling the discharges from those ships awaiting removal."
Suisun Bay is critical habitat for several endangered and threatened species, including Chinook salmon and delta smelt. The state of California has warned residents to limit consumption of fish caught in Suisun Bay due to pollution levels.
Said Saul Bloom, executive director, Arc Ecology, "Today we turn from litigation to the implementation of an agreement that will improve water quality and is already employing Bay Area residents as MARAD cleans away the decades of neglect that lead us to this point."
San Francisco Baykeeper Executive Director Deb Self said, "It has been a long process to get to this agreement, and we are very glad that MARAD is taking full responsibility for these ships, which have been poisoning Suisun Bay and its endangered species for decades. Now we can focus on making sure the job is done right."
"We are following through on our commitment to clean and maintain these vessels in an environmentally sound manner," said MARAD Acting Administrator David Matsuda. "We are moving expeditiously to remove the worst-polluting ships first and diligently moving to clean the rest."
The Suisun Bay Reserve Fleet Site serves as a reserve of ships for national defense and national emergency purposes. Reserve ships will continue to be maintained at MARAD's two other fleet storage sites in James River, Virginia and Beaumont, Texas.
Copyright Environment News Service (ENS) 2010. All rights reserved.