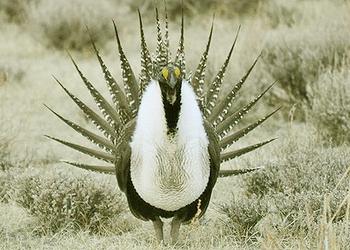 DENVER, Colorado, September 22, 2015 (ENS) – The greater sage-grouse does not face the risk of extinction "now or in the foreseeable future" so the bird does not need protection under the Endangered Species Act at this time, the U.S. Fish and Wildlife Service has decided. Voluntary conservation efforts will be enough to keep the species alive, the agency says.
Greater sage-grouse once occupied more than 290 million acres of sagebrush in the West. Early European settlers reported seeing millions of birds take to the skies. But the ground-dwelling grouse, known for its unique mating ritual, has lost almost half of its habitat since then.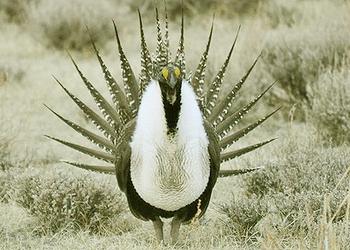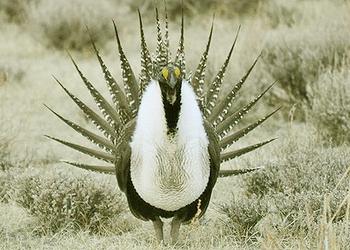 Despite losses, sage-grouse populations are still relatively large and well-distributed across the range, the Fish and Wildlife Service says.
If a species is listed under the Act, federal agencies cannot authorize, fund or carry out actions that "destroy or adversely modify" critical habitats.
Because large-scale development, logging and mining projects on private and state land typically require federal permits, they become subject to the ESA's critical habitat regulations.
The Fish and Wildlife Service's decision not to list the greater sage-grouse leaves its sagebrush habitat open to development, even though federal officials say the largest voluntary land conservation effort in U.S. history will protect the unique bird.
Interior Secretary Sally Jewell made the announcement today at the Rocky Mountain Arsenal National Wildlife Refuge accompanied by four governors and numerous federal officials.
Colorado Governor John Hickenlooper, Nevada Governor Brian Sandoval, Montana Governor Steve Bullock and Wyoming Governor Matt Mead were there, along with FWS Director Dan Ashe, Bureau of Land Management Director Neil Kornze and U.S. Forest Service Chief Tom Tidwell, among others.
In person, and in a video on Twitter, Secretary Jewell explained that an unprecedented, landscape-scale conservation effort across the western United States has reduced threats to the greater sage-grouse across 90 percent of its breeding habitat.
This led the Fish and Wildlife Service to conclude that bird does not warrant Endangered Species Act protection.
"This success was only possible through close collaboration among western states, the Department of the Interior, USDA, and more than 1,100 ranchers across 11 states," said Jewell.
The FWS's September 30, 2015 deadline to review the status of the greater sage-grouse spurred numerous federal agencies, the 11 states in its range, and dozens of public and private partners to undertake a campaign to protect, restore and enhance important sage-grouse habitat to preclude the need to list the species.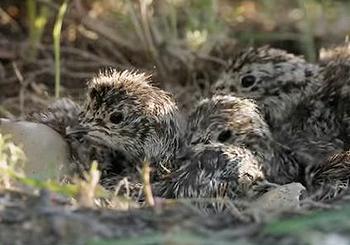 "Today's decision reflects the joint efforts by countless ranchers and partners who have worked so hard to conserve wildlife habitat and preserve the Western way of life," said Agriculture Secretary Tom Vilsack.
"Together, we have shown that voluntary efforts joining the resources of private landowners, federal and state agencies, and partner organizations can help drive landscape-level conservation that is good for sage-grouse, ranching operations, and rural communities," Vilsack said.
Through the government's Sage Grouse Initiative, more than 1,100 ranchers have restored or conserved roughly 4.4 million acres of key habitat.
The USDA expects voluntary, private land conservation efforts to reach eight million acres by 2018, Vilsack said.
On private and federal lands, government agencies have received commitments on 5.5 million acres through Candidate Conservation Agreements. Many of these projects also improve grazing and water supplies for ranchers, benefitting cattle herds and the future of ranching in the West.
Conservation efforts include a comprehensive strategy to fight rangeland fires and protect critical water resources, important in an era of drought and water shortages that impact communities across the West.
These collective conservation efforts will protect sagebrush habitat shared by more than 350 other wildlife species, including mule deer, elk, pronghorn, songbirds and golden eagles.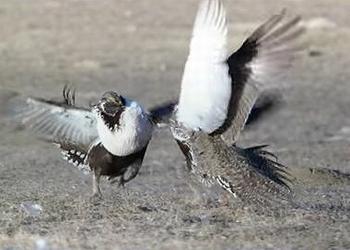 More than 1,100 ranchers are voluntarily working with federal and state agencies to conserve the greater sage-grouse. Since 2010, USDA has partnered with these landowners to conserve or restore 4.4 million acres of key habitat through programs that provide financial assistance for conservation, and hundreds of other properties are enrolled through similar state or federal programs.
The BLM and Forest Service today announced that they have issued Records of Decisions finalizing 98 land use plans that will help conserve greater sage-grouse habitat and support sustainable economic development on portions of public lands in 10 Western states.
The BLM and USFS also today began the public comment process associated with their proposal to withdraw a subset of lands that are sage-grouse strongholds from future mining claims.
Still, these efforts do not go far enough for some environmentalists.
Erik Molvar, a wildlife biologist with the nonprofit group WildEarth Guardians, says the government's plan leaves the greater safge-grouse and other rangeland species exposed to fossil fuel extraction, grazing and development.
Instead of ensuring a future for the greater sage grouse," said Molvar, "the final plans are replete with crippling flaws and loopholes rendering them inadequate to address threats from industrial development, livestock grazing, and invasive weeds."
"The sage grouse faces huge problems from industrial development and livestock grazing across the West, and now the Interior Department seems to be squandering a major opportunity to put science before politics and solve these problems," said Molvar.
More opposition is on the way from another direction.
The BlueRibbon Coalition, a nonprofit that champions motorized recreational exploration, today said the decision not to list the sage-grouse is headed for the courts.
Don Amador, Western Representative for the Coalition, said, "While agency leadership is proclaiming a great victory and collaborative success story, the reality is we will all soon become mired in avoidable litigation."
"It is far from certain that the listing decision will survive judicial scrutiny," said Amador, "and even if it does the decision comes at a great and uncertain price in the form of the sweeping land use plan amendments that were crammed through without sufficient public input."
Copyright Environment News Service (ENS) 2015. All rights reserved.