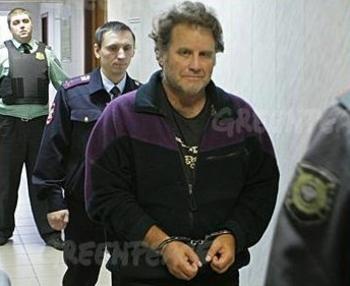 AMSTERDAM, The Netherlands, September 26, 2013 (ENS) – Greenpeace International condemned a series of Russian court rulings today which left 30 activists in custody pending investigations into a protest against Gazprom's Arctic oil drilling earlier this month off Russia's northern coast.
Twenty-eight Greenpeace International activists, as well as a freelance photographer and a freelance videographer, were taken to the Lenin District Court in Murmansk in handcuffs, where they were placed in a cage and provided with translators Greenpeace says were inadequate.
Of the 30, 22 were remanded in custody for two months pending an investigation into piracy charges, while eight were detained for three days pending a new hearing. A full list of those detained is found here.
Greenpeace said its lawyers would lodge an appeal seeking their immediate release.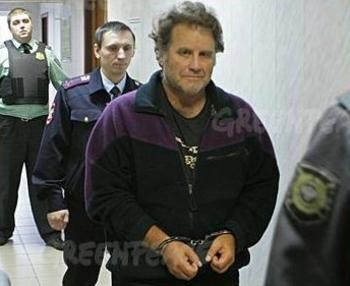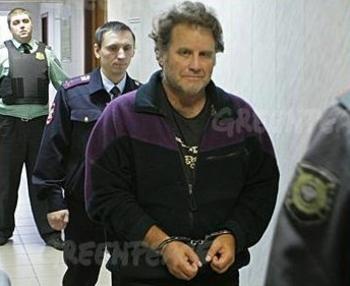 One of those remanded, Peter Willcox, the American captain of the Greenpeace International ship Arctic Sunrise, is under investigation for alleged piracy under Russian criminal law and will be held in custody for two months as investigations continue.
In 1985, Willcox was captain of the Rainbow Warrior when French agents bombed the vessel, killing one of the crew. He is the only American among the 30 Greenpeacers who are being detained.
Greenpeace International Executive Director Kumi Naidoo said, "These detentions are like the Russian oil industry itself, a relic from an earlier era. Our peaceful activists are in prison tonight for shining a light on Gazprom's recklessness. The Arctic is melting before our eyes, and these brave activists stand in defiance of those who wish to exploit this unfolding crisis to drill for more oil."
"I stand alongside millions of people around the world in solidarity with the Arctic 30," said Naidoo. "Their actions are justified by the abject failure of governments around the world to protect their people from the threat of climate change. We will not be intimidated, we will appeal these detentions, and together we will prevail."
On September 18, two Greenpeace activists scaled Gasprom's Prirazlomnaya drilling platform to stop it from producing the world's first oil from Arctic waters. The Russian Coast Guard fired warning shots, detained the two activists under armed guard and seized the Arctic Sunrise, which they towed into the Port of Murmansk.
Greenpeace International insists that any piracy charges are unjustified, and that Russian authorities boarded the Arctic Sunrise illegally in international waters.
Over 500,000 people have written to Russian embassies around the world since the ship was seized a week ago, and Greenpeace is organizing solidarity protests Friday in cities around the world.
Russian President Vladimir Putin declared Wednesday that the 30 Greenpeace International activists detained by Russian authorities after an Arctic drilling protest are "obviously not pirates."
Speaking at a forum in Salekhard called Arctic – Territory Of Dialogue, organized by the Russian Geographic Society, Putin suggested that the Greenpeacers may have broken international laws.
"It would have been better if Greenpeace members were in this hall and describing their attitude to the problems we are discussing, voicing their demands and wording their concerns," said Putin. "Nobody brushes them aside."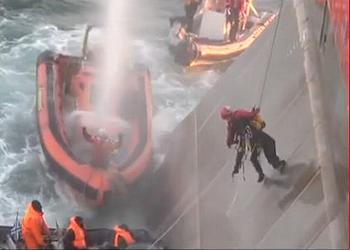 Responding, Naidoo said, "We welcome President Putin's recognition that our activists are clearly not pirates and acted purely out of concern for the Arctic environment."
"Our climbers attempted to attach themselves to the side of the platform to raise attention to the threat of Arctic oil drilling in this fragile environment and the urgent need to deal with climate change," Naidoo said. "This was a peaceful protest against Gazprom's ambitions to be the first company to pump oil from icy Arctic seas."
Greenpeace USA executive director Phil Radford said, "The brutal response to the Greenpeace crew and activists in the Pechora Sea was shocking enough, but today's developments – the hefty detentions given to 30 peaceful activists while so-called piracy charges are investigated, the shocking conditions in the court, the fact that these people were taken at gunpoint almost a week ago and still have not be charged with a thing – reflect bleakly on Russia and the lengths its government will go to in order to protect a dying oil industry."
Radford said, "Peaceful activism is crucial when governments around the world fail to respond to catastrophic climate change, and that's why we need people like Captain Willcox. But this over-reaction by the Russian court, when President Putin himself has said that Peter is no pirate, is purely to intimidate people who will stand up to companies and countries that are causing global warming."
"We are buoyed by the incredible show of support from Americans and people across the globe," Radford said. "We anticipate an immediate appeal, and hope to have our activists home in the days ahead."
Copyright Environment News Service (ENS) 2013. All rights reserved.