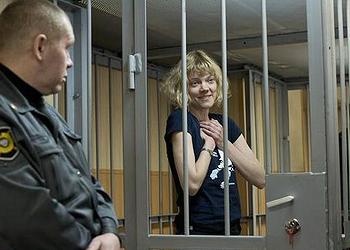 AMSTERDAM, The Netherlands, October 4, 2013 (ENS) – Russian prosecutors have charged 30 people with piracy – 28 Greenpeace activists and two journalists – following what Greenpeace describes as "a peaceful protest" against oil drilling in the Russian Arctic.
They are being held in a prison in Murmansk. If convicted, the defendants could be imprisoned for a maximum of 15 years.
The 28 activists were involved in a protest against the Gazprom Arctic drilling platform Prirazlomnaya on September 18 in the Pechora Sea off Russia's northern coast. Five of the activists tried to climb the side of the platform and hang a banner. Gazprom intends to be the first company to pump oil from Arctic waters, which Greenpeace warns would hasten climate change while the Arctic is already melting.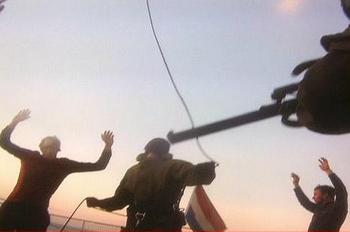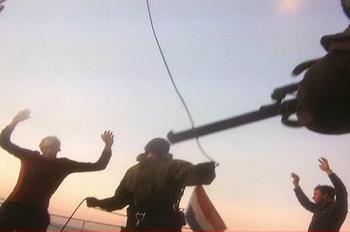 The Greenpeace ship in which they traveled to the site of the protest, the Arctic Sunrise, was seized by Russian authorities on September 19.
Those charged with piracy are:
American Peter Willcox (Captain, Arctic Sunrise); Swedish / American dual citizen Dima Litvinov; Argentinians Camila Speziale and Miguel Hernan Perez Orzi; Australian Colin Russell; Brazilian Ana Paula Maciel; Britons Frank Hewetson, Iain Rogers, Philip Ball, Alexandra Harris, Anthony Perrett, and freelance videographer Kieron Bryan; Canadians Alexandre Paul and Paul D. Ruzycki; Danish citizen Anne Mie Roer Jensen; Dutch citizens Faiza Oulahsen and Mannes Ubels; Finnish citizen Sini Saarela; French citizen Francesco Pisanu; Italian Cristian D'Alessandro; New Zealanders Jonathan Beauchamp and David Haussmann; Polish citizen Tomasz Dziemianczuk; Ukrainian citizen Ruslan Yakushev; Russians Andrey Allakhverdov and Roman Dolgov, Russian freelance photojournalist Denis Sinyakov and one other Russian crew member whose name is withheld upon his/her request; Swiss Marco Weber; and Turkish citizen Gizhem Akhan.
Lawyers acting on behalf of Greenpeace International have lodged formal appeals in the Murmansk Lenin District Court against the continued detention of the group that Greenpeace is calling "the Arctic 30."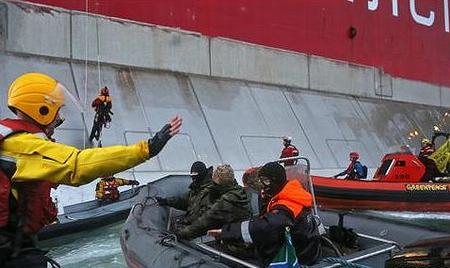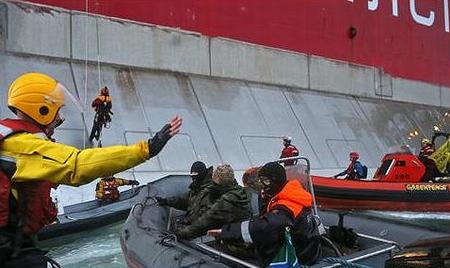 The Dutch government today announced that it would initiate arbitration proceedings against Russia under the UN Convention of the Law of the Sea to secure the release of all 30 people charged. They have been refused bail.
In response, Greenpeace International's General Counsel Jasper Teulings said, "Greenpeace International applauds the Dutch government decision as flag state of the Arctic Sunrise in taking the necessary legal steps to gain the release of the Arctic Sunrise and the Arctic 30, who are being unjustly held."
Article 287 of the UN Convention of the Law of the Sea provides States Parties with a "menu" of different options to settle disputes, including the International Tribunal for the Law of the Sea, the International Court of Justice, an arbitral tribunal or a so-called "special arbitral tribunal." Russia ratified the convention on March 12, 1997 and issued a declaration opting for settlement of disputes through special arbitration.
Last week Russian President Vladimir Putin said that the Greenpeace protesters were obviously not pirates. He said, "It is absolutely evident that they are, of course, not pirates," he told a conference in
Greenpeace International Executive Director Kumi Naidoo said, "Our activists have been charged with a crime that did not happen, they are accused of an imaginary offence."
"There can be no doubt about why the charge of piracy has been brought and the legal hammer wielded. An effort is underway to intimidate us, but our peaceful passionate campaign against Gazprom and all other Arctic drillers will not be silenced," said Naidoo.
"A profound injustice is right now being perpetrated against our friends, our brothers and sisters, our sons and daughters who sit in jail," said the Greenpeace leader. "I call on people across the world to stand with us against Gazprom and all oil companies who want to drill in the Arctic, join us in this fight against bullies of the very worst kind."
Greenpeace has released a letter written by Oulahsen, 26, a Dutch environmentalist being detained in Murmansk. Writing shortly before she was charged, Oulahsen says, "I have no idea how this is going to end, or how long it's going to take."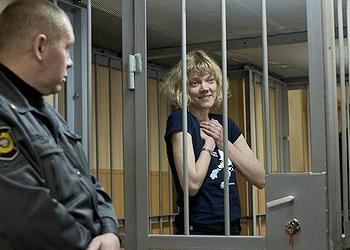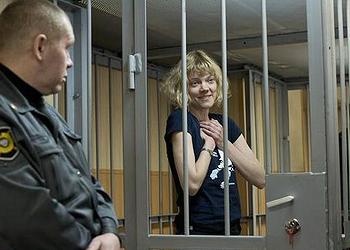 She describes the experience of sitting through hearings in a cage and living in a prison cell that is "ice cold" and where the lights are never turned off.
"I started to lose the calmness and self-control I had been using the past couple of days, slowly but surely. Two months in a cell is one thing, but what comes after that? A sentence of a few months or a few years in a case based on lies?"
Mikhail Fedotov, the head of the Russian presidential Human Rights Council, said Thursday that he sees no reason to prosecute the crew of the Arctic Sunrise for piracy.
The council is an advisory panel established to assist President Putin in fulfilling his constitutional responsibilities to guarantee and protect human rights.
Groups such as Amnesty International, Human Rights Watch and Reporters Without Borders have called for the release of the activists.
On Saturday October 5, rights groups critical of the charges plan to hold protests around the world in an emergency global day of solidarity.
Greenpeace says, "Peaceful events are planned in more than 80 cities in 45 countries across the world."
In Hong Kong hundreds will gather at the main harbor to form a human banner. In South Africa people will come together at former Apartheid detention centres. In Canada large audio and visual displays will light up at an all-night event. In Madrid supporters will gather in Puerto del Sol with a replica of the Arctic Sunrise ship.
And in Senegal fishermen who last year welcomed the Arctic Sunrise on its voyage to preserve their fishing grounds will take to their boats again in an act of solidarity.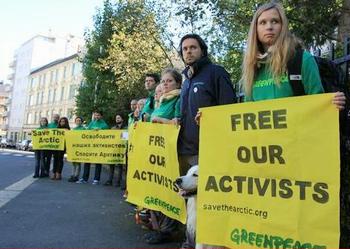 Greenpeace USA Executive Director Phil Radford said, "We are as appalled as the three quarter of a million people who have signed petitions to the Russian Government requesting they drop the threat of trumped up charges against peaceful activsts detained at gunpoint in international waters."
"This is a full frontal assault against peaceful activists trying to shine a light on the extreme, highly risky and short sighted drilling in the Arctic. We will continue to fight, and we intend to bring our activists, crew and freelance journalists home as soon as possible."
Captain of the Arctic Sunrise, Peter Willcox is a U.S. citizen, and resident of Connecticut. Willcox was also the captain of the Greenpeace ship Rainbow Warrior when it was bombed by the French Government in Auckland, New Zealand in 1985.
Ben Ayliffe, head of Greenpeace International's Arctic campaign, said, "Our activists protested peacefully against Gazprom and the dangers of Arctic oil drilling. They posed no threat."
"As climate change melts the Arctic sea ice and the oil companies move into areas once frozen, we are taking peaceful action. We will not be intimidated. We will not be silenced," said Ayliffe. "Our ship was illegally seized in international waters and we are now appealing the court decision to remand the Arctic 30 in custody. We are demanding their immediate release."
Copyright Environment News Service (ENS) 2013. All rights reserved.
Environment News Service (ENS) © 2013 All Rights Reserved.