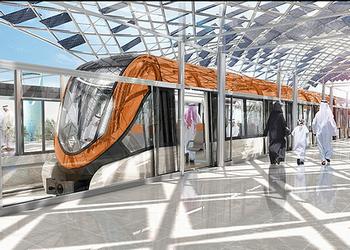 RIYADH, Saudi Arabia, May 15, 2017 (ENS) – Saudi Arabia's capital city, Riyadh, is building the world's largest public transit system, the King Abdulaziz Public Transport Project. Construction began in 2014; plans call for completion by the end of 2018.
Testing of the automated, driverless train service will start in the last quarter of 2018, and the goal is to begin service to the public in the second half of 2019.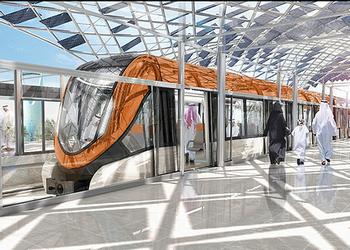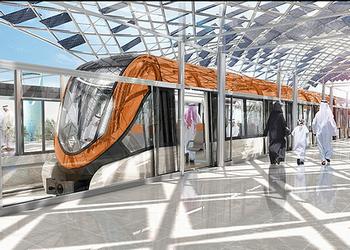 Managed by the High Commission for the Development of Arriyadh (HCDA), the project includes six color-coded metro lines covering 176 kilometers and 85 stations.
Additionally, there will be 24 bus routes covering 1,900 km with 3,000 stations and stops. German manufacturers Mercedes Benz and MAN will provide Riyadh with its fleet of buses.
At a total cost of US$27 billion, it is Saudi Arabia's first public transportation network.
Riyadh's population of 6.5 million today is expected to reach 8.3 million by 2030. Its streets currently handle nine million car trips daily, making the need for a public transit network imperative, Saudi officials say.
"Initially, we were planning to build two metro lines in seven years. We've ended up with six lines, in five years!" exclaimed Dr. Jalal Nafakh, chief transportation planner at HCDA.
Because of the tight time-frame for this giant project, HCDA has had to coordinate the multiple aspects of the project in parallel with each other.
Three consortia were awarded contracts, including 35 international firms specializing in construction, design, operations and maintenance. Today, more than 52,000 people are working on the project, communicating in 23 different languages.
All suppliers are manufacturing with Riyadh's climate in mind. Temperatures often soar above 100° Fahrenheit and blowing sand is common. July is the hottest month in Riyadh with an average temperature of 36°C (96°F) and the coldest is January at 15°C (59°F).
For its rolling stock, HCDA commissioned three different global manufacturers: Siemens, Bombardier and Alstom.
Siemens Mobility CEO Jochen Eickholt said, "Our project teams in Vienna and Saudi Arabia poured all their heart and soul into the development and completion of the first train, which is specially equipped for the extreme climatic conditions in Riyadh."
Based on the Siemens' Inspiro design, the 45 four-car trainsets are equipped with powerful air-conditioning, traction equipment, brakes and doors modified to prevent sand ingress.
Bombardier Transportation is delivering 47 Innovia Metro 300 trains for Riyadh's new state-of-the-art public transport network. The fully automated, driverless system is designed to be reliable, cost effective and have the lowest life cycle costs.
Plans call for Alstom to deliver 69 Metropolis train sets by the end of 2018. The first one was delivered to Riyadh in March.
Said Gian Luca Erbacci, Alstom senior vice president for Middle East & Africa, "This landmark project will allow Riyadh residents and visitors to commute aboard a reliable, comfortable and environmentally-friendly means of transport."
Solar power will contribute 20 percent of the energy needed for air conditioning and lighting of the trains.
All three manufacturers are supplying trains that offer interiors fitted with three classes of accommodation: first class cars for families and singles, family-only cars and singles-only cars.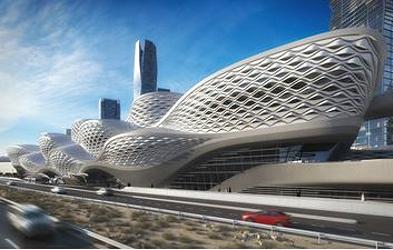 In order to implement its multi-supplier strategy, HCDA unified the design of its metro cars and buses, so all manufacturers will provide a finished product with an identical look and feel. The train sets and buses will be color coded to match the colors of the line on which they run.
The new transportation system will include 85 metro stations. To come up with signature designs for Riyadh's four most important stations, HCDA launched an international architectural contest.
The winners were Zaha Hadid, of London, for the King Abdullah Financial District Station; Gerber Architekten, of Germany, for the Olaya Station; SnØhetta, of Norway, for the Downtown Station and Omrania, of Saudi Arabia, for the Western Station. Dr. Nafakh says these innovative stations will change the skyline of Riyadh.
The High Commission for the Development of Arriyadh is the government body responsible for the urban planning and development of Riyadh City.
Chaired by the Governor of the Riyadh region, its members include senior representatives from the ministries of: Finance, Transportation, Municipal and Rural Affairs, Interior (Traffic Police Department), Water and Electricity, and members from the Riyadh Municipality, the Riyadh Chamber of Commerce and Industry and city residents.
Copyright Environment News Service (ENS) 2017. All rights reserved.