Rio+20 Head: Obama, Merkel, Cameron Absences Will Not Weaken Summit
RIO de JANEIRO, Brazil, June 11, 2012 (ENS) – The Rio+20 Secretary-General said today that the absence of such world leaders as U.S. President Barack Obama, German Chancellor Angela Merkel and UK Prime Minister David Cameron will not undermine the sustainable development summit later this month.
"I do not think the absences will weaken the final document of Rio +20 because the United States, UK and Germany will be well represented at a high level," said Sha Zukang, the UN under-secretary-general for economic and social affairs who is responsible for the summit.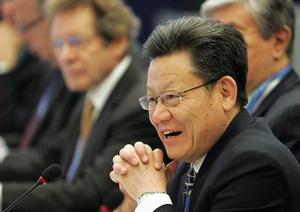 Sha Zukang of China, UN under-secretary-general for economic and social affairs, is head of the Rio+20 summit. (Photo courtesy ITU)
Sha made the comment after meeting this afternoon with the Rio Mayor Eduardo Paes about the logistical details of the Rio +20 summit.
According Sha, 134 heads of state or government have already registered to attend the Rio+20 summit. World leaders will be at the high-level portion of the summit June 20-22.
By comparison, the original Rio Earth Summit in 1992 attracted 110 world leaders, while the UN Sustainable Development Summit in Johannesburg, South Africa, in 2002 attracted 104 world leaders.
Sha said he understands the reasons for the likely absences as the U.S. elections and the economic crisis in Europe, but still hopes for the presence of these leaders.
"It's their internal problems and a question of each sovereign country to say who will attend the conference. But we are happy if they change their mind and decide to be here," he said.
Among the leaders who have made commitments to attend are Russia's President Vladimir Putin, China's Premier Wen Jiabao, India's Prime Minister Manmohan Singh, Japan's Prime Minister Yoshihiko Noda, and the leaders of Chile, France, Italy, India, Iran, Mexico, Pakistan, Portugal, the Philippines and Spain.
UN Secretary General Ban Ki-moon has described President Obama's presence at Rio+20 as "crucial," and two dozen U.S. environmental groups have sent the President a letter asking him to attend.
However, the State Department announced that Secretary of State Hillary Rodham Clinton will head the U.S. delegation to Rio+20 and U.S. EPA Administrator Lisa Jackson will serve as alternate head of delegation. Todd Stern, the U.S. Special Envoy on Climate Change, will serve as chief negotiator.
Merkel received a personal invitation from Brazilian President Dilma Rousseff but she called Rousseff to inform her that Berlin would be represented at summit by Environment Minister Norbert Rottgen and Development Minister Dirk Niebel, according to the German embassy in Brazil. The embassy did not say why Merkel would not attend.
The British embassy said Cameron would not go to Rio and that Deputy Prime Minister Nick Clegg would represent the UK.
"The true measure of success in Rio is how much action it inspires," Sha has said.
Some 50,000 people, including business executives, mayors, representatives of non-governmental organizations, youth and indigenous people, among others, are expected to participate in both official and informal events during the Rio+20 meeting.
The summit has two themes – green economy in the context of sustainable development and poverty eradication and creating an institutional framework for sustainable development.
Sha said that Rio+20 would result in a political action document negotiated by all the member states of the United Nations, as well as a myriad of commitments by governments, businesses and civil society to take action that results in sustainable development.
The diplomat said that the Rio +20 will be a success. "We are optimistic, because under the presidency of Brazil we will reach a good result," he said.
On June 2 in New York, negotiators concluded the last round of preparatory talks on the Rio+20 Outcome Document, a round that had been added to give negotiators additional time to resolve differences before they arrive in Rio.
"I sense a real dialogue, a real willingness to find common ground," said Sha at the time. "This spirit is encouraging, and we must carry it to Rio."
He said the pace of the talks still needs to be accelerated in order to complete the negotiations by the end of the final Preparatory Committee meeting, from June 13 to 15 in Rio.
"I see a half dozen, or so, key deliverables that could really make a difference," Sha told the closing session of the informal negotiations in New York.
"First, we can – I dare to say, will – launch a process at Rio to define sustainable development goals as a central feature of a post-2015 development framework."
A few crucial issues are still to be resolved, he said, such as how to ensure that the goals integrate the economic, social and environmental dimensions of sustainable development, the process to develop the sustainable development goals, and whether to include an indicative list of priority areas for possible goals.
Sha called for strong, action-oriented outcomes that would advance progress on key issues such as food security and sustainable agriculture, energy, oceans, gender equality and women's empowerment, and education.
He said there must be progress on the means of implementing action, including initiatives to strengthen financing, technology transfer and capacity building, in support of sustainable development.
Copyright Environment News Service (ENS) 2012. All rights reserved.