Rio+20: Billions Committed for Sustainable Energy, Transport
RIO de JANEIRO, Brazil, June 21, 2012 (ENS) – More than 100 commitments and actions have been mobilized in support of the United Nations' global sustainable energy initiative, UN Secretary-General Ban Ki-moon announced today.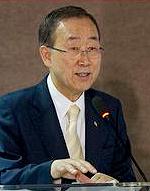 UN chief Ban Ki-moon at Rio+20 (Photo by Eskinder Debebe courtesy UN)
"Achieving sustainable energy for all is not only possible, but necessary. It is the golden thread that connects development, social inclusion and environmental protection," Ban told world leaders attending Rio+20, the UN sustainable development summit.
Launched in September 2011, the Sustainable Energy for All initiative brings together governments, businesses and civil society groups in an effort to help make the world's energy systems more accessible, efficient and cleaner to combat climate change.
It supports three interlinked objectives, all to be achieved by 2030: ensure universal access to modern energy, double the global rate of improvement of energy efficiency, and double the global share of renewable energy.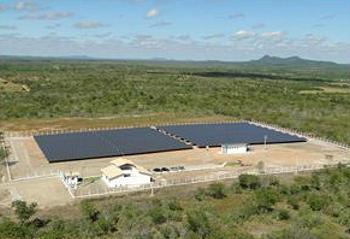 Brazil's largest solar photovoltaic power plant, located in Ceara state, was grid-connected in May 2011. (Photo courtesy MPX Energia)
More than 50 governments from Africa, Asia, Latin America, and the Small Islands Developing States have engaged with the initiative and are developing energy plans and programs, including Bangladesh, Ghana, Kenya, Mozambique, Nepal, Tajikistan, Uruguay and Vietnam.
Meanwhile, Brazil, the host country for Rio+20, has committed to investing a further $4.3 billion to achieve universal energy access at a national level by 2014.
Businesses and investors have committed more than $50 billion to achieve these three objectives, and hundreds of actions and commitments are underway in support of the initiative.
Microsoft has committed to going carbon neutral and will be rolling out an internal carbon fee that will apply to Microsoft's business operations in over 100 countries.
Italian energy company Eni has earmarked $5 billion to achieve its gas flaring and carbon intensity reduction goals; and the Renault-Nissan Alliance has committed $5 billion to commercialize affordable zero-emission vehicles. Renault and Nissan electric cars are shuttling UN delegates around to Rio+20 events.
Some 600 wind turbines have been installed in Avaraikulam, a farming village in Tirunelveli district of Tamil Nadu, India. (Photo by R. Padmanabhan)
Members of the rock band Linkin Park have launched a campaign urging world leaders at Rio+20 to end energy poverty.
India's Energy and Resources Institute has committed to expanding lighting services to households in developing countries, using clean energy technologies.
The Institute of Electrical and Electronics Engineers, along with 40 other professional associations, has pledged to mobilize their two million members worldwide in support of the Sustainable Energy for All initiative.
The World Bank Group has committed to doubling the leverage of its energy portfolio to $16 billion a year by mobilizing private, donor and public contributions and adopting policies that expand energy access, renewable energy and energy efficiency.
Mahmoud Mohieldin, World Bank Managing Director, said, "Providing access to electricity to the world's 1.3 billion people who are without it, and clean household fuels to the 2.7 billion without them, is a priority for the World Bank Group. At the same time, we will promote energy efficiency practices and facilitate efforts by countries to shift to cleaner energy sources."
Banks Pledge $175 Billion for Public Transport in Developing Countries
The Asian Development Bank and seven other multilateral development banks have made commitments to provide more than $175 billion of loans and grants for transport in developing countries over the next decade.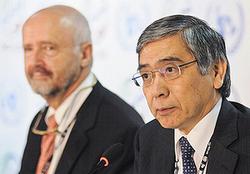 From left: Brice Lalonde, executive coordinator for Rio+20, Haruhiko Kuroda, president, Asian Development Bank, at the announcement news conference. (Photo by Luiz Roberto courtesy UN)
"Rapid motorization is creating more congestion, air pollution, traffic accidents and greenhouse gas emissions – especially in developing countries," said ADB President Haruhiko Kuroda, speaking on behalf of the banks at a news conference in Rio on Wednesday.
"Developing countries have the opportunity to leapfrog to a greener future of less motorization, shorter commutes, and more energy efficient transport systems," he said.
Global emissions of the greenhouse gas carbon dioxide from the transport sector are projected to increase nearly 50 percent by 2030, with profound environmental, economic and social consequences.
In many Asian nations, losses from traffic-related congestion already amount to five percent of their Gross Domestic Product, GDP. Many large Asian cities suffer from the highest air pollution levels in the world, contributing to the premature death of half a million people each year.
Inadequate transport worsens poverty and inequality, inhibiting access to schools, healthcare, markets, and job opportunities.
Yet despite the importance of the transport sector, which also directly contributes five to 10 percent of GDP in most countries, it has been largely neglected in the global sustainable development agenda. The banks say their joint investment will help develop and implement more environmentally-friendly, accessible, affordable, and safe transport solutions.
The Asian Development Bank is already supporting green transportation solutions across Asia, including low-cost electric vehicles in the Philippines, urban metrorail systems in Vietnam, bus rapid transit systems in Mongolia and Bangladesh, and inland waterway transport in China.
Participating banks include: the African Development Bank, Asian Development Bank, CAF – Development Bank of Latin America, the European Bank for Reconstruction and Development, the European Investment Bank, the Inter-American Development Bank, the Islamic Development Bank, and the World Bank.
"The UN is bringing all key stakeholders to the table to work in common cause for the common good," said Secretary-General Ban. "This initiative shows the power of partnership and ability of the United Nations to spearhead transformational change."
Copyright Environment News Service (ENS) 2012. All rights reserved.