Rio+20: Agreement Reached, Now the Work Begins
RIO de JANEIRO, Brazil, June 22, 2012 (ENS) – Practical actions agreed by government leaders in the Rio+20 final declaration will begin "immediately," Brazil's Environment Minister Izabella Teixeira said today. "We have methods and deadlines to be met until we complete the process that will be consolidated in 2014 or 2015," she said as the United Nations summit on sustainable development concluded in Rio de Janeiro.
Heads of state and high-level officials of more than 190 nations today approved the Rio+20 outcome document, entitled "The Future we Want," after more than two years of intensive negotiations.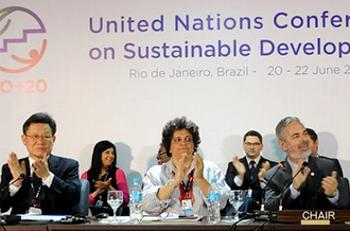 Rio+20 officials applaud the agreement. From left: UNCSD Secretary-General Sha Zukang, Brazilian Environment Minister Izabella Teixeira, Brazilian Foreign Minister Antonio de Aguiar Patriota (Photo courtesy Earth Negotiations Bulletin)
The agreement will lead to creation of a High Level Forum to act as a watchdog for sustainable development commitments, a plan to review patterns of consumption and production, and a strategy to define Sustainable Development Goals.
There is a new strategic status for protection of oceans, and there will be efforts to outline a new inclusive metric to measure the wealth of countries beyond Gross Domestic Product that incorporates the three pillars of sustainable development – economic, social and environmental.
The agreement green lights a Green Economy in the context of sustainable development and poverty eradication. Nations agreed that such a transition could be "an important tool" when supported by policies that encourage decent employment, social welfare and inclusion, and the maintenance of the Earth's ecosystems from forests to freshwaters.
The crucial role of biodiversity in ensuring sustainable development is recognized in the outcome document, which calls for greater efforts to implement the Convention on Biological Diversity. Words of support for protection of oceans and forests as well as dry and sub humid lands that support biodiversity are included in the agreement.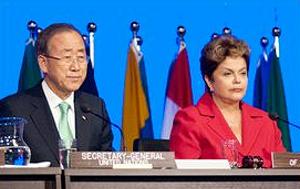 UN Secretary-General Ban Ki-moon and Brazilian President Dilma Rousseff at Rio+20, June 20, 2012 (Photo by Maria Elisa Franco courtesy UN)
Brazilian President Dilma Rousseff said that in a multilateral world and at a moment when is difficult to get consensus, it is important that Rio +20 has been able to produce a single document.
"This document is a starting point, non-arrival. It does not mean that countries cannot have their own policy. It is a document on the environment, sustainable development, biodiversity, poverty eradication. You must have a starting point. What we require is that, thereafter, the nations move forward," she said.
President Rousseff did not comment on the statements of UN Secretary-General Ban Ki-moon, who said the document could be more ambitious and that Brazil would have to be accountable.
Rousseff said, "All countries involved must be held accountable. Nobody has to point fingers at each other."
"I'm very grateful and encouraged by world leaders for their strong political commitments to agree to a solid outcome document which puts all of us towards a greater sustainable path," Secretary-General Ban said in an interview.
U.S. Secretary of State Hillary Clinton today called the outcome document "a real advance for sustainable development."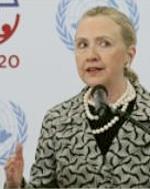 U.S. Secretary of State Hillary Clinton at Rio+20 (Photo courtesy Government of Brazil)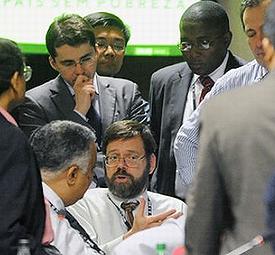 U.S. negotiator Jonathan Pershing, center, consulting with delegates from the G-77/China and the European Union on means of implementation for sustainable development, June 18, 2012 (Photo courtesy ENB)
As head of the U.S. delegation to Rio+20, Clinton said, "Let's be honest. We know what is possible. We know what we could do. But we also know that future is not guaranteed, because the resources that we all depend upon – fresh water, thriving oceans, arable land, a stable climate – are under increasing pressure. And that is why, in the 21st century, the only viable development is sustainable development. The only way to deliver lasting progress for everyone is by preserving our resources and protecting our common environment."
Today, Clinton helped launch a partnership between the United States and African nations that will use $20 million in U.S. Government funding that she said would "unlock hundreds of millions of dollars in private financing for clean energy projects in Africa" as part of the U.S. contribution to the UN's Sustainable Energy for All initiative.
Minister Teixeira challenged each government to do more than what was agreed at Rio+20. "It is easy to say that the document is unambitious, but no one sat down at the table to commit additional funding. What I saw were the developing countries making sustainability commitments and no rich country adding resources to this process," she said.
Rio+20 Secretary-General Sha Zukang of China said that, even under the fire of criticism from some government leaders and many civil society groups, the final document "consolidates points agreed among nations."
Sha emphasized the importance of contributions made by civil society. As of early afternoon of Friday, 692 voluntary commitments were made by nongovernmental organizations, companies, financial institutions and development agencies. The promises of actions and targets aimed at sustainable development total US$513 billion, according to balance sheet presented by the United Nations.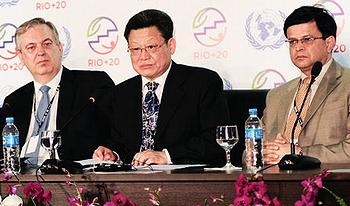 Rio+20 officials, from left: Executive Secretary, Brazil National Commission for Rio+20, Luiz Alberto Figueiredo Machado; Rio+20 Secretary General Sha Zukang; Nikhil Seth, director, UN Division for Sustainable Development (Photo courtesy Government of Brazil)
Of the funds committed, $323 billion will be devoted to achieving universal access to sustainable energy by 2030.
Pledges include planting 100 million trees, empowering 5,000 women entrepreneurs in green economy businesses in Africa, and recycling 800,000 tons of the plastic polyvinyl chloride, PVC, per year.
"The work starts now," said Sha. "Promising is easy. But keep commitments to sustainability requires effort."
Referring to pledges made at the UN climate conference in Copenhagen, Denmark in 2009, Sha said, "You know the commitments made in Copenhagen? Who fulfilled? Nobody was forced to commit to those goals. Everything was made voluntarily. But no one is doing."
Sha said, "What differentiates commitment from a simple promise is the intention of responsibility."
Achim Steiner, who heads the UN Environment Programme, UNEP, recognized the frustration of civil society groups that walked out of the official Rio+20 meeting hall on Thursday and demonstrated in the streets of Rio all this week, seeking greater human rights and environmental protection.
"The outcome of Rio+20 will disappoint and frustrate many given the science, the day-to-day reality of often simply surviving as individuals and as families, the analysis of where development is currently heading for seven billion people and the inordinate opportunity for a different trajectory," Steiner said today.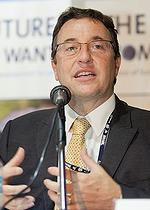 UNEP Executive Director Achim Steiner at Rio+20 (Photo by UN Women)
"However if nations, companies, cities and communities can move forward on the positive elements of the Summit's outcome it may assist in one day realizing the Future We Want," he said.
After four decades of discussion , governments decided to upgrade UNEP in key areas such as universal membership and improved financial resources.
"This is welcome as one important way for improving the authority, the influence and the impact of the world's ministry responsible for the environment in terms of moving development onto a more sustainable track," said Steiner.
Meanwhile in Rio, the World Congress on Justice, Governance, and Law for Environmental Sustainability, hosted by the Brazilian Supreme Court and UNEP, committed to use international and national laws to advance sustainability, human and environmental rights and the implementation of environmental treaties.
At the Congress, some 200 chief justices, senior judges, attorney-generals, chief prosecutors, auditor-generals and senior auditors called on governments to back an Institutional Framework for the Advancement of Justice, Governance and Law for Environmental Sustainability in the 21st Century.
Today, Brazil and the UN Development Programme launched a global center for sustainable development that will have its headquarters in Rio.
Minister Teixeira and UNDP Administrator Helen Clark opened the Global Center for Sustainable Development, called the Rio+ Center, during a ceremony in Rio.
The Rio+ Center will facilitate research and serve as a knowledge base to stimulate the global debate on sustainable development.
"The legacy of sustainable development requires a new way to act and that everyone unites around a vision coming from society and science," said Teixeira. "We want the Rio+ Center to coordinate ideas and provide the way forward for the issues raised by civil society during the Sustainable Development Dialogues."
"Rio+20 has been a great success," said Sha. "It had a huge participation, but participation without success means nothing, but we succeeded in concluding negotiations and agreeing to establish not only sustainable development goals but also a high-level forum to monitor the implementation of all commitments."
Copyright Environment News Service (ENS) 2012. All rights reserved.