Republicans Urge Doubling of Mileage Standards by 2017
WASHINGTON, DC, June 23, 2011 (ENS) – A group of prominent Republicans is urging President Barack Obama to "set aggressive motor vehicle fuel efficiency and emission standards" starting in 2017.
In a June 22 letter to President Obama, the 15 former elected and appointed Republican officials say that "the volatility of oil prices along with today's soaring prices at the pump are a threat to our economy and national security."
The letter comes as the U.S. Environmental Protection Agency and National Highway Traffic Safety Administration are writing standards that will determine the average fuel economy of the nation's cars, trucks and SUVs for the model years 2017 through 2025.
The new standards, expected in the fall, will shape America's entire energy policy, because cars and light trucks are the nation's largest consumers of oil.
"Today, the on-road fleet averages only 21 miles per gallon of gasoline, but we have the technology to do much better," the Republicans write.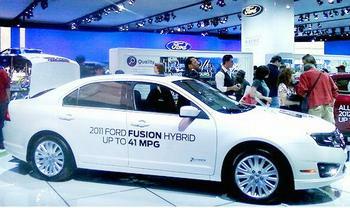 The 2011 Ford Fusion Hybrid gets up to 41 miles per gallon. (Photo by Dabonka1)
"Recent and new models such as the Ford Fusion Hybrid family sedan, Ford Explorer SUV with Eco-Boost, and the Chevy Volt plug-in electric car are evidence that American innovation can provide consumers with more choices of efficient vehicles in the showroom, save money at the pump and dramatically cut our nation's oil demand," their letter states.
The Republicans say that annual fuel-efficiency increases of about six percent through the year 2025 would be achievable for automakers, and cost-effective for consumers. That would amount to a 100 percent increase in fuel economy by 2025.
They write in their letter to the President, "We recommend that you promulgate aggressive standards for the 2017 to 2025 vehicles under a national program that will significantly reduce our oil dependence, cut pollution and fortify our economy and national security."
The signers include former Governors Michael Castle of Delaware, Jim Douglas of Vermont and Christine Whitman of New Jersey, who also served as EPA Administrator in the George W. Bush Administration, as well as nine former Congressmen and three other EPA chiefs – all Republicans.
"I'm just very passionate about the environment," said former Congressman Sherwood Boehlert of New York, who led the letter-writing effort.
"We want the administration to know there are serious-minded Republicans who are well informed on the issue who urge him to take aggressive action," he told the Capitol Hill publication "Roll Call."
The Republicans say that high mile per gallon standards would give the U.S. auto industry the long-term certainty it needs to grow greener. "Strong, forward-looking standards for new vehicle fuel efficiency and emissions will provide industry with needed certainty for investment in new technologies," they write.
Since the U.S. consumes about a quarter of the world's oil, but controls only about two percent of global reserves, the U.S. is sending more than a billion dollars a day to other countries to buy oil.
"If oil continues to be a primary driver of our economy and security, we will hand our destiny to other nations, many of which do not share our interests," the Republicans write.
"Reductions in fuel consumption could not come at a more important time. With thousands of U.S. troops fighting overseas, unrest in the Middle East and consumers at home feeling the pain at the pump we must resolve to unshackle ourselves from the world oil market," they write.
But a spokesperson for the Alliance of Automobile Manufacturers, which includes Chrysler, Ford, General Motors, Mazda, Porsche, Toyota, Volkswagen and BMW, dismissed the letter as part of a "special interest campaign."
Gloria Bergquist said in a statement, "There is clearly a special interest campaign to achieve a politically motivated fuel economy number that is not supported by the data."
"Here, we are seeing former public officials sign onto a letter supporting a 100% increase in fuel economy," she said. "In effect, ex-officials have come to a conclusion about what the current data means before the current administration has even finished analyzing it. This is not how good policy occurs."
Click here for the full text of the letter and a list of signers.
Copyright Environment News Service,ENS, 2011. All rights reserved.
Environment News Service (ENS) © 2011 – 2012 All Rights Reserved.